Aube-Kubel 3 Assists Paces Offense. Friedman Scores First Pro Goal
February 13, 2018
Bridgeport, CT- Dustin Tokarski turned in a spectacular 40-save effort for his second shutout of the season and 21st of his AHL career leading the Phantoms to a 5-0 victory at the Bridgeport Sound Tigers on Tuesday night. Lehigh Valley extended their win streak to four while the offense scored exactly five goals for the third straight game. The Phantoms have outscored their opponents 19-7 over the course of their four-game win streak.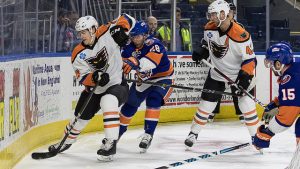 Nicolas Aube-Kubel led the attack with three primary helpers en route to his third-career three point game and second-career three assist performance. Mark Friedman scored from the left circle on the power play for his first pro goal. Tyrell Goulbourne (7th), Mike Vecchione (12th), Radel Fazleev (2nd) and Colin McDonald (5th) also registered conversions in the blowout triumph.
The game could have seen a very different result if not for the terrific performance of the team's backstop. Even though the Phantoms were leading 1-0, the Sound Tigers were pressing hard and blasted away for 19 shots at Tokarski in just the first period. Bridgeport had a shot advantage of 40-21 by the end of the game but that was no bother for Tokarski who made one dazzling denial after another en route to his 26th overall shutout in his storied professional career including 21 blank sheets in the AHL, one in the NHL, and four in the Calder Cup Playoffs with Norfolk.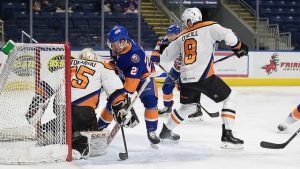 Lehigh Valley successfully ran its overall mark to 31-14-6 while maintaining their perfect season-series mark against Bridgeport at 5-0-0. The Phantoms are 8-1-1 in their last 10 games and boast an impressive mark of 10-2-1 since January 13. Lehigh Valley also boasts a record of 15-5-3 in the team's last 23 games dating back to December 16th.
Tyrell Goulbourne opened the scoring in the opening moments of the game. Travis Sanheim from the penalty-box doors spotted an open Greg Carey up the middle who rushed forward on an entry into the Sound Tigers zone. Carey's pass to the slot was perfect for an open Goulbourne who converted on the glove side of Bridgeport netminder Kristers Gudlevskis for a 1-0 advantage just 70 seconds into the contest.
The rest of the period was mostly a matter of Tokarski thwarting chance after chance for the surging Sound Tigers. In the final seconds of the first period, Tokarski made an initial save on an odd-man rush and then relied on Max Lamarche and T.J. Brennan rotating into the blue paint behind him to pull out a puck inching towards the net. It appeared Brennan had a couple of key blocks right along the goal-line to preserve the Phantoms lead.
Tokarski's 19 saves were the most for a Phantoms goalie in a single period this year. And the 19 shots allowed was tied with the first period at Bridgeport on November 8 as the most allowed by the Phantoms in a frame.
The second period was a more evenly played affair for the first few minutes and then the tide began to change.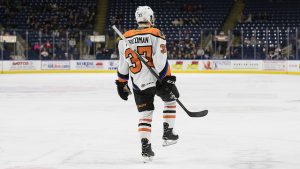 Mark Friedman dropped to one knee on a big blast from the left circle for a power-play goal at 10:25 into the second period for a 2-0 lead. Friedman's first career pro goal was assisted by Nic Aube-Kubel and T.J. Brennan.
Lehigh Valley jumped on the momentum and quickly converted again with Aube-Kubel spotting Mike Vecchione on the rush while the Sound Tigers went for an ill-advised change. Philippe Myers also assisted on the tally which came just 2:02 after Friedman's goal.
Bridgeport came out hitting on the other side of their timeout but the Phantoms held strong against the renewed energy of the Sound Tigers pressure.
In the final minute of the second period, Tokarski barely got a left toe on a quality backhander cutting across the slot by Josh Holmstrom. And right after that the Phantoms roared back the other way to boost their lead yet again. Vecchione was stood up at the Bridgeport line on a hard check but still connected with Aube-Kubel on a lead-pass that created a 2-on-1 for Radel Fazleev who slammed it home on the backdoor with just 58 ticks remaining in the middle frame.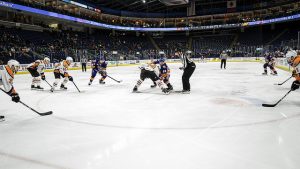 The Phantoms built on their 4-0 advantage early in the third period when Corban Knight picked off a clearing try on the right wall. McDonald was open in the slot to flip his backhander off the left post and into the cage against his former team. McDonald extended his point streak to four games with three goals and two assists in the stretch. Knight similarly has a four-game point streak since his return from a month-long layoff to injury. Knight has scored 2-5-7 in the four-game win streak.
The five-goal margin of victory equaled a season high for the Phantoms accomplished three other times on October 7 and December 1 in a pair of 7-2 wins over Hershey and most recently on December 6 in a 5-0 win over Wilkes-Barre/Scranton. This marked the first time for the Phantoms winning by such a large difference in an away game.
Lehigh Valley has four power-play goals in the last three games and finished at 1-for-3 in the Tuesday triumph while holding Bridgeport to 0-for-1. The Sound Tigers out shot the Phantoms 40-21.
The Phantoms seek their fifth consecutive win when they travel to the Springfield Thunderbirds for a Friday night engagement. The Phantoms return to PPL Center this Saturday at 7:05 p.m. against the Hartford Wolf Pack and this Sunday at 5:05 p.m. against the Wilkes-Barre/Scranton Penguins. Saturday is Go For Gold Night featuring the debut of specialty gold-style jerseys that will be available via auction immediately after the weekend finale. Sunday's game is meLVin's Birthday featuring all of his favorite mascot friends joining him in a massive mascot celebration for the ages! Tickets for upcoming Phantoms games are available at PPLCenter.com or by calling 610-347-TIXX [8499]
Lehigh Valley Phantoms 5 at Bridgeport Sound Tigers 0 – Status: Final
Tuesday, February 13, 2018 – Webster Bank Arena
Lehigh Valley 1 3 1 – 5
Bridgeport 0 0 0 – 0
1st Period-1, Lehigh Valley, Goulbourne 7 (Carey, Sanheim), 1:10. Penalties-No Penalties
2nd Period-2, Lehigh Valley, Friedman 1 (Aube-Kubel, Brennan), 10:25 (PP). 3, Lehigh Valley, Vecchione 12 (Aube-Kubel, Myers), 12:27. 4, Lehigh Valley, Fazleev 2 (Aube-Kubel, Vecchione), 19:02. Penalties-Cullity Bri (high-sticking), 8:27; Sanheim Lv (hooking), 13:28.
3rd Period-5, Lehigh Valley, McDonald 5 (Knight), 2:43. Penalties-St. Denis Bri (hooking), 8:41; Sanheim Lv (roughing), 15:06; Cornell Bri (roughing, unsportsmanlike conduct, misconduct – continuing altercation), 15:06.
Shots on Goal-Lehigh Valley 9-7-5-21. Bridgeport 19-9-12-40.
Power Play Opportunities-Lehigh Valley 1 / 3; Bridgeport 0 / 1.
Goalies-Lehigh Valley, Tokarski 13-5-4 (40 shots-40 saves). Bridgeport, Gudlevskis 6-9-5 (21 shots-16 saves).
A-2,851
Referees-Corey Syvret (42), Stephen Reneau (34).
Linesmen-Paul Simeon (66), Eric Ernst (24).
Reserve your group outings for the 2017-2018 season of Phantoms hockey. For more information on how to reserve your seat at PPL Center to the hottest ticket in town, call the Phantoms front office today at 610-224-GOAL [4625]!