Stupendous Second-Season Swan Song Socks Syracuse!
April 17, 2016
Lehigh Valley, PA – It was the perfect way to culminate the second season of professional hockey in Lehigh Valley. Highly touted first-round selection Travis Sanheim scored his first goal as a pro, added an assist, and captured #1 Star of the Game honors in helping lead the Phantoms to a 5-2 victory over Syracuse on Sunday evening at PPL Center.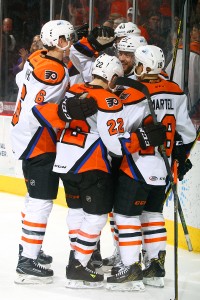 Sanheim's double-deflection from the right-wing in the third period off two different Syracuse players was likely not how he would have normally drawn up his first lamplighter at the professional ranks but the 20-year-old talent will take it. He was joined in the goal column by fellow newcomer Nic Aube-Kubel who scored his second of the season and his first in Allentown on a strike that similarly was banked in off a Crunch player before landing across the goal-line. Steven Swavely (3rd), Tim Brent (10th) and Danick Martel (22nd) with a late empty-netter completed the scoring for Lehigh Valley while Syracuse received a pair of strikes from veteran Jeff Tambellini to comprise all of their scoring for the night.
The last game of the season was also an exciting look at the possible future of the Lehigh Valley Phantoms and Philadelphia Flyers who have been on display in the concluding weeks of the regular season. Sanheim became the latest to join a series of newcomers to register their first goals with Oskar Lindblom, Nic Aube-Kubel, Reece Willcox and Steven Swavely all achieving the career-opening landmark within the past few games.
"I think the last couple of weeks was important for me," Sanheim said of his brief four-game taste in the American Hockey League. "I think you saw in my game that I was feeling more comfortable and making better plays with the puck and smarter decisions."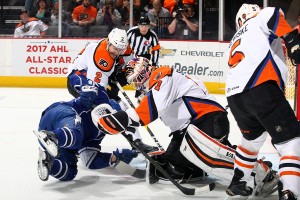 A number of fights marked a wild and frenetic second period that included a sequence from fan-favorite Tyrell Goulbourne who exchanged fisticuffs with two different Crunch players consecutively. After dropping New Jersey native Anthony DeAngelo with a quick series of punches, Goulbourne immediately found himself up against Luke Witkowski and right away accepted the new challenger. The crowd roared with approval as Goulbourne raised his arms to the crowd encouraging even more noise.
Making his fifth straight start between the pipes, Anthony Stolarz earned the victory in goal after 19 saves on 21 Syracuse shots. One of Lehigh Valley's two representatives at the 2016 AHL All-Star Classic, Stolarz was a workhorse in net for the Phantoms all season long and finished his second professional campaign with a 21-18-7 overall mark to go along with a 2.61 goals-against average and .916 save percentage.
Chris Conner registered one assist for his 55th point of the season to pace the Phantoms in their second campaign in Lehigh Valley and their 20th season all-time as a franchise. Taylor Leier finished second in points with 49. Danick Martel's empty-netter provided him with a team-leading 22nd goal of the season which was good for a two-goal margin over Leier who finished with 20.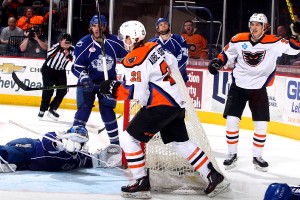 This game was also about the fans who came out with more astonishing and tremendous support in the team's second season at PPL Center. Lehigh Valley finished the year with a team-record 24 sellouts that included an incredible streak of 13 consecutive sellout crowds. The Phantoms eclipsed their inaugural season attendance numbers by drawing a total of 321,219 fans during the regular season for an average of 8,253. Those lofty numbers do not even include the Philadelphia Flyers preseason game against the New York Islanders held at PPL Center on September 21 nor the Phantoms' two exhibition contests.
The Phantoms players who receive the privilege of playing in front of such great crowds and in such a spectacular facility do not take their situation for granted. The last game of the campaign marks the team's final chance to show their appreciation for the wonderful support they have received from the huge fan-base all season long. And they delivered in spades.
"We wanted to put on a good show for the fans who have supported us all year. I think they got that tonight," Tim Brent said. "This was for all those people that supported us."
The Phantoms opened the scoring just over eight minutes into the contest when a strong net drive by Tyrell Goulbourne down the right wing produced a rebound in the slot that was promptly slammed home by Swavely for his third goal of the season. Highly touted defensive prospect Travis Sanheim collected the secondary assist on the even-strength strike netted 8:26 into the first period. Swavely's tally marked the eighth time over the last 10 games that Lehigh Valley has landed the game's opening conversion as the Phantoms finished the season 26-7-5 when scoring first.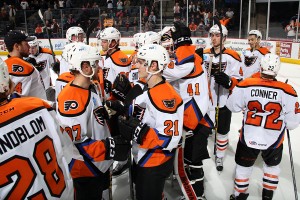 Lehigh Valley then doubled its advantage exactly four minutes into the middle stanza when a beautiful feed by Conner from behind the Syracuse net found a streaking Brent down the left wing who made no mistake in sending home his 10th goal of the season. Reece Willcox garnered the second assist on the five-on-five marker by holding the puck in at the left point just as he was receiving a jarring collision from a hard-charging Daniel Wolcott.
The Phantoms extended their lead to a 3-0 advantage just over eight minutes later when Oskar Lindblom connected with Aube-Kubel in the slot whose snap shot bounded off a Crunch defender before crossing the goal line for his second goal in six games since coming to Lehigh Valley from the Val d'Or Foreurs of the Quebec Major Junior Hockey League (QMJHL). Cole Bardreau grabbed the secondary assist on the five-on-five tally scored 12:06 into the middle stanza.
"(The AHL) is different from Juniors and it was a big step for me," Aube-Kubel said. "It's good to learn the approach you need to have a taste of it before next year."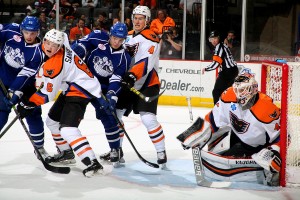 Syracuse made its first dent on the score sheet in the dying moments of the second period when, while shorthanded, Matthew Peca found a streaking Jeff Tambellini in the slot who deftly slipped a back hand breakaway offering between the pads of Stolarz for his 28th goal of the season. The shorthanded tally came 19:36 into the middle frame.
The Phantoms re-established their three-goal lead less than seven minutes into the third period when Sanheim authored a wrist shot from the right wing that deflected first off the leg of Syracuse's Ben Thomas and then off the backside of Dominik Masin before bounding into the back of the Crunch cage. Martel and Pavel Padakin assisted on Sanheim's first professional conversion, which came 6:43 into the final frame.
Danick Martel blasted home an empty-netter with 51 seconds left for a 5-1 lead. Jeff Tambellini of Syracuse wrapped up the scoring with a quick-snipe power-play goal off a face-off win with just 17 seconds left.
Opening Night on October 10 against the Syracuse Crunch began with a goal by Aaron Palushaj. Syracuse actually bookended the entire season-schedule with their return engagement to Lehigh Valley in the season finale on April 17. The final goal of the year was blasted in by Danick Martel.
The Phantoms players all gathered at center-ice for one longer-than-usual extended stick-raise to the appreciative crowd in an emotional moment and appropriate ending gesture.
Lehigh Valley finished the season with a record of 34-35-7. The Phantoms out shot the Syracuse Crunch 29-21. The Phantoms held Syracuse to 1-for-8 on the power play while going 0-for-4 on their own man-advantage opportunities.
We can't wait to see you next season, Phantoms Phans!!
Syracuse Crunch 2 at Lehigh Valley Phantoms 5 – Status: Final
Sunday, April 17, 2016 – PPL Center
Syracuse 0 1 1 – 2
Lehigh Valley 1 2 2 – 5
1st Period-1, Lehigh Valley, Swavely 3 (Goulbourne, Sanheim), 8:26. Penalties-Witkowski Syr (hooking), 1:32; Willcox Lv (holding), 9:20; Willcox Lv (tripping), 17:39.
2nd Period-2, Lehigh Valley, Brent 10 (Conner, Willcox), 4:00. 3, Lehigh Valley, Aube-Kubel 2 (Lindblom, Bardreau), 12:06. 4, Syracuse, Tambellini 28 (Peca), 19:36 (SH). Penalties-served by Martel Lv (bench minor – too many men), 1:05; Alt Lv (high-sticking), 5:21; Hagg Lv (tripping), 9:40; DeAngelo Syr (fighting), 13:40; Witkowski Syr (kneeing), 13:40; Padakin Lv (fighting), 13:40; Blujus Syr (fighting), 18:22; Brent Lv (fighting), 18:22; Koekkoek Syr (hooking), 18:42; DeAngelo Syr (fighting, game misconduct – third major/second fight), 19:53; Witkowski Syr (instigating, fighting, misconduct – instigating, game misconduct – third man in), 19:53; Goulbourne Lv (unsportsmanlike conduct, fighting), 19:53.
3rd Period-5, Lehigh Valley, Sanheim 1 (Martel, Padakin), 6:43. 6, Lehigh Valley, Martel 22 (Padakin), 19:09 (EN). 7, Syracuse, Tambellini 29 (Darcy, Broll), 19:43 (PP). Penalties-Conner Lv (tripping), 3:52; Goulbourne Lv (hooking), 11:48; Rosehill Lv (roughing), 19:40.
Shots on Goal-Syracuse 9-7-5-21. Lehigh Valley 6-16-7-29.
Power Play Opportunities-Syracuse 1 / 8; Lehigh Valley 0 / 4.
Goalies-Syracuse, Wilcox 9-12-2 (28 shots-24 saves). Lehigh Valley, Stolarz 21-18-3 (21 shots-19 saves).
A-7,933
Referees-Tim Mayer (19).
Linesmen-Matt McNulty (26), Jud Ritter (34).
RISE UP! Another thrilling season of Lehigh Valley Phantoms hockey at PPL Center will be here before you know it. Reserve your season tickets for the 2016-2017 season of Phantoms hockey.
For more information on how to reserve your seat at PPL Center to the hottest ticket in town, call the Phantoms front office today at 610-224-GOAL [4625]!
The Phantoms are coming off their 20th Anniversary Season and second campaign in the Lehigh Valley playing at the state-of-the-art PPL Center. Established in 1996, the Phantoms spent their first 13 seasons at the Spectrum in Philadelphia before re-locating to Glens Falls, New York in 2009 where the team spent the next five seasons as the Adirondack Phantoms. A new era of Phantoms hockey began in the fall of 2014 when the Lehigh Valley Phantoms began play at the state-of-the-art PPL Center. Through 19 incredibly successful campaigns, the Phantoms have captured two Calder Cup Championships (1998, 2005), two Conference Championships (1998, 2005), two Regular Season Titles (1996-97, 1997-98) and four Division Championships (1996-97, 1997-98, 1998-99, 2003-04).