Fans Enjoy a Night Out at PPL Center
May 13, 2021
Lehigh Valley, PA – Team Gritty vs. Team meLVin had all the hallmarks of an intense rivalry clash. Competing mascots, co-owner brothers on opposing benches, and a team normally competing together as one instead divided into two fiercely opposed sides. Ultimately, Team Gritty prevailed overcoming an early 3-1 deficit to take a 7-6 win over Team meLVin at PPL Center in an event that was free for fans to attend who used our special promo code when acquiring their tickets online.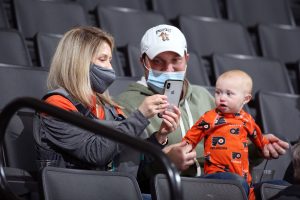 Linus Sandin led the way for Team Gritty bringing victory to coaches Rob Brooks and Scott Gordon despite the desperate efforts of Team meLVin coaches Jim Brooks and Kerry Huffman pulling their goalie with 3:30 left when trailing 7-4. The strategy almost worked too, as Team meLvin scored a couple to make it 7-6 on goals by Zayde Wisdom and Tanner MacMaster. But Garrett Wilson was denied at the doorstep by Zane McIntyre with seconds remaining to seal the victory for the crew in the specialty black jerseys to beat the boys in orange.
It was a heartbreaking setback at the bench for Jim Brooks in his Battle on Hamilton coaching performance whose team looked promising at the start with the early 3-1 advantage but ultimately came up short to rival brother Rob Brooks who celebrated the comeback triumph!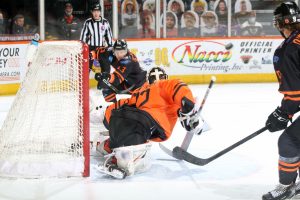 The night started with some drills to get warmed up as Scott Gordon appeared on the video-board to diagram for the fans some of the things the team works on during their practice sessions. In between the 10-minute periods were some fun skills competitions including a 3-on-0 drill with all three skaters required to touch the puck for each of their three shots, and also a breakaway drill that featured some pretty slick and creative moves and attempts from some of the Phantoms top shooters.
Highlighting the night as well were the dancing and competing mascots on meLVin's special stage set up in section 120 as we welcomed our friend, Gritty, back to PPL Center to watch his team rally for the big win in our new Battle on Hamilton format. meLVin and Gritty had their own competitions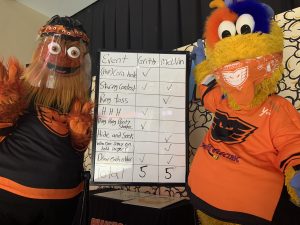 going on but we thought the staring contest and competition to see who could stay on hold the longest were definitely kind of strange. Their contests ended in a tie with the decision to settle the deadlock via Rock, Paper, Scissors. Both went behind closed doors to finish off the fight and neither big, furry creature has been heard from since. We think they are in a Best out of 1,001 but that's just a guess.
Kids and adults alike enjoyed the light-hearted and enjoyable experience and chance to watch their favorite Phantoms players compete in a more light-hearted atmosphere while still showing off their top-notch hockey abilities and talents. It was a nice way for the Phantoms organization to thank the fans for their support in this unusual season that will serve as a springboard for a far more normal season beginning next October.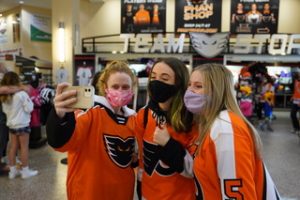 But before we get to that point, the Phantoms still have two more home games remaining in the 2021 regular season on Saturday at 7:05 p.m. against the Wilkes-Barre/Scranton Penguins and on Sunday at 3:05 p.m. against the Binghamton Devils in the season finale. Tickets for both games are available HERE 
Scoring Summary:
1st – meLVin – Chris Mueller 1-0
1st – Gritty – Linus Sandin 1-1
1st – meLVin – Max Willman 2-1
1st – meLVin – Brennan Saulnier 3-1
2nd – Gritty – Connor Bunnaman 3-2
2nd – Gritty – Cal O'Reilly 3-3
2nd – Gritty – Linus Sandin 4-3
2nd – meLVin – Max Willman 4-4
3rd – Gritty – Derrick Pouliot 4-5
3rd – Gritty – Wade Allison 4-6
3rd – Gritty – Elliot Desnoyers 4-7
3rd – meLVin – Zayde Wisdom 5-7
3rd – meLVin – Tanner MacMaster 6-7