Kevin Sundher's Two Goals Help Extend Point Streak to Four
November 20, 2015
Providence, RI – Kevin Sundher scored a pair of goals and Anthony Stolarz improved on his already gaudy statistics with a 29-save performance as the Lehigh Valley Phantoms won 4-1 at the Providence Bruins on Friday night. The Phantoms extended their point-streak to four straight (3-0-1) while closing to within one win of the .500 mark at 7-8-1 overall. They were able to take advantage of a struggling but feisty Providence Bruins squad who have now gone winless in their last seven.
Petr Straka scored his league-leading 10th goal of the campaign while exciting rookie winger Danick Martel chipped in his sixth of the year.
Kevin Sundher recorded his first-career multi-goal game in the American Hockey League. Colin McDonald and Aaron Palushaj both registered assists in their return to the lineup from injury. For McDonald, the night represented his first full game as captain of the Phantoms. The veteran winger was injured on Opening Night on October 10 in the second period and missed six weeks after that. Palushaj had only been out for the previous two weeks from his injury on November 7 at Syracuse.
"I felt pretty good," McDonald said. "I played a pretty simple game to begin with so I just tried to focus on that even more. I felt pretty good and it was a good start and I've just got to keep building off of that.:
The game was the opener of a three-in-three road weekend for the Phantoms that includes a two-game series at Providence with a Saturday night trek to Hartford sandwiched in-between. Lehigh Valley picked up a quality kick-start of a win at the beginning of a stretch of games in which seven out of nine contests will be on the road.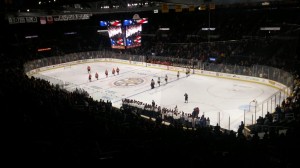 It is the first win at Dunkin' Donuts Center for Scott Gordon since the 2007-08 season when he won AHL Coach of the Year honors (Pieri Memorial Award) as bench boss for the Providence Bruins in a 55-win campaign. That was the final season of his eight-year run on the coaching staff with Providence (three years as assistant coach and five years as head coach).
Phantoms and Bruins will rematch at Dunkin' Donuts Center on Sunday afternoon. Providence had the early jump in the game and the Phantoms relied on the rock-steady goaltending of second-year pro Anthony Stolarz to keep the hosts at bay.
"The guys stuck with it," head coach Scott Gordon said. "For me it was a huge game. We're getting closer to .500. If we lose tonight we're back to three-under .500. We just got to keep moving forward."
Kevin Sundher snuck one through Providence goaltender Malcolm Subban with a sneaky, long snap-shot from the blue-line that found the back of the net. Mark Alt and Colin McDonald assisted on the Sundher Strike!
"Tyrell (Goulbourne) drove to the net and made a good play so I was able to sneak it through," Sundher said.
Ben Sexton evened the score for Providence in the second period with his wrister from the top of the left circle perfectly placed to the top shelf over the left shoulder of Stolarz.
The evened count would be short-lived as Sundher would strike twice. Right out of the penalty box, Kevin Goumas connected with a long, cross-ice stretch pass to send Sundher in clean on a breakaway. Sundher buried his backhander between the skates of Subban for his second of the night and his third in the last three games.
"Good play by 'Goomie' to get the puck back out to the neutral zone," Sundher said. "I was able to come down and saw his five-hole and put it there.
With his breakaway tally, Sundher acquired his first-ever multi-goal in the AHL. Earlier in the season he accomplished the feat for the first time at the professional level when he registered a hat trick for the Reading Royals on October 23 in a game at Elmira.
Sundher began his Lehigh Valley tenure with a bang on November 1 when he scored a game-winner in the 10th round of a marathon shootout at the Hershey Bears to put the capper on his Phantoms debut. The former Rochester American scored against his former team on Friday night at PPL Center for his first official goal in a Lehigh Valley sweater.
Lehigh Valley had a massive opportunity to build on the advantage when they were granted a five-minute power play at the end of the second period following Andrew Cherniwchan's boarding hit against Phantoms rookie defenseman Christian Marti. But the Providence penalty kill came through in the clutch to keep the margin at one goal. Marti left to the bench under his own power but did not return to action in the third period.
After a Providence push in the third period had the Phantoms on their heels for a little bit, Lehigh Valley would find the back of the net two more times within a four minute stretch to salt the game away.
Danick Martel scored at 9:11 into the third when Tim Brent's misfire dribbled perfectly onto the rookie's stick stationed just right of the cage.
Straka's goal at 13:02 into the third came on some pretty passing by linemates Chris Conner and Nick Cousins working into the zone. Conner's perfect drop from the slot over to a wide-open Straka on the right of the cage was a near-gimmie for the surging scorer who has compiled his second streak of four consecutive games scoring a goal this season.
Straka has scored goals in every game of the four-game point streak beginning with the win on November 11 at Binghamton an continuing with goals on November 13 against Rochester and November 14 versus Albany. Straka also had a four-game point streak in games 2 through 5 of the season from October 16 through October 24.
As of this writing, Straka is tied with three other players for the AHL lead in goals. Bracken Kearns of Bridgeport, Hunter Shinkaruk of Utica and Frank Vatrano of Providence are the only other players to reach double-digits in goals this season. The latter two are not currently in the league following their call-ups to the NHL.
Stolarz improved his goals-against average to a microscopic 1.81 which is tied for second in the AHL and tied for first in the Eastern Conference with Yann Danis on the Albany Devils. His .934 save percentage also rates among the best in the circuit.
Providence out shot the Phantoms 30-23 in the game. Lehigh Valley was 0-for-3 on the power play while holding the Providence Bruins to 0-for-2.
The Phantoms continue their three-in-three weekend stretch on Saturday night at 7:00 at the Hartford Wolf Pack, AHL affiliate of the New York Rangers. Broadcast coverage begins at 6:20 on 1470-AM and FOX1470.com and the iHeartRadio app with the Voice of the Phantoms, Bob Rotruck.
Lehigh Valley returns to Providence on Sunday afternoon for a 3:05 matinee against the P-Bruins.
The Phantoms return to PPL Center for a pair of Thanksgiving weekend contests. First, Lehigh Valley hosts the rival Hershey Bears on Friday, November 27 for Go & Grow presented by Lehigh Valley Health Network. Then, on Saturday, November 28, the Bruins invade downtown Allentown. Get up close and personal with your favorite Phantoms that evening with a post-game autograph session with Phantoms players. Puck drop for both nights is scheduled for 7:05 p.m. Tickets for both games are currently available by logging on to pplcenter.com, by calling 610-347-TIXX [8499] or by visiting the Mealey's Furniture Box Office at PPL Center (701 Hamilton).
RISE UP! Reserve your season tickets and groups now for the 2015-2016 season of Lehigh Valley Phantoms hockey. For more information on how to reserve your seat at PPL Center to the hottest ticket in town, call the Phantoms front office today at 610-224-GOAL (4625)!
Lehigh Valley Phantoms 4 at Providence Bruins 1 – Status: Final
Friday, November 20, 2015 – Dunkin' Donuts Center
Lehigh Valley 1 1 2 – 4
Providence 0 1 0 – 1
1st Period-1, Lehigh Valley, Sundher 2 (Alt, McDonald), 11:31. Penalties-No Penalties
2nd Period-2, Providence, Sexton 1 (Bellemore), 12:48. 3, Lehigh Valley, Sundher 3 (Goumas), 15:14. Penalties-Cross Pro (interference), 6:48; Padakin Lv (holding), 9:24; Sundher Lv (high-sticking), 13:07; Cherniwchan Pro (major – boarding), 15:32.
3rd Period-4, Lehigh Valley, Martel 6 (Brent, Palushaj), 9:11. 5, Lehigh Valley, Straka 10 (Conner, Cousins), 13:02. Penalties-Palushaj Lv (diving/embellishment), 4:26; DeFazio Pro (holding), 4:26; Cherniwchan Pro (slashing), 15:47.
Shots on Goal-Lehigh Valley 11-6-6-23. Providence 11-9-10-30.
Power Play Opportunities-Lehigh Valley 0 / 3; Providence 0 / 2.
Goalies-Lehigh Valley, Stolarz 6-3-0 (30 shots-29 saves). Providence, Subban 1-4-1 (23 shots-19 saves).
A-8,791
Referees-Garrett Rank (48), David Banfield (77).
Linesmen-Ed Boyle (81), Todd Whittemore (70).
Upcoming Home Games:
Friday, November 27, 2015, Hershey Bears vs. Lehigh Valley Phantoms, 7:05 p.m. | TIX
(Go & Grow presented by Lehigh Valley Health Network.)
Saturday, November 28, Providence Bruins vs. Lehigh Valley Phantoms, 7:05 p.m. | TIX
(Post-Game Autographs with Phantoms Players.)
In the midst of their 20th season of operation, the Phantoms are coming off their Inaugural Season as the Lehigh Valley Phantoms playing at the brand-new PPL Center. Established in 1996, the Phantoms spent their first 13 seasons at the Spectrum in Philadelphia before re-locating to Glens Falls, New York in 2009 where the team spent the next five seasons as the Adirondack Phantoms. A new era of Phantoms hockey began in the fall of 2014 when the Lehigh Valley Phantoms began play at the state-of-the-art PPL Center. Through 19 incredibly successful campaigns, the Phantoms have captured two Calder Cup Championships (1998, 2005), two Conference Championships (1998, 2005), two Regular Season Titles (1996-97, 1997-98) and four Division Championships (1996-97, 1997-98, 1998-99, 2003-04).
Contact:
Dan Fremuth
dfremuth@phantomshockey.com
Cell: 406-672-0438