Phantoms Rookies Filling Key Roles During Crucial Part of the Season
By: John Williams
In the game of ice hockey, a lot of successes can come from being in the right place at the right time.
For two rookie forwards on the Lehigh Valley Phantoms this season, Carsen Twarynski and Connor Bunnaman, taking advantage of open spots in the roster — whether due to injury or NHL call ups — has allowed them to play a bigger role in the team's overall success during a crucial stretch of the season.
To this point, Twarynski, 21, has notched 12 points (5G-7A) in 35 games while Bunnaman, 20, has tallied 16 points (10G-6A) in 29 games.
While both have had recent successes on the ice, the transition from junior hockey to the AHL was something that the duo had to figure out early on in the season.
"It's a big adjustment in terms of learning the systems," Phantoms Head Coach Kerry Huffman said.  "Some of the things we do over here with the Phantoms are a lot different than anything they have played before.  They were going out on the ice and overthinking it. I think they just had to learn it and now they can just react and play. I feel like they are now becoming pretty important members of the team."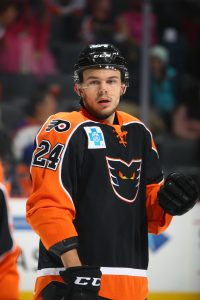 After having a strong preseason and making it deep into training camp with the Flyers, Twarynski was loaned to the Phantoms in time for Lehigh Valley's season opener. The first 20 games, the rookie out of Calgary, Alberta, admitted, were not easy for him and he tallied just four points (1G-3A) in those early contests.
"I just needed to stick to my game and stick to why [the Flyers] drafted and signed me," Twarynski said. "Since I have started to turn it around here, I have been shooting the puck more and finding my areas to shoot. I just had to stick to my [game], what worked for me in juniors and what worked to get myself drafted and signed. That is when good things happen for me."
Another bright spot for the former Kelowna Rocket has been his play away from the puck.  Twarynski has been using his 6'2" frame to his advantage over the last month and a half and that has translated into eight points in his last 15 games. During that stretch, even when the puck hasn't gone in, he's found ways to impact the game using his physicality.
Much like his fellow rookie, Bunnaman didn't get off to the start he would have liked to, and with a number of other players in the mix, was often left as a healthy scratch early on in the season. The Guelph, Ontario, native kept working and soon his opportunity came knocking.  When reigning AHL MVP Phil Varone was recalled by the Flyers, Bunnaman was inserted on the team's first line and immediately made an impact with linemates Greg Carey and Nic Aube-Kubel.
"It feels really good that the coaches believe in me that much to put him on the top line," Bunnaman said. "Aube-Kubel and Carey are really easy to play with and they make other players around them better."
Since the December 7 match up against the Hershey Bears, when the trio was put together, Bunnaman has tallied 13 points (8G-5A) across those 16 games which includes three game-winning goals.
Carey, the team's leading scorer and the player on Bunnaman's left wing, is quite excited about the rookie's game this early into his career.
"He's gaining confidence, he's making plays and he's big," Carey said after a recent Phantoms game. "He's a great player and he has a good future ahead of him."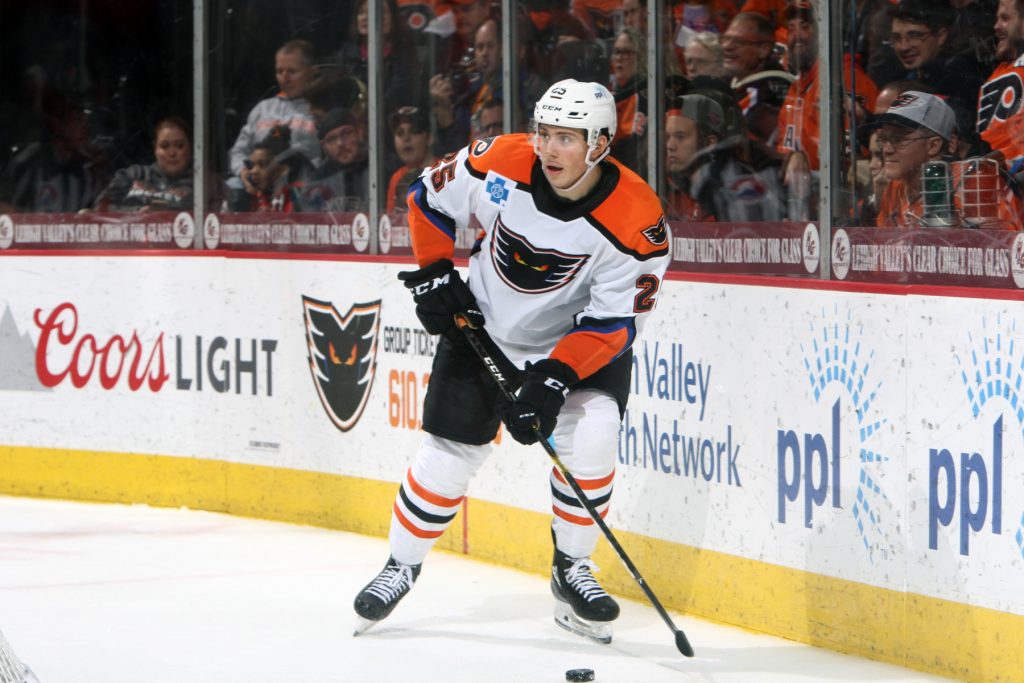 According to Coach Huffman, there are a lot of reasons why the rookie-veteran duo has worked so well together.
"Bunny is a smart player and he can pass the puck and, obviously, playing with players like Greg Carey, you have to be able to get the puck to him," Huffman noted. "[Bunnaman] played some center before as well as wing, so he was a guy that we looked at and said 'we need to give it a shot and put him into a role where there are more meaningful minutes,' and to his credit, he has played really well."
Veterans like Carey, Colin McDonald, Chris Conner and T.J. Brennan have been huge influences on the rookies, both on and off the ice. That is something that has helped the duos' transition and the team's positioning in the Eastern Conference standings.
"We have five or six older veteran players that are real good people, real good players and good teammates and that is a huge part of the culture here," Huffman said. "I think it's a huge advantage for the young kids to have players like that to talk to."
Twarynski, who had a brief stint with the team at the end of last season, noted how much of an impact the team's veteran leaders, like McDonald, have had on him and his younger teammates.
"When I found out this summer that [McDonald] was signing back here I was really happy," Twarynski said. "He's a great leader on and off the ice. He does his job on the ice and he keeps everything together when we're off the ice and everyone just follows that."
As the season continues on, both Twarynski and Bunnaman know what they have to do to take their game to the next level.
"Consistency is probably my biggest focus right now," Bunnaman explained. "I just have to keep playing my game and putting the work in and just try to get better from game to game."
For Twarynski, patience with the puck is where he wants to improve the most.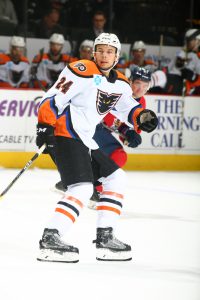 "It's a tough skill because you never know if a guy is going come on you or try to land and that's something that you have to learn," Twarynski noted. "[Leier and Vorobyev] on my line have both played NHL games and I think they're both doing a good job of that, so it's something that I can watch and take away from them and watch how they do it, but it's just little things like that I want to work on."
Coach Huffman said that the rookie pair, who skated on the same line in this past Sunday's tilt against the Springfield Thunderbirds, can continue to grow and stabilize the Phantoms' forward group as the season progresses.
"Carson and Bunny have done a real good job learning, not only out on the ice, but doing the time and watching the video and really trying to get immersed into what we are trying to do," Huffman said. "Now we are starting to see the results."