By: Russ Hryvnak
The Lehigh Valley Phantoms' 2018-19 season came to an end on Saturday, and while it could be easy to write this year off without a postseason appearance, this season's injection of rookies into the Philadelphia Flyers top development club has provided a lot to look forward to next season and beyond.
In the 76 games that the Phantoms played this season, the five rookie forwards that have been with Lehigh Valley throughout the season — Connor Bunnaman, Carsen Twarynski, David Kase, German Rubtsov and Pascal Laberge — contributed a total of 48 goals and 47 assists for 95 points.
During a season that saw a number of injuries, front office changes and even a head coaching change, the Phantoms — and especially their rookies — battled until the end of the season and finished it off on a season-high five-game winning streak.
While adversity is something that can be expected during the course of any hockey season, it's something that Phantoms head coach Kerry Huffman said has actually benefited the young group of players.
"If we look at the players in terms of where they were from the start of the year to now as players and as professionals, I think they've all taken really big strides," Huffman said. "Just in the way they approach the game and their practice habits, all of our guys have come a long, long way. We lost a couple of them due to injury which set a few of them back, but even those guys were making some strides prior to that. It was just a really good foundational year to grow on.
"Even though this season was difficult, in terms of changes, it was a good learning experience for them. To go through that in their rookie year, and be able to perform and grow along the way, it will be good for them long term."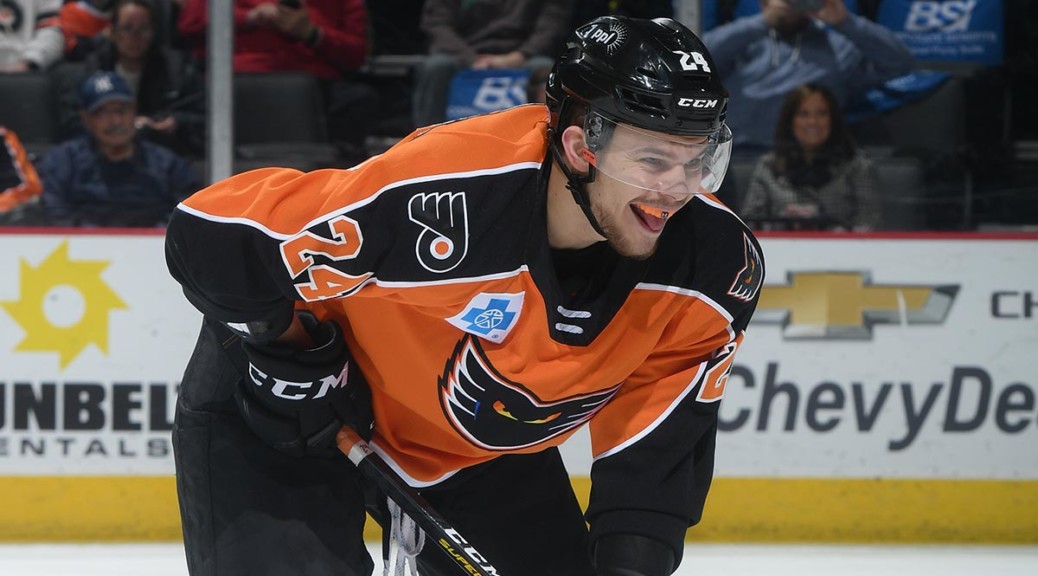 One such case of making a major improvement is that of forward Carsen Twarynski who, despite being one of the last cuts from the Flyers training camp at the start of the season, struggled a bit when he arrived with the Phantoms.
Twarynski was only able to produce 13 points (5g, 8a) in his first 41 contests with Lehigh Valley leading into the AHL All-Star break, but really began to find his stride in the second half of the season adding another 11 points (5g, 6a) in just 28 games, which included six (4g, 2a) in his final 10 games of the season.
In a case similar to that of fellow forward Nic Aube-Kubel, Twarynski has begun to realize that his play away from the puck is what's going to determine the opportunities that he will get when he has it.
"In terms of defensive positioning and being open for guys that have the puck when I'm not with the puck, I think it's definitely improved this year," the 21-year-old said of his game. "That could be a reason why those last couple games had gone well for me and things have been going my way a little bit more. It was definitely a focus of mine this year, to work my defensive game and game away from the puck. I feel like it's improved a little bit and I just want to take that into summer and next camp."
Those words were something that were echoed by Huffman.
"Carsen is doing a lot of things a whole lot better than he was at the start of the year," Huffman said. "His play away from the puck, his defensive responsibility, being strong on the walls and getting pucks out, those are the things that he wasn't doing well at the start of the season. We get really caught up and focused on player's production in terms of goals and assists, but there's a whole other facet to the game that is way more important for young players to get down and get sound before they can move on to higher leagues.
"Once those areas are addressed and they get comfortable doing it and playing the right way, then all of a sudden you start to see some points and some goals and some really good things happening. That's what's starting to happen for Carsen now and hopefully he comes back after a good offseason and he's ready to build on it."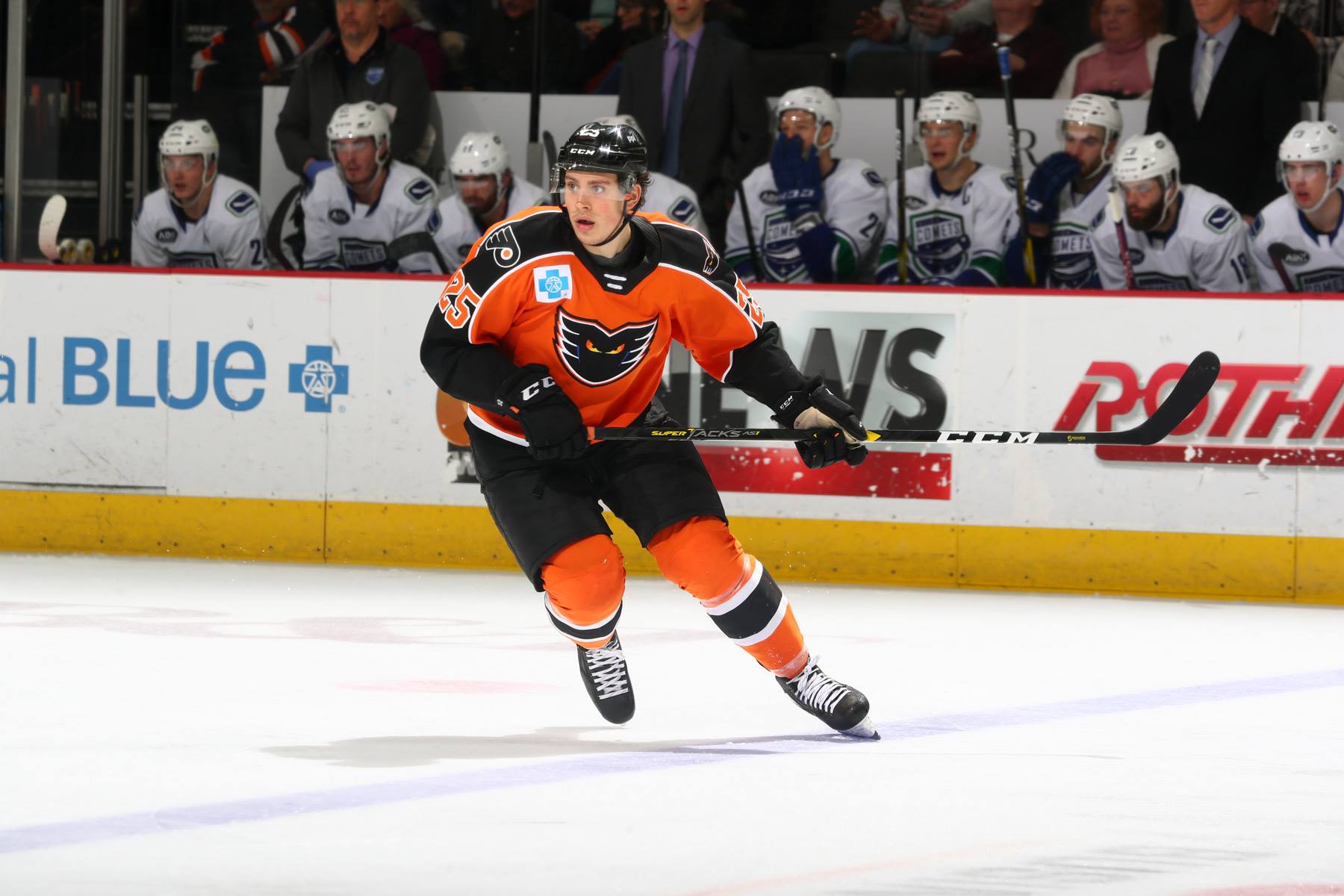 While improvement is certainly the name of the game in a developmental league like the AHL, for some rookies it comes down to waiting for an opportunity to prove what they have.
Such was the case for 20-year-old Connor Bunnaman, a native of Guelph, Ontario, who got the chance to showcase his talents once the Flyers called up reigning AHL MVP Phil Varone.
"Bunny is a classic example of somebody that just need to wait for his opportunity," Huffman said. "With Varone getting called up, it gave him that opportunity to play on the power play which is tough for first-year guys to get a lot of time to play on it. He was asked to play a lot bigger role than we intended him to play at that point in the year, but he's the type of kid that just loves to come to the rink, has fun and pays attention. He really ran with the opportunity and that's what young players have to do sometimes, they have to be patient. He was patient, he got his chance and he was prepared to go."
For Bunnaman, his success during the 2018-19 season is not only something to build on, but something that he said surprised him.
"Coming into this season, I didn't expect to get 19 goals or even an overtime winner," he said. "I've never scored an OT winner in my life, but I exceeded a lot of my expectations coming in and, looking back, I'm going to be proud of what I did in my first year. Hopefully throughout the years I just keep getting better and doing well."
At season's end, the former captain of the Kitchener Rangers ranked second on the roster in goals for Lehigh Valley (19) and second in power-play goals (9) and had amassed 32 points across 62 games. His work on the Phantoms power-play unit is certainly something that shows a lot of promise for next year and while the beginning of the season was tough on the rookie, he said that getting to where he is at the end of the season made it all worthwhile.
"At the start of the year I got healthy scratched a bunch of times, and I had never been healthy scratched in my life," Bunnaman said. "Mentally, I had to adapt to that and it was tough, but once I got my chance, that's when I took my opportunity and worked best with it.
"When the coach trusts you to be out there on the power play and you're playing well enough to be on the first power play with guys like Chris Conner and Corban Knight, who are great guys to play with, it's something that gives you a sense of accomplishment."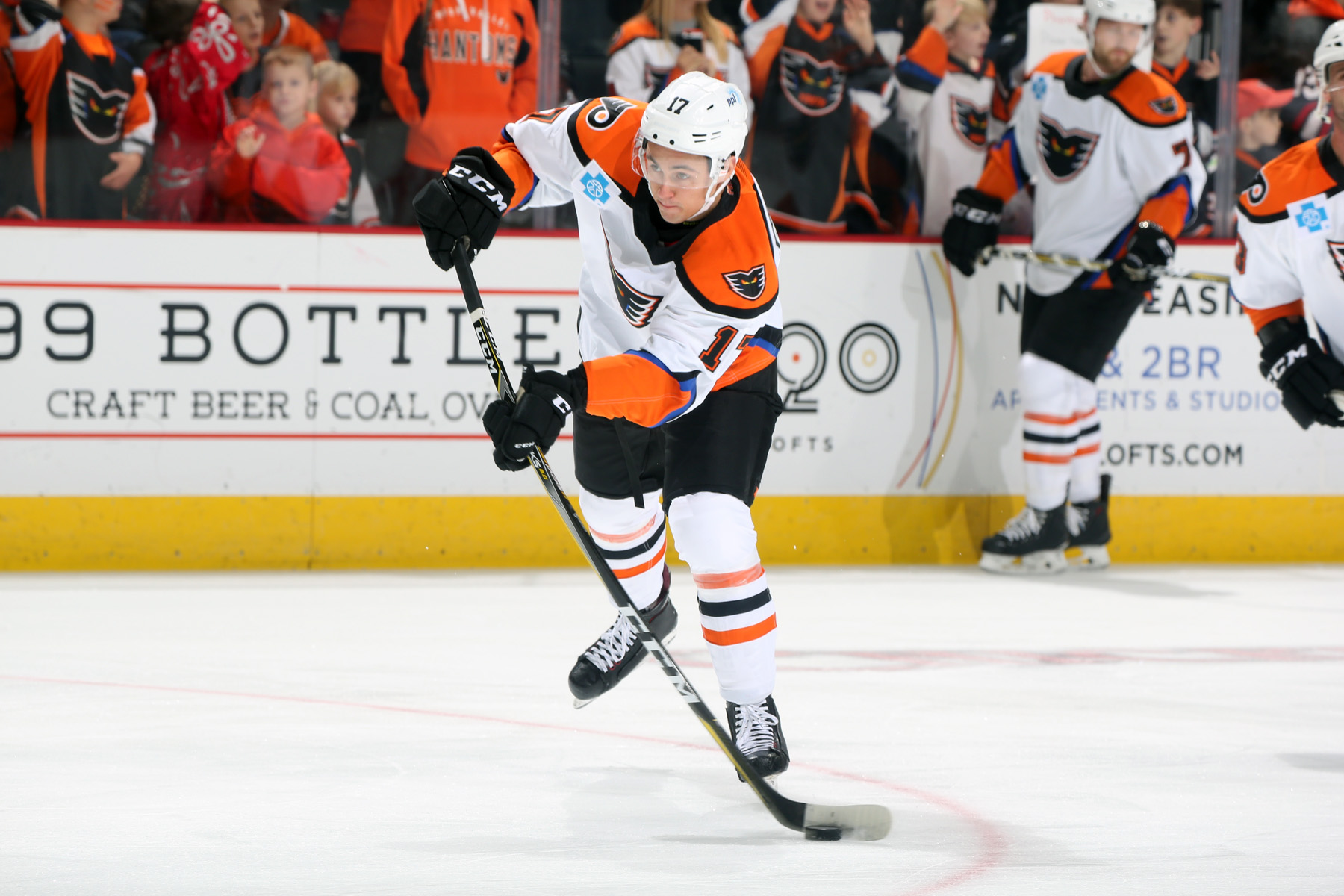 Other rookies on the Phantoms roster showed some tremendous upside in a small sample size as they missed a number games due to injury. Between David Kase, German Rubtsov and Pascal Laberge the potential of a combined 156 games were missed throughout the 2018-19 campaign.
Kase began the season with four goals and five assists for nine points in just his first 10 games. The 22-year-old native of the Czech Republic finished out the year with 23 points (8g, 15a) across 40 games.
Rubtsov, who began the season on fire, finished with six goals and four assists for 10 points in just 14 games after suffering a season-ending injury in a game against the Providence Bruins on November 16.
Laberge, who underwent a surgery at the beginning of the season, did not make his first lineup appearance until February 23, but did manage to display his offensive prowess with five goals and an assist for six points in 15 games, which included his first career hat trick on March 27.
Despite these players missing large chunks of time on the ice, Huffman insists that they still were able to move the needle in the right direction in terms of development.
"Even though they were hurt, they were around the team a lot," Huffman said. "It's not like they were in exile away from everything, they were here on a day-to-day basis and they still sat in on the team meetings. They can still learn and a lot of them do, even when they are out they can pick things up and they are sometimes better players when they come back just by osmosis from watching practice, games and film sessions."
Once inserted into the lineup, Laberge proved his coach's theory of osmosis to be true.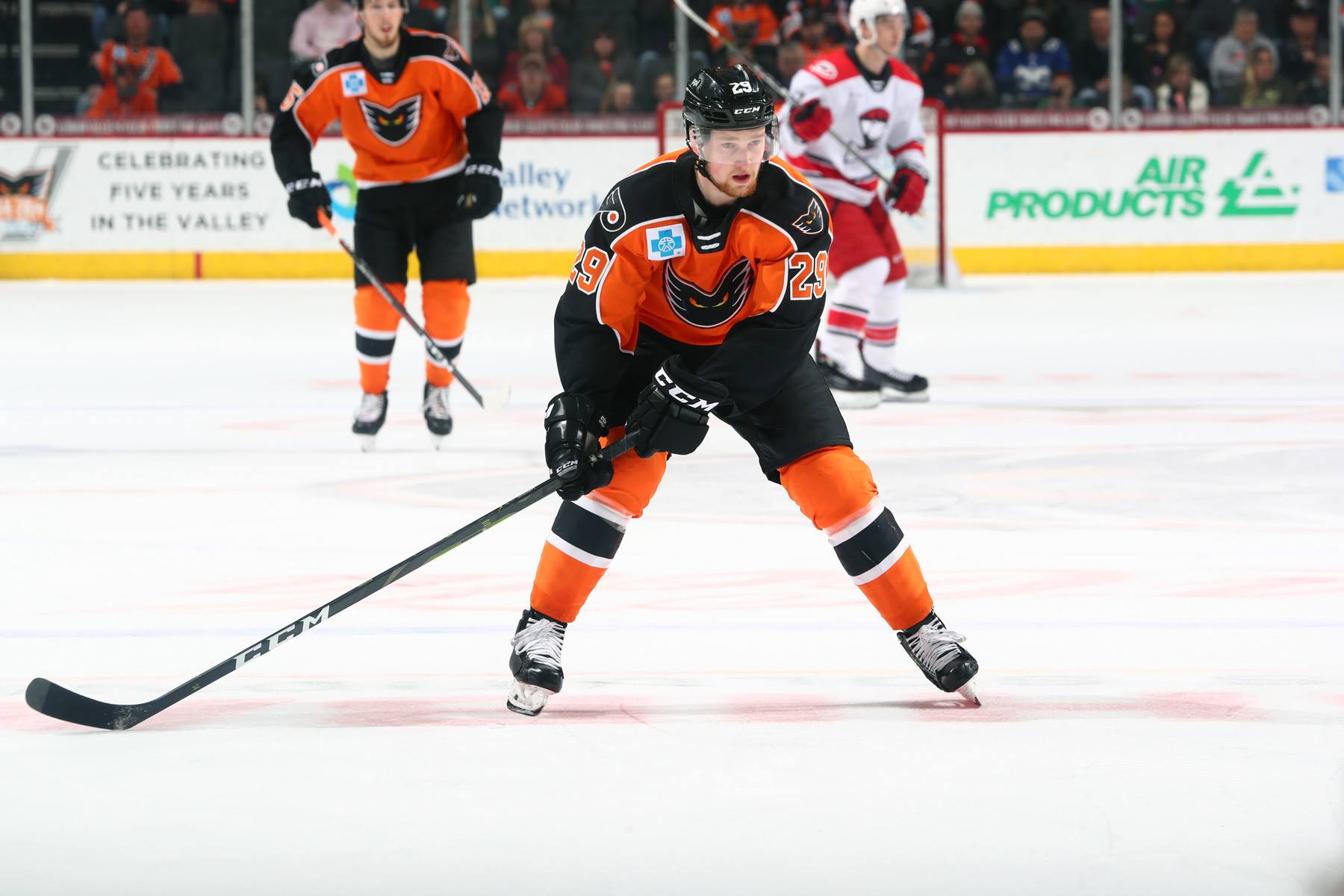 "We weren't sure how effective he was going to be because he had missed so much time over the last couple years with a few different injuries," Huffman said. "We weren't sure if he was going to be able to jump in and contribute, but he did. He played hard, he made some great plays and he can shoot the puck. He's got a knack for scoring goals too, so we are excited about him as a player moving forward."
With the 2018-19 season now behind them, the Phantoms could potentially see another large crop of rookies come into the locker room at the start of the 2019-20 season. With players like Morgan Frost, Isaac Ratcliffe, Matthew Strome, Joel Farabee and Felix Sandstrom having the possibility of playing in the Lehigh Valley, it's possible that the rookies from this season will become the ones teaching the ropes to the new kids next season.
"Usually that's the way it goes," Huffman said. "With the young guys, we've set a pretty good foundation for them to build on and to go into the summer knowing what they have to work on to get better. A lot of times the young guys think it's going to be a lot easier than it is at this level, so for them to be able to help convey the message to the other young guys, whether they see them at development camp or training camp next year, it's good that you can have someone to kind of back up what your message is."
Huffman, who is a first-time head coach, said that there are a lot of positives to take from this season, despite it not having the story-book ending the team had hoped for. He also noted that dealing with a rather large group of younger players this season will certainly help in dealing with whatever rookies the 2019-20 season may bring to the Phantoms.
"You learn how to handle different personalities and different types players whether they are from major juniors, college or maybe they come from Europe," Huffman said. "Each player has their own challenges and their own situations, so if you can learn from every one of them and pull a little bit from each experience it will set you up better to deal with the new kids next year."