Friday, November 3 at 7:05 p.m. – PPL Center, Allentown, PA
Lehigh Valley (3-4-1) vs. Hartford (5-2-0)
TONIGHT
The Lehigh Valley Phantoms are back at PPL Center for a Friday night rivalry engagement against the Hartford Wolf Pack, AHL affiliate of the New York Rangers. This is a rematch of Lehigh Valley's last home game from last Sunday which Hartford took 4-1. Tonight is also Game 3 out of 6 between the two teams.
It is Swiftie Takeover Night with the Phantoms featuring a fun Taylor Swift theme. It is also a Berks $1 Hot Dog Night through the end of the first period.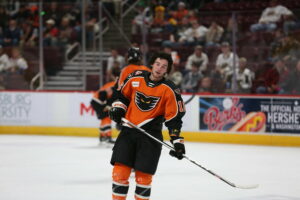 LAST TIME
J.R. Avon scored his first career professional goal with 4:53 remaining in the third period to ultimately force overtime at Hershey but the Bears escaped with the additional standings point in a 4-3 decision on Wednesday night. Olle Lycksell and Adam Ginning also scored for the Phantoms. Initially, the team's first goal was credited to Cooper Marody but a scoring change after the game will provide Lycksell with his team-leading seventh goal of the season on the play. Former Phantom Nicolas Aube-Kubel registered a goal and an assist for the host Hershey Bears. It was Aube-Kubel's first goal in the AHL since 2019 when he played for the Phantoms.
The Phantoms earned a standings point in their first overtime contest of the season.
TRANSACTIONS
Nov 2 – Add Darren Brady (D) – Recalled to LV from Reading
Nov 2 – Add Victor Mete (D) – Loaned to LV by PHI
Nov 2 – Delete Cal Petersen (G) – Recalled to PHI
Oct 31 – Add Felix Sandstrom (G) – Conditioning Loan to Lehigh Valley from Philadelphia
Oct 31 – Delete Matt Brown (F) – Loaned from Lehigh Valley to Reading
Oct 30 – Add Will Zmolek (D) – Recalled to Lehigh Valley from Reading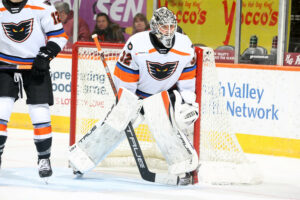 WELCOME BACK, FELIX
Goaltender Felix Sandström has joined the Lehigh Valley Phantoms on an NHL conditioning loan from the Philadelphia Flyers. The 26-year-old netminder played in seven games with the Phantoms last year going 4-1-2, 2.39, .911 with Lehigh Valley and also played in 20 games with the Flyers going 3-12-3, 3.72, .880. The 6'2″ goaltender from Stockholm, Sweden was a Round 3 selection of the Flyers in the 2015 NHL Entry Draft. Sandström has played in 62 career games with the Phantoms beginning in the 2018-19 season going a combined 26-22-10, 2.87, .904. He also has 25 career NHL games with the Flyers and 25 games with the Reading Royals of the ECHL in 2019-20 for a combined total of 114 pro games in North America.
PHANTASTIC!

J.R. Avon scored his first career pro goal in just his fourth game with the Phantoms. He had a knee injury during Flyers Training Camp in September and was late to begin the season.
Hershey's Nicolas Aube-Kubel scored his first goal in the AHL since December 14, 2019 when he played for Lehigh Valley in a game against Hartford.
Aube-Kubel played in 229 games for the Phantoms scoring 50 goals and also 102 games with the Philadelphia Flyers scoring 10 goals.
Will Zmolek recorded his first pro point on an assist of Cooper Marody's goal in the second period. It was Zmolek's first game with the Phantoms this season after beginning the year with the Reading Royals.
Mason Millman also made his season-debut for the Phantoms after beginning the season with Reading.
Felix Sandstrom had 24 saves in his first start of the season including 10 straight in the first period.
Defensemen Mason Millman and Will Zmolek both made their Phantoms' season debuts on Wednesday
Wade Allison has a two-game assist streak
Lehigh Valley has thrived in the second period of games this season with a combined 105 shots on goal in the middle frame. That's the most second-period shots in the AHL.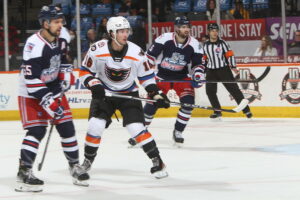 HERE COMES HARTFORD, AGAIN!
Hartford (5-2-0) returns to Allentown on Swiftie Takeover Night at PPL Center. The Wolf Pack started the season 4-0-0 but lost decisions to Springfield and Wilkes-Barre/Scranton last week before bouncing back with a 4-1 win at PPL Center in a feisty and physical battle which included Garrett Wilson dropping the gloves with Matt Rempe in a heavyweight tilt.
The New York Rangers' affiliate tops the Eastern Conference in defense at just 2.00 goals allowed per game. Goaltenders Louis Domingue (3-1-0, 1.75, .934) and Dylan Garand (2-1-0, 2.05, .939) each have a win against Lehigh Valley.
30-year-0ld captain Jonny Brodzinski (6-5-11) paces the offense and has two goals against Lehigh Valley while former Laval captain Alex Belzile (3-5-8) is next. 34-year-old NHL veteran of over 600 games Riley Nash had two power-play goals against the Phantoms last Sunday.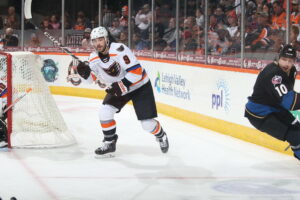 Phantoms Scoring Leaders
Tanner Laczynski 1-6-7
Olle Lycksell 7-0-7
Cooper Marody 2-4-6
Garrett Wilson 1-4-5
Adam Ginning 2-2-4
Wolf Pack Scoring Leaders
Jonny Brozinski 6-5-11
Alex Belzile 3-5-8
Mac Hollowell 0-7-7
Riley Nash 3-3-6
SPECIAL TEAMS
Lehigh Valley PP, 14.6% (26th)
Lehigh Valley PK 80.0% (18th0
Hartford PP 20.0% (13th)
Hartford PK 84.8% (12th)
UP NEXT
The Phantoms travel to Springfield twice this week including a Saturday night sojourn to Western Mass followed by a Wednesday morning return engagement at the Thunderbirds.
The Phantoms return to PPL Center on Saturday, November 11 against the Hershey Bears
UPCOMING
Wednesday, November 1 (7:00) – Lehigh Valley Phantoms at Hershey Bears
Friday, November 3 (7:05) – Hartford Wolf Pack at Lehigh Valley Phantoms – SWIFTIE Takeover Night!
Saturday, November 4 (7:05) – Lehigh Valley Phantoms at Springfield Thunderbirds
Wednesday, November 8 (10:35 a.m.) – Lehigh Valley Phantoms at Springfield Thunderbirds
Saturday, November 11 (7:05 p.m.) – Hershey Bears at Lehigh Valley Phantoms
Sunday, November 12 (3:00 p.m.) – Lehigh Valley Phantoms at Hershey Bears