Saturday, February 11, 2023 at 7:05 p.m.
Lehigh Valley Phantoms (23-17-5) vs. Bridgeport Islanders (19-18-8)
PPL Center, Allentown, PA
TONIGHT
The Phantoms are back for their first home game since the AHL All-Star Break as they host the Bridgeport Islanders in a Saturday Night Hockey Live clash at PPL Center. Lehigh Valley (23-17-5) enjoyed a 5-2 win at Hartford on Friday to gain stronger hold of fifth place in the Atlantic Division while maintaining the pace of Springfield and Charlotte directly ahead of them.
Bridgeport (19-18-8) is looking to climb out of 7th place tie with Wilkes-Barre/Scranton at the bottom of the standings.
Tonight is Game 5 out of 8 in the season series. The Phantoms are 2-1-1 against the Islanders.
It is also Hockey is For Everyone Night celebrating inclusivity in hockey in conjunction with our friends at Bradbury-Sullivan LGBT Community Center
LAST TIME
Friday, February 10, 2023
Phantoms 5 – Wolf Pack 2
Max Willman (5th, 6th) notched his first multi-goal game in two years while Zayde Wisdom (2nd), Elliot Desnoyers (15th) and Olle Lycksell (9th) also tallied in Friday's win at Hartford. Sam Ersson was terrific between the pipes in his 14th victory of the season with 33 saves on 35 shots. Bobby Brink had a pair of nice assists for his second consecutive multi-point game. Cooper Marody also registered a couple helpers.
Hartford closed the margin to 3-2 in the third period but Desnoyers converted late in regulation on the power play and Lycksell added an empty-netter to seal the win.
TRANSACTIONS
Forward Olle Lycksell has been recalled to the Philadelphia Flyers for the fourth time this season and for the first time in 2023. Lycksell has been a point-per-game with the Phantoms all season and has scored 9-25-34 in 34 games in Lehigh Valley. He has also played in three games with the Flyers with zero points. His last game in the NHL was December 17 against the New York Rangers.
The Philadelphia Flyers have released defenseman Linus Hogberg and have terminated his contract which allows Hogberg to return to Sweden. Hogberg played in 103 career games with the Phantoms over three seasons scoring three goals with 17 assists for 20 points as well as five NHL games with the Flyers last April.
ALL-STAR FUN
Ronnie Attard and Tyson Foerster represented the Phantoms at the AHL All-Star Classic in Laval, Quebec as the Eastern Conference won in the Skills Competition on Sunday and then the Atlantic Division advanced to the Championship game of the 3-on-3 All-Star Challenge on Monday. Tyson Foerster scored two goals in under in a minute in the Atlantic's round-robin victory to clinch a spot in the championship while Ronnie Attard scored his own goal earlier in the tournament.
Attard cranked up a 97.2 mph slapper in the Hardest Shot competition on Sunday to finish third. Foerster went 4-for-6 in the Accuracy Shooting contest and also scored a beauty in the Breakaway Challenge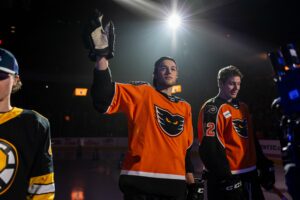 POWER SURGE
The Phantoms have moved all the way up to second in the AHL on the power play at 24.3% after going 6-for-12 in the last five games including 5-for-9 in the last three. Only Toronto (26.8%) has a more successful power-play conversion rate. Tyson Foerster (6-7-13) and Olle Lycksell (4-8-12) pace the team's power-play attack.
Amazingly, 11 players have scored two or more power-play goals for the Phantoms:
Foerster (6), Anisimov (4), Lycksell (4), Desnoyers (4), Attard (2), Brink (2), Brooks (2), Marody (2), O'Reilly (2), Wilson (2), York (2)
14 total players have scored at least one power-play goal for the Phantoms including Bellows, Cates and MacEwen who have one each.
PHANTASTIC!
– Red-Hot Tyson Foerster has six goals in the last eight games and also eight goals in the last 12 games including three multi-goal performances in the stretch. His last 12 games with eight total goals accounts for almost half of his season total of 17. Foerster had nine goals in the first 33 games of the season before his torrid tear.
– Jackson Cates enjoyed a mini-scoring surge with three goals in the last five games to become the fourth Phantom to reach double-digits in goals this year. Cates (10) joined Tyson Foerster (17), Elliot Desnoyers (14) and Artem Anisimov (12) with 10 or more lamplighters.
– Bobby Brink has racked up five points in the last two games with one goal and four assists. He has scored all six of his goals this season in six different arenas since joining the roster on January 6: Rochester, Bridgeport, Cleveland, Wilkes-Barre/Scranton, Lehigh Valley, Hershey
– The Phantoms are….
17-5-4 when scoring 3 or more goals
19-1-1 when allowing 2 goals or fewer
13-3-5 in one-goal games
12-1-5 when scoring the first goal
15-0-4 when leading after two periods
4-3 in overtime and 2-2 in shootouts
ABOUT THE ISLANDERS
Bridgeport (19-18-8) has certainly had its ups and downs this year. Brent Thompson's contingent spent the early weeks of the season rated as one of the top teams in the AHL. But an 11-game winless slide quickly sent the Islanders tumbling down the standings. With some key pieces having returned, including former NHL All-Star goaltender Cory Schneider, Bridgeport has built itself back up again somewhat but still stands in seventh place in the division.
Second-rounder Aatu Raty was dealt to Vancouver in the Bo Horvat deal.  Former Phantom Andy Andreoff (20-18-38) is enjoying a tremendous season and joins fellow veteran Chris Terry (14-30-44) atop the team's scoring chart. Ruslan Ishakov (9-22-31) and William Dufour (15-13-28) are impressive rookie scoring threats. The team has been much better with Cory Schneider (13-4-3, 2.55, .923) than without. The Phantoms are 2-1-1 against Bridgeport entering Game 5 of 8 in the season series.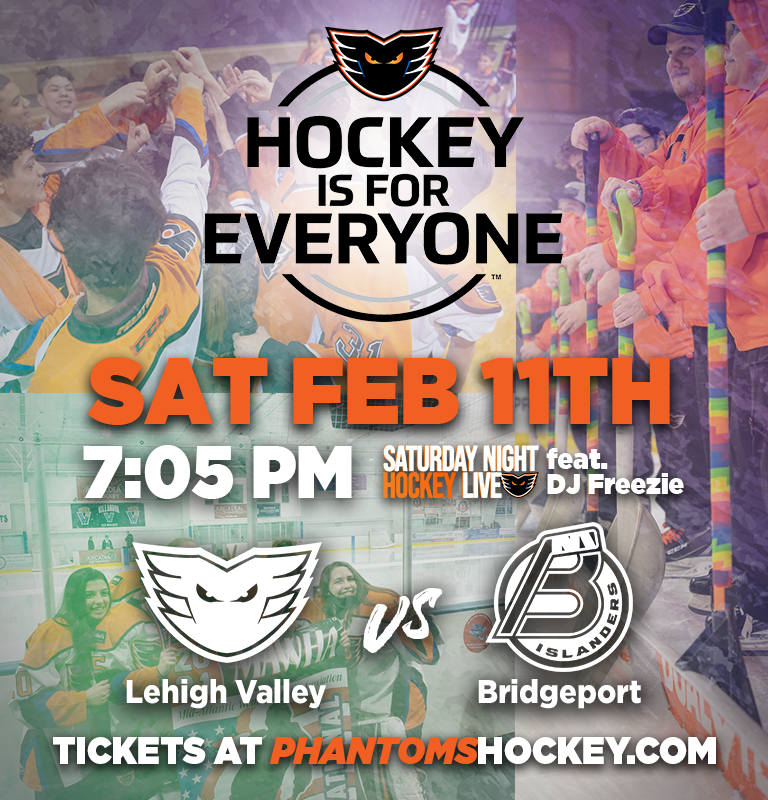 Phantoms Scoring Leaders
x Olle Lycksell 9-25-34
Tyson Foerster 17-13-30
Elliot Desnoyers 15-12-27
Artem Anisimov 12-9-21
Jackson Cates 10-10-20
Ronnie Attard 7-11-18
Hartford Scoring Leaders
Chris Terry 14-30-44
Andy Andreof 20-18-38
Arnaud Durandeau11-20-31
Ruslan Ishakov 9-22-31
William Dufour 15-13-28
Phantoms Tickets are available HERE
SPECIAL TEAMS 
Lehigh Valley Power Play – 24.3%, 2nd
Lehigh Valley Penalty Kill – 73.7%, 31st
Brideport Power Play – 23.1%, 6th
Bridgeport Penalty Kill – 83.1%, 9th
UP NEXT
The Phantoms travel to Charlotte for a pair of games against the Checkers on Friday and Saturday. The Phantoms return to PPL Center next Saturday, February 18 and Sunday, February 19 hosting the Wilkes-Barre/Scranton Penguins and Hartford Wolf Pack.
Phantoms Tickets are available HERE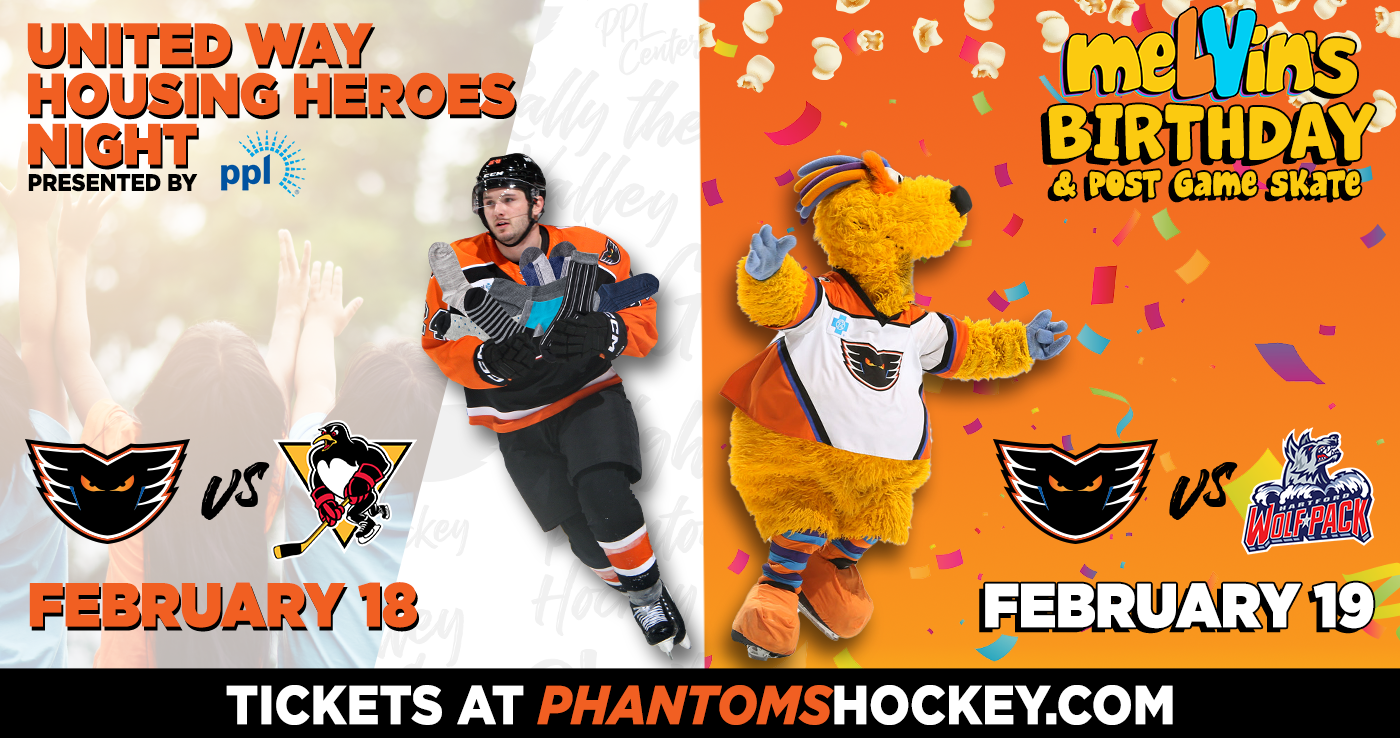 UPCOMING SCHEDULE
Saturday, February 11 (7:05) vs. BRIDGEPORT ISLANDERS
Tuesday, February 14 (7:00) at Charlotte Checkers
Wednesday, February 15 (7:00) at Charlotte Checkers
Saturday, February 18 (7:05) vs. WILKES-BARRE/SCRANTON PENGUINS
Sunday, February 19 (5:05) vs. HARTFORD WOLF PACK
UPCOMING PROMOTIONS
Saturday, February 11 (7:05) vs. Bridgeport Islanders – Hockey is for Everyone! Philly Special ticket packages available
Saturday, February 18 (7:05) vs. Wilkes-Barre/Scranton Penguins – United Way Housing Heroes presented by PPL with sock donation drive
Sunday, February 19 (5:05) vs. Hartford Wolf Pack – meLVin's Birthday with his Mascot Friends! Postgame Skate with the Phantoms Players
Broadcast coverage of all Phantoms games with Bob Rotruck is available on the Phantoms 365 app and on Real Oldies 1470-AM in Allentown. Also available on the Listen Live button at phantomshockey.com
Fans can also watch the games on AHLTV.com or can listen on their Smart Speakers at: "Play Phantoms Radio 24/7."
Service Electric Network again provides exclusive television coverage of all Phantoms home games with veteran announcer Steve Degler and Phantoms' alum Steven Swavely on the call from the booth. Kristi Fulkerson reports from ice level and also from the Chickie's and Pete's studio with Dan Fremuth for pregame, intermission and postgame show analysis.