Wednesday, December 28 at 7:05 p.m.
Lehigh Valley Phantoms (12-11-3) vs. Bridgeport Islanders (14-10-5)
PPL Center, Allentown, PA
TONIGHT
The Lehigh Valley Phantoms return from the Holiday Break as they host the Bridgeport Islanders in the penultimate home game of 2022. The Phantoms are coming off a hard-fought 2-1 win at the Springfield Thunderbirds on Friday with Pat Nagle making 30 saves.
This is the second of eight meetings between the Atlantic Division foes. Bridgeport stands in third place in the Atlantic Division despite dropping its last five in a row.  The Islanders previously snagged a 6-3 decision at PPL Center on October 29.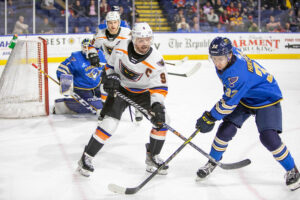 LAST TIME
Friday, December 23, 2022
Phantoms 2 – Thunderbirds 1
Lehigh Valley entered the Holiday Break with momentum after a hard-fought 2-1 win at Springfield. Artem Anisimov (10th) scored again, just 23 seconds into the game, following a nifty between-the-skates flick by Olle Lycksell. The 1-0 lead held up most of the way before Cal O'Reilly (3rd) scored with just 7:32 left to make it 2-0. Springfield broke up Pat Nagle's shutout bid with only 4:34 to go. Nagle was clutch in his first AHL win of the season with 30 saves.
TRANSACTIONS
Dec 21 – Delete Sam Ersson (G) – Recalled to Philadelphia (NHL)
Dec 21 – Add Nolan Maier (G) – Recalled to LV from Reading (ECHL)
Dec 22 – Add Mason Millman (D) – Recalled to LV from Reading (ECHL)
Dec 22 – Delete Kevin Connauton (D) – Assigned to Team Canada, Spengler Cup
Dec 28 – Delete Olle Lycksell (F) – Recalled to Philadelphia (NHL)
FIRSTS
Sam Ersson made his NHL debut for the Philadelphia Flyers on December 23 at Carolina. He becomes the 39th Lehigh Valley player to receive a recall to Philadelphia for an NHL debut. Congrats, Sam!
Ersson has had a tremendous bounce-back campaign after an injury-plagued first season in North America in which he played in only five games. He has gone 9-8-1, 2.72, .910 with Lehigh Valley this year including 9-4-0, 2.52, .915 since November 5.
Other goaltenders to make the jump from Lehigh Valley to debut with Philadelphia include Rob Zepp, Anthony Stolarz, Alex Lyon, Carter Hart, and Felix Sandstrom.
Kevin Connauton is wearing the Canadian Maple Leaf logo on his jersey for the first time in his career. The 32-year-old veteran defenseman has joined Team Canada at the Spengler Cup in Davos, Switzerland. Connauton was named as an alternate captain for the team. The tournament runs through December 31 and Connauton will return to the Phantoms on January 2.
PHANTASTIC!
– Artem Anisimov has 7 goals in 6 games since signing a standard player contract with the Phantoms for the remainder of the season on December 10. The 13-year NHL veteran already has 10 goals with the Phantoms in just 12 games. Anisimov is on a three-game goal streak.
– Elliot Desnoyers is third among AHL rookies with 11 goals and also leads the Phantoms in lamplighters
– Olle Lycksell is producing when Artem Anisimov is also in the lineup. He has 3-8-11 in 8 such games.
– Lehigh Valley's power play is fifth in the AHL at 25.0%.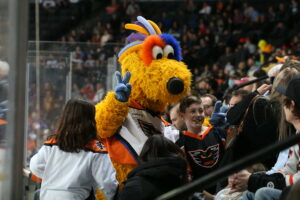 – The Phantoms are….
10-4-2 when scoring 3 or more goals
10-2-1 when allowing 2 goals or fewer
10-3-3 in one-goal games
9-0-3 when leading after two periods
3-2 in overtime and 1-1 in shootouts
ABOUT THE ISLANDERS
Bridgeport (14-9-5) has struggled of late with a five-game winless slide partly due to recalls and injuries but they still hold down third-place in the Atlantic Division. The Islanders got trounced at home on Tuesday in a 7-3 shellacking against Hartford. The Phantoms are just four points back of Bridgeport and with two games-in-hand.
20-year-old Aatu Raty scored in his NHL debut with the New York Islanders last week and veteran goalie Cory Schneider and defenseman Parker Wotherspoon among the recent recalls.
Phantoms alum Andy Andreoff leads Bridgeport with 16 goals and rates third in the AHL. Cole Bardreau (6-5-11) is in his fourth season with Bridgeport. One of the most popular players in Lehigh Valley history played in 226 games with the Phantoms for parts of five seasons from 2014 through 2019 scoring 41 goals and 98 points.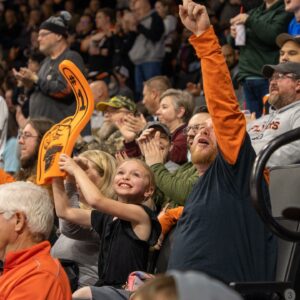 Phantoms Scoring Leaders
Tyson Foerster 8-11-19
Olle Lycksell 5-13-18
Elliot Desnoyers 11-5-16
Artem Anisimov 10-3-13
Garrett Wilson 5-8-13
Brideport Scoring Leaders
Chris Terry 7-20-27
Andy Andreoff 16-10-26
Samuel Bolduc 5-16-21
Ruslan Ishakov 8-12-20
Arnaud Durandeau 5-14-19
Phantoms Tickets are available HERE
SPECIAL TEAMS 
Lehigh Valley Power Play – 25..0%, 5th
Lehigh Valley Penalty Kill – 71.9%, 30th
Bridgeport Power Play – 26.3%, 4th
Bridgeport Penalty Kill – 83.1%, 8th
UP NEXT
The Phantoms travel to upstate New York to take on the Utica Comets on Friday night.
The Phantoms return to PPL Center on Saturday night for an exciting New Year's Eve game presented by Penn Community Bank when Lehigh Valley hosts the rival Wilkes-Barre/Scranton Penguins. Stay after the game for the New Year's party and WORLD'S LARGEST PUCK DROP on Hamilton Street to ring in 2023!
Phantoms Tickets are available HERE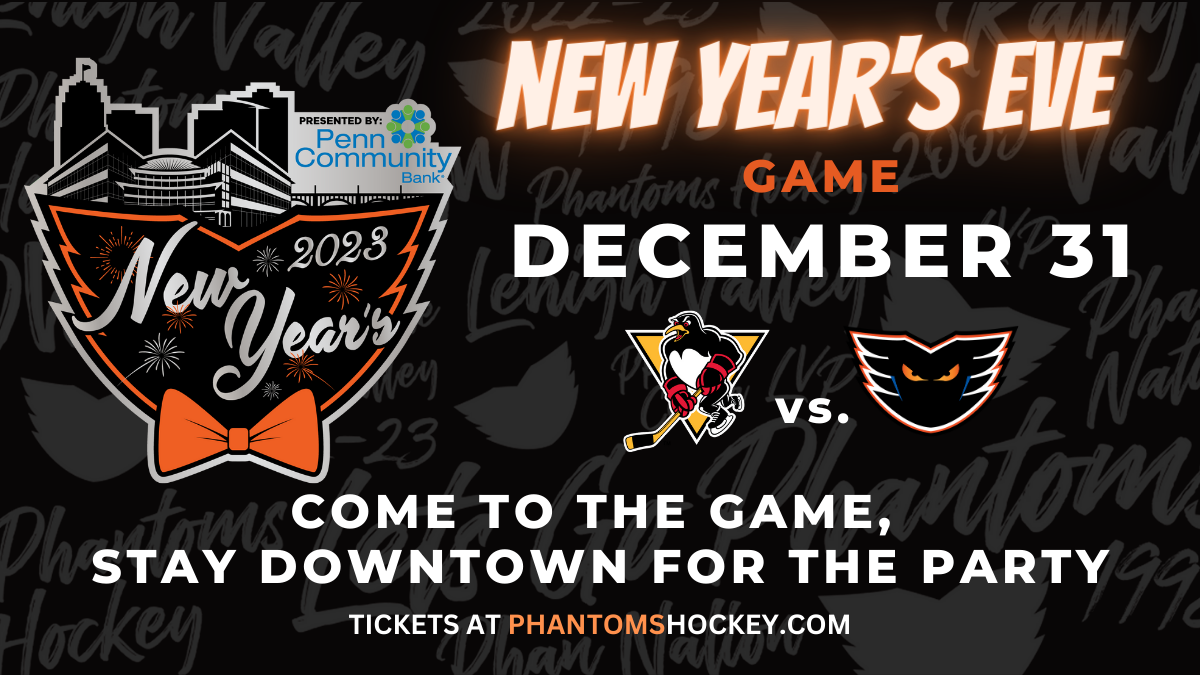 UPCOMING SCHEDULE
Wednesday, December 28 (7:05) vs. Bridgeport Islanders
Friday, December 30 (7:05) at Utica Comets
Saturday, December 31 (7:05) vs. WILKES-BARRE/SCRANTON PENGUINS
Friday, January 6 (7:05) at Rochester Americans
Saturday, January 7 (4:00) at Toronto Marlies
UPCOMING PROMOTIONS
Wednesday, December 28 (7:05) vs. Bridgeport Islanders – Pregame Happy Hour, $2 Miller Lites and Yuenglings
Saturday, December 31 (7:05) vs. Wilkes-Barre/Scranton Penguins – New Year's Eve Celebration presented by Penn Community Bank. Including festivities and great fun on Hamilton Street right after the game right with the World's Largest Puck-Drop to ring in 2023!
Friday, January 13 (7:05) vs. Bridgeport Islanders – Berks Dollar Dog Night
Saturday, January 14 (7:05) vs. Syracuse Crunch – Valley Youth House Night Presented by Air Products
Broadcast coverage of all Phantoms games with Bob Rotruck is available on the Phantoms 365 app and on Real Oldies 1470-AM in Allentown. Also available on the Listen Live button at phantomshockey.com
Fans can also watch the games on AHLTV.com or can listen on their Smart Speakers at: "Play Phantoms Radio 24/7."