Sunday, March 12, 2023 at 4:05 p.m.
Lehigh Valley Phantoms (30-22-6) vs. Utica Comets (29-20-8)
PPL Center, Allentown, PA
TONIGHT
The muy caliente Los Fantasmas seek their fifth straight win as they host Los Cometas de Utica on Hockey Fiester Weekend at PPL Center
Lehigh Valley (30-22-6) is coming off a thrilling overtime win over the Belleville Senators last night after Cooper Marody's hat-trick goal with 48.5 seconds brought the flying sombreros ahead of Ronnie Attard's 3-on-3 winning strike. left The Phantoms are in fifth place in the Atlantic Division and trail the Springfield Thunderbirds by two points for home-ice advantage in the first round of the Calder Cup Playoffs.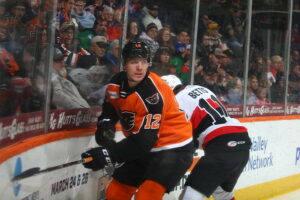 Utica (29-20-8) is on a seven-game point streak (6-0-1) and has posted identical results as the Phantoms in the reverse order. On Friday, the Comets defeated Belleville in overtime 4-3 and then on Saturday they won at Wilkes-Barre/Scranton 4-1. Those are the exact same scores the Phantoms had in their wins against the very same two teams!
There are 14 games remaining in the regular season including 9 at PPL Center.
LAST TIME
Saturday, March 11, 2023
Phantoms 4 – Senators 3 (OT)
Cooper Marody's hat trick goal with 48.5 seconds brought the flying sombreros at PPL Center. But there was still work to be done. Sam Ersson made six saves in overtime including several on a Belleville penalty kill. Then it was Ronnie Attard (10th) who struck for the overtime winner after Adam Brooks stole it in the B-Sens zone. Marody's fourth career AHL hat trick was part of a five-goal weekend for him…so far. Brooks had three assists on the night and Lehigh Valley won in overtime at home for the first time this season after four away OT triumphs.
1,000 WINS
Last night was the 1,000th win all-time in the history of the Phantoms franchise which began as the Philadelphia Phantoms in 1996. The Phantoms became only the eighth team in AHL history to win 1,000 games.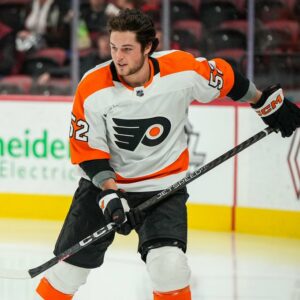 TYS AND DESI RETURN
Tyson Foerster and Elliot Desnoyers have returned to the Lehigh Valley Phantoms from the Philadelphia Flyers. The 21-year-old prospects are tied for the team lead with 38 points apiece and Desnoyers leads the Phantoms with 20 goals while Foerster is second with 18. Foerster made his NHL debut for the Philadelphia Flyers last Thursday at the Caroline Hurricanes. The 2020 first-round selection of the Philadelphia Flyers becomes the fourth Lehigh Valley Phantom to receive a recall for his NHL debut joining Olle Lycksell, Sam Ersson and Elliot Desnoyers.
Foerster represented the Phantoms at the AHL All-Star Classic in Laval, Quebec along with defenseman Ronnie Attard.
Foerster played in two games with the Flyers during his recall while Desnoyers has now played in four games for Philadelphia since making his NHL debut on February 25 at New Jersey as part of his first recall.
PHANTASTIC!
– Garrett Wilson has scored 6-7-13 in the last ten games in a stretch that has included a five-game point streak as well as a hat trick on February 20 against Hartford.
– Adam Brooks has recorded consecutive multi-point games and has scored 2-6-8 in the last three games.
– Sam Ersson is 7-1-0, 2.22. 910 with one shutout in his last eight games with the Phantoms since February 4. Since making his NHL debut on December 23, the rookie goaltender has gone 9-3-0 with the Phantoms and also 7-1-0 with the Flyers for a combined record of 16-4-0.
– Elliot Desnoyers has scored 6-9-15 in his last 11 games since February 1. The 21-year-old center was named AHL Rookie of the Month for February scoring 5-9-14 in just eight games played last month while also making is NHL debut
– The Phantoms are….
23-7-5 when scoring 3 or more goals
21-1-1 when allowing 2 goals or fewer
17-5-6 in one-goal games
14-3-6 when scoring the first goal
18-2-4 when leading after two periods
5-3 in overtime and 3-3 in shootouts
ABOUT THE COMETS
Utica (29-20-8) is on a three-game win streak and a seven-game point streak to establish a firm hold on second place in the North Division.  The defending North Division champions have not been quite as dominant this season but are still very strong. Utica  is led by Graeme Clarke (21-25-36). Hard-shooting first-rounder Alex Holtz had 26 goals for the Comets last year and has recently returned to Utica after sitting out with New Jersey as a healthy scratch for a majority of the season. He scored two goals including the overtime winner in Utica's 4-3 win over Belleville on Friday. The Comets recently lost Andreas Johnsson and Nikita Okhotiuk to San Jose in the Timo Meier trade as part of a 10-player deal.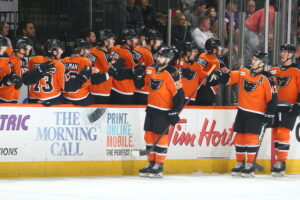 Phantoms Scoring Leaders
Elliot Desnoyers 20-18-38
Tyson Foerster 18-20-38
Olle Lycksell 10-26-36
Garrett Wilson 11-20-31
Artem Anisimov 16-12-28
Comets Scoring Leaders
Graeme Clarke 21-25-46
Joe Gambardella 9-22-31
Reilly Walsh 4-21-25
Ryan Schmelzer 5-23-28
Nolan Foote 16-11-27
Phantoms Tickets are available HERE
SPECIAL TEAMS 
Lehigh Valley Power Play – 21.6%, 11th
Lehigh Valley Penalty Kill – 72.7%, 32nd
Utica Power Play – 77.5%, 26th
Utica Penalty Kill – 77.0%, 28th
UP NEXT
The homestand continues this Wednesday against the Hershey Bears and the teams will again meet at PPL Center for a St. Patrick's Day showdown on Friday, March 17 on a Whiteout Night with the Phantoms.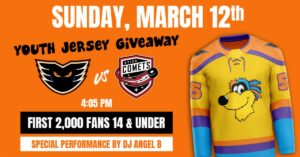 Phantoms Tickets are available HERE
UPCOMING SCHEDULE
Sunday, March 12 (4:05) vs. UTICA COMETS
Wednesday, March 15 (7:05) vs. HERSHEY BEARS
Friday, March 17 (7:05) vs. HERSHEY BEARS
Sunday, March 19 (4:05) vs. WILKES-BARRE/SCRANTON PENGUINs
UPCOMING PROMOTIONS
Sunday, March 12 (4:05) vs. Utica Comets – meLVin Youth Jersey Day (first 2,000 kids age 14 and younger) and Hockey Fiesta Weekend
Wednesday, March 15 (7:05) vs. Hershey Bears – Truist Night. Chamber of Commerce Night. $2 Pregame Happy Hour Beers
Friday, March 17 (7:05) vs. Hershey Bears – St. Patrick's Day! Whiteout Night. $1 Hot Dogs
Sunday, March 19 (4:05) vs. Wilkes-Barre/Scranton Penguins – Prospect Pack Trading Card Sets for First 5,000 Fans
Broadcast coverage of all Phantoms games with Bob Rotruck is available on the Phantoms 365 app and on Real Oldies 1470-AM in Allentown. Also available on the Listen Live button at phantomshockey.com
Fans can also watch the games on AHLTV.com or can listen on their Smart Speakers at: "Play Phantoms Radio 24/7."
Service Electric Network again provides exclusive television coverage of all Phantoms home games with veteran announcer Steve Degler and Phantoms' alum Steven Swavely on the call from the booth. Kristi Fulkerson reports from ice level and also from the Chickie's and Pete's studio with Dan Fremuth for pregame, intermission and postgame show analysis.