Saturday, November 4 at 7:05 p.m. – MassMutual Center, Springfield, MA
Lehigh Valley (4-4-1) vs. Springfield (5-4-0)
TONIGHT
The Lehigh Valley Phantoms look to extend their two-game point streak as they travel to New England for a Saturday night Springfield Showdown. It is also the first of two consecutive games at "The Thunderdome" where the Phantoms will return for a Wednesday morning rematch. The Phantoms have three points out of four with back-to-back overtime engagements. Lehigh Valley is 2-0-0 against Springfield entering their final visits to Western Mass in 2023-24.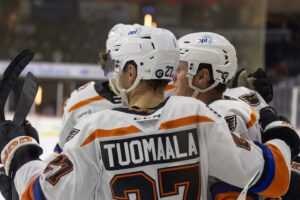 LAST TIME
Samu Tuomaala scored the overtime winner and added a pair of really strong assists in an exciting 5-4 victory over the Hartford Wolf Pack at PPL Center on Swiftie Takeover Night. Elliot Desnoyers connected with the onrushing rookie speedster for the winning tally.
The "Bad Blood" continued between the two teams and was especially noticeable in Evan Polei's heavyweight tilt with Hartford big man Matt Rempe.
Elliot Desnoyers (2nd), Olle Lycksell (8th) and Rhett Gardner (2nd) also scored for Lehigh Valley. Gardner tied the game at 4-4 with about 13:00 left. The Phantoms penalty kill came through in the clutch holding off a Hartford power play in the closing minutes to force OT.
Parker Gahagen got the victory for Lehigh Valley in relief of Felix Sandstrom who left the game after one period.
TRANSACTIONS
Nov 4 – Nolan Maier (G) – Recalled to LV from Reading
Nov 2 – Add Darren Brady (D) – Recalled to LV from Reading
Nov 2 – Add Victor Mete (D) – Loaned to LV by PHI
Nov 2 – Delete Cal Petersen (G) – Recalled to PHI
Oct 31 – Add Felix Sandstrom (G) – Conditioning Loan to Lehigh Valley from Philadelphia
Oct 31 – Delete Matt Brown (F) – Loaned from Lehigh Valley to Reading
Oct 30 – Add Will Zmolek (D) – Recalled to Lehigh Valley from Reading
PHANTASTIC!

Olle Lycksell is tied for third in the AHL with eight goals. He is only one off the league lead of nine by Springfield's Adam Gaudette and Colorado's Riley Tufte.
Lycksell has been credited with a goal in Wednesday's game at Hershey that was initially given to Cooper Marody. The change has been made official by the AHL. Marody's shot hit the crossbar and did not go in before Lycksell had the finish.
Lycksell is also second in the league with four power-play goals. Springfield's Gaudette has six.
Lycksell has goals in six of the last seven games beginning with his hat trick at Springfield on October 20
20-year-old Samu Tuomaala had a season-high three points in Friday's victory.
J.R. Avon has scored his first two professional goals in consecutive games. He had a knee injury during Flyers Training Camp in September and was late to begin the season.
The Phantoms have play consecutive overtime games with a loss at Hershey followed by a win at home against Hartford.
Defenseman Darren Brady made his season debut with the Phantoms on Friday following a recall from Reading.
30-year-old goaltender Parker Gahagen improved to 3-1 with the Phantoms after entering in relief of Felix Sandstrom. Gahagen had five career AHL wins entering the 2023-24 season and had never before had more than two wins in a single season. He has spent most of his career in the ECHL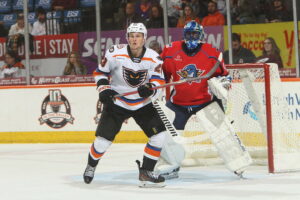 STREAKING SPRINGFIELD
Springfield (5-4-0) has won four straight following a shaky 0-for-3 weekend that included two losses against the Phantoms.
Lehigh Valley bested the T-Birds twice on October 20 and October 22 by scores of 5-2 and 3-2. Olle Lycksell had a hat trick at Springfield on October 20 and has four goals in the two meetings.
Adam Gaudette leads the AHL with nine goals which includes three against the Phantoms. Feisty Australian Nathan Walker (6-7-13) had two goals last night in Springfield's 6-3 win against Belleville. Walker had a hat trick against the Phantoms two seasons ago. 30-year-old Matthew Peca (2-8-10) is the team's new captain following the off-season retirement of Tommy Cross.
This is Game 3 out of 6 in the season series and the Phantoms will return to Springfield in just a few days for a morning contest on Wednesday, November 8.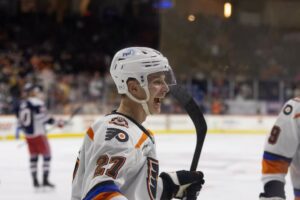 Phantoms Scoring Leaders
Olle Lycksell 8-0-8
Tanner Laczynski 1-7-8
Samu Tuomaala 2-5-7
Elliot Desnoyers 2-4-6
Cooper Marody 2-4-6
Garrett Wilson 1-5-6
Thunderbirds Scoring Leaders
Adam Gaudette 9-4-13
Nathan Walker 6-7-13
Matthew Peca 2-8-10
Mackenzie MacEachern 2-3-5
SPECIAL TEAMS
Lehigh Valley PP, 16.3%, 20th
Lehigh Valley PK 79.5% (20th)
Springfield PP 21.1% (11th)
Springfield PK 80.0% (17th)
UP NEXT
The Phantoms return to Western Mass for "Breakfast with the Thunderbirds" in a 10:35 a.m. game on Wednesday.
The Phantoms return to PPL Center on Saturday, November 11 against the Hershey Bears
UPCOMING
Saturday, November 4 (7:05) – Lehigh Valley Phantoms at Springfield Thunderbirds
Wednesday, November 8 (10:35 a.m.) – Lehigh Valley Phantoms at Springfield Thunderbirds
Saturday, November 11 (7:05 p.m.) – Hershey Bears at Lehigh Valley Phantoms
Sunday, November 12 (3:00 p.m.) – Lehigh Valley Phantoms at Hershey Bears