Wednesday, November 8 at 10:35 a.m.
MassMutual Center, Springfield, MA
Lehigh Valley (4-4-2) vs. Springfield (6-5-0)
TODAY
It's Breakfast in Springfield as the Lehigh Valley Phantoms play an unusual morning game with a 10:35 start-time as the Springfield Thunderbirds, AHL affiliate of the St. Louis Blues. Today's game is part of a special Field Trip Day promotion for area school kids…who will undoubtedly bring noise and energy and lots of screaming to today's contest.
It is also the second straight game at "The Thunderdome" in a rematch of Saturday night's contest here which Springfield won in overtime 3-2. Lehigh Valley has played three consecutive overtime games.
Lehigh Valley is 2-0-1 against Springfield.
This is the team's the team's third and final visit to Western Mass this year. (SAD FACE EMOJI!!)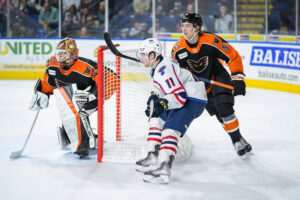 LAST TIME
The Phantoms disagreed with an overtime penalty that provided the host T-Birds with their sixth power-play of the night and second in the extra session. Dylan Coghlan's drive beat Parker Gahagen for the game-winner. It was Coghlan's second goal of the game. Garrett Wilson scored his second of the season in the opening minutes and Brendan Furry scored on the rush on a lead pass from Cooper Marody for his first of the year. The Phantoms never trailed in the entire game until the deciding tally in Lehigh Valley's third consecutive overtime contest.
RECENT TRANSACTIONS
Nov 6 – Delete Darren Brady (D) – Loaned to Reading
Nov 6 – Delete Jacob Gaucher (F) – Loaned to Reading
Nov 5 – Delete Felix Sandstrom (G) – Recalled to PHI, placed on IR
Nov 5 – Delete Victor Mete (D) – Recalled to PHI
Nov 4 – Nolan Maier (G) – Recalled to LV from Reading
Nov 2 – Delete Cal Petersen (G) – Recalled to PHI
PHANTASTIC!

Lehigh Valley is on a three-game point streak. The three overtime games is second-most in the AHL trailing only Rochester which has five.
20-year-old rookie Samu Tuomaala had four points on the weekend including the overtime goal on Friday and three assists in the Friday and Saturday games combined. He also moved into a three-way tie for the league lead in points
J.R. Avon recorded his first two professional goals in back-to-back games last week
Olle Lycksell (8-0-8) is one off the league lead for goals. Lycksell's four power-play goals rates second in the AHL. He has eight total goals in the last eight games beginning with his October 20 hat trick at Springfield.
Lehigh Valley is second in the AHL with three shorthanded goals. The Phantoms scored all three in the same game on October 15 against Belleville to tie a franchise record
The Phantoms offense is alive in the second period with an AHL-leading 121 shots on goal
The Phantoms are 3-0-0 when allowing two goals or fewer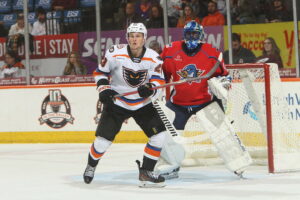 SHOWDOWN IN SPRINGFIELD
Rise and Shine for an unusual morning start in Western Mass!
It is also the second consecutive game for the Phantoms at Springfield's MassMutual Center.
Springfield (6-5-0) had its five-game win streak snapped on Sunday in a 3-2 loss at the Bridgeport Islanders. Their streak was a nice bounce-back from a lousy 0-for-3 weekend October 20-22 in which they lost two of their three games against the Phantoms.
The Phantoms are 2-0-1 against the T-Birds entering the fourth of six meetings this season which is also Lehigh Valley's final visit to Western Mass this year. Olle Lycksell had a hat trick at Springfield on October 20 in a 5-2 win.
Adam Gaudette is in a three-way tie for the AHL lead with nine goals which includes three against the Phantoms. He is also just one ahead of Olle Lycksell. Feisty Australian Nathan Walker (8-7-15) had a hat trick against the Phantoms two seasons ago and, more recently, the talented 29-year-old recorded a pair of two-goal games last weekend for four total goals in the more recent three outings. 30-year-old Matthew Peca (2-10-12) is the team's new captain following the off-season retirement of Tommy Cross.
Young goaltending prospect Vadim Zherenko (4-2-0, 2.52, .929) has been very good but the Phantoms have only faced Malcolm Subban (2-3-0, 2.86, .905) in three previous meetings with the Birds.
The unusual morning start is part of an annual School Field Trip day. The Phantoms were also the opponent for the Springfield Morning Game on November 13, 2019 in a 2-1 loss despite pouring on 42 shots.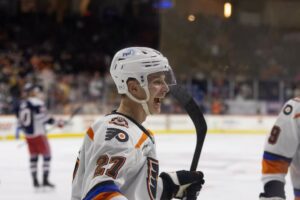 Phantoms Scoring Leaders
Olle Lycksell 8-0-8
Samu Tuomaala 2-6-8
Tanner Laczynski 1-7-8
Elliot Desnoyers 2-5-7
Cooper Marody 2-5-7
Garrett Wilson 2-5-7
Thunderbirds Scoring Leaders
Adam Gaudette 9-6-15
Nathan Walker 8-7-15
Matthew Peca 2-10-12
Dylan Coghlan 5-2-7
SPECIAL TEAMS
Lehigh Valley PP, 16.3%, 20th
Lehigh Valley PK 79.5% (20th)
Springfield PP 21.1% (11th)
Springfield PK 80.0% (17th)
UP NEXT
The Phantoms return to PPL Center on Saturday, November 11 against the Hershey Bears and then depart on a four-game road-swing beginning with a Sunday afternoon rematch in Chocolate Town at 3:00 p.m.
UPCOMING
Wednesday, November 8 (10:35 a.m.) – Lehigh Valley Phantoms at Springfield Thunderbirds
Saturday, November 11 (7:05 p.m.) – Hershey Bears at Lehigh Valley Phantoms
Sunday, November 12 (3:00 p.m.) – Lehigh Valley Phantoms at Hershey Bears
Friday, November 17 (7:00 p.m.) – Lehigh Valley Phantoms at Laval Rocket
Saturday, November 18 (7:00 p.m.) – Lehigh Valley Phantoms at Belleville Senators