Friday, October 20 at 7:05 p.m – MassMutual Center, Springfield, Mass.
Lehigh Valley (1-1-0) at Springfield (1-1-0)
TONIGHT
The Lehigh Valley Phantoms play their first away game of the season as they travel to Western Mass to tangle with the Springfield Thunderbirds, AHL affiliate of the St. Louis Blues. It's the beginning of a busy weekend for the Phantoms who are opening a three-game stretch.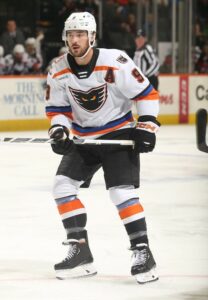 LAST TIME
The Phantoms tied a franchise record with three shorthanded goals in a 5-2 comeback win against the Belleville Senators. Parker Gahagen allowed two early goals and then racked up 26 consecutive saves the rest of the way for his first AHL win in over two seasons. Cooper Marody, Adam Ginning and Rhett Gardner (empty net) all had shorties while Alexis Gendron scored his first career goal in his pro debut and Tanner Laczynski added a 5-on-3 marker along with two assists for a three-point night.
SHOWDOWN WITH SPRINGY
The Phantoms and Thunderbirds will see each other twice this weekend with a rematch upcoming at PPL Center in Allentown on Sunday at 3:05 p.m. Tonight is the first of six divisional rivalry matchups between the two foes.
Springfield  (1-1-0) split a pair of games to open the season with a 3-1 loss to the Hartford Wolf Pack followed by a 4-3 win over the Providence Bruins. The T-Birds finished in fourth-place in the Atlantic Division in 2023-24 at 38-26-8 but were bounced in the first round of the postseason by Hartford. Nathan Walker (2-1-3) leads the team in scoring to begin. The diminutive Australian registered a hat trick against the Phantoms two seasons ago and also had an NHL hat trick with the St. Louis Blues in the same season.
Veteran backstop Malcolm Subban and young prospect Vadim Zherenko are the goalies. Captain Tommy Cross announced his retirement over the summer but two-time Calder Cup Finalist Matthew Peca returns to the T-Birds to assume leadership duties.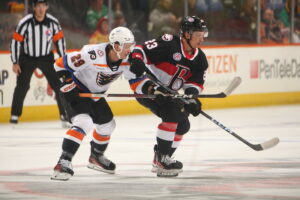 WELCOME TO THE AHL SHOW
Some young talents played their first game in the AHL last weekend including Matt Brown, Alexis Gendron, Jacob Gaucher and Ethan Samson. 19-year-old Gendron was a seventh-round selection of the Flyers in 2022 and scored his first professional goal in Sunday's win against Belleville. It could be a sign of things to come for "Gendy." The speedy winger racked up 55 goals in the QMJHL last year.
Waiting for his turn to make a pro debut is 20-year-old forward J.R. Avon who was activated from injured reserve and added to the Phantoms roster on Wednesday.
CAPTAINS
32-year-old veteran left wing Garrett Wilson has been named the third full-time captain of the Lehigh Valley Phantoms. Colin McDonald (2015-19) and Cal O'Reilly (2019-23) are the team's first full-time captain.
Defenseman Louie Belpedio is the team's full-time alternate captain.
Three more players will rotate the second A: Tanner Laczynski, Victor Mete, Cooper Marody

2023-24 Phantoms Roster CLICK HERE
Phantoms Scoring Leaders
Cooper Marody 2-1-3
Tanner Laczynski 1-2-3
Alexis Gendron 1-0-1
Rhett Gardner 1-0-1
Adam Ginning 1-0-1
Samu Tuomaala 1-0-1
UP NEXT
The Phantoms trek down I-91 for a Saturday night battle at the Hartford Wolf Pack, AHL affiliate of the New York Rangers.
The Phantoms return to PPL Center on Sunday at 3:05 p.m. with a rematch against the Springfield Thunderbirds.
UPCOMING –
Friday, October 20 (7:05) – Lehigh Valley Phantoms at Springfield Thunderbirds
Saturday, October 21 (7:05) – Lehigh Valley Phantoms at Hartford Wolf Pack
Sunday, October 22 (5:05) – Springfield Thunderbirds at Lehigh Valley Phantoms
Saturday, October 28 (7:00) – Lehigh Valley Phantoms at Hershey Bears
Sunday, October 29 (5:05) – Hartford Wolf Pack at Lehigh Valley Phantoms