Friday, November 4 at 7:05 p.m.
Lehigh Valley Phantoms (2-4-1) at Belleville Senators (3-4-1)
CAA Arena, Belleville, Ontario
TONIGHT – The Lehigh Valley Phantoms travel outside of Pennsylvania for the first time this season and head north of the border for a Friday night showdown with the Belleville Senators, AHL affiliate of the Ottawa Senators. This is Game 2 of a three-game road swing that concludes tomorrow afternoon in Laval, Quebec.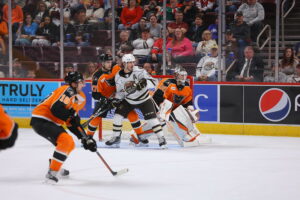 LAST TIME – Jackson Cates scored his first of the season with a power-play marker in the first period but former Phantom Mike Vecchione led the Hershey attack with a three-point game including one goal and two assists while Mike Sgarbossa scored a pair of goals in a 4-1 decision in Chocolatetown on Sunday. The feisty, rivalry affair included 76 combined penalty minutes as well as the team's first official fight of the season when Jordy Bellerive dropped the gloves with Hershey captain Dylan McIlrath in the game's closing minutes.
CAPTAIN CAL – 36-year-old Cal O'Reilly continues to produce. Now at eighth all-time in career assists in the AHL with 537, O'Reilly has found a greater scoring touch late in his career. He is seven behind AHL Hall of Famer Jody Gage (544) for seventh in AHL history. Gage was a 1980s and 1990s star with the Adirondack Red Wings and Rochester Americans. Cal is the active scoring leader in the AHL with 689 points in a Hall-of-Fame caliber career that has spanned over 1,000 pro games. He has played 832 games in the AHL which is 32nd all-time directly behind former Philadelphia Phantoms captain and head coach John Stevens (also former Flyers head coach) who played in 834 games in the AHL.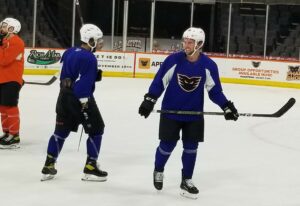 WELCOME HOME – The Phantoms are excited to welcome forward Evan Barratt. The Bucks County native from Bristol, Pa. was acquired in a trade with the Chicago Blackhawks last week in exchange for defenseman Cooper Zech. Barratt was playing with the Rockford IceHogs of the AHL where he scored 14 goals with 14 assists last year. The former Penn State star grew up cheering for the Flyers and can't wait for his first home game at PPL Center with family and friends cheering him on.
RECENT TRANSACTIONS – 
Oct 31 – Delete Charle Gerard (F) – Loaned to Reading (ECHL)
Nov 1 – Add Adam Karashik (F) – Recalled to Phantoms from Reading (ECHL)
ABOUT THE SENATORS – Troy Mann's Belleville Senators (3-4-1) lost two away games at the Central Division last week with a 4-2 loss at Milwaukee followed by an 8-2 blowout at Rockford. Former Wilkes-Barre/Scranton Penguin Jake Lucchini leads the team with 4-7-11. Former San Jose prospect Rourke Chartier has four goals including a pair of late game-winners at Laval. He scored the breakaway winner in overtime on Opening Night and then victimized the Rocket again with just nine seconds left in regulation to break a late tie. The AHL affiliate of the Ottawa Senators is allowing 4.25 goals per game, second most in the Eastern Conference.
UP NEXT – The Phantoms travel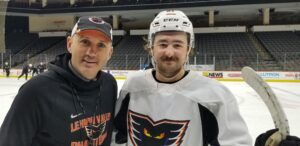 to the greater Montreal area for a Saturday afternoon game against the Laval Rocket at 3:00 p.m. It will be a fun homecoming for head coach Ian Laperriere and rookie center Elliot Desnoyers who both grew up in the Montreal area.
The Lehigh Valley Phantoms return to PPL Center on Friday, November 11 against the Springfield Thunderbirds with the WFMZ-69 Coat Drive and $1 Berks Hot Dogs and then host the Laval Rocket on Saturday, November 12 at 7:05 p.m. on 90s Night with another Saturday Night Hockey Live performance.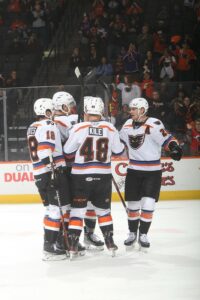 Team Scoring Leaders
Garrett Wilson 2-4-6
Elliot Desnoyers 3-2-5
Tyson Foerster 2-3-5
Ronnie Attard 2-2-4
Max Willman 2-2-4
Cam York 1-3-4

Belleville Senators Scoring Leaders
Jake Lucchini 4-7-11
Egor Sokolov 1-6-7
Cole Reinhardt 2-4-6
Rourke Chartier 4-1-5
Jayce Hawryluk 2-3-5
Roby Jarventie 2-3-5
Special Teams
Lehigh Valley Power Play – 23.1% (14th)
Lehigh Valley Penalty Kill – 61.8% (32nd)
Belleville Power Play – 22.2% (15th)
Belleville Penalty Kill – 76.7% (22nd)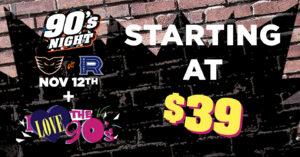 PROMOTIONS – 
– 90s Style Ticket Special! One ticket for 90s Night Phantoms game on Saturday, November 12 PLUS one ticket for "I Love the 90s" concert with Vanilla Ice on Saturday, November 18. Get the All 90s package for just $39!
– Bring your gently used coats during the day on Friday, November 11 for our WFMZ-69 Phantoms Coat Drive. Fans who stop by between 9-5 with a coat donation will receive TWO TICKETS to an upcoming Phantoms game!
– Black Friday Sale!! Mark your calendars. Friday, November 25 from 10:00 a.m. until 2:00 p.m. it's 30% OFF at the Phan Shop inside PPL Center. Discounts apply to most items (not game-worn jerseys or customization). Great gifts for your friends and family at the Phantoms Black Friday Sale!
Phantoms individual game tickets are on sale now. Secure your seats for your favorite promotional nights and big rivalry matchups! PHANTOMS GAME TICKETS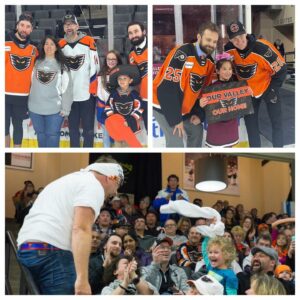 Upcoming Schedule
Friday, November 4 (7:05) at Belleville Senators
Saturday, November 5 (3:00) at Laval Rocket
Friday, November 11 (7:05) vs. Springfield Thunderbirds – WFMZ-69 Coat Drive. Berks $1 Hot Dogs Night
Saturday, November 12 (7:05) vs. Laval Rocket – 90's Night! Saturday Night Hockey Live
Friday, November 18 (7:05) at Providence Bruins
Saturday, November 19 (7:05) at Providence Bruins
Sunday, November 20 (3:05) at Springfield Thunderbirds