Saturday, November 18 at 7:00 p.m.
CAA Arena, Belleville, Ontario
Lehigh Valley (6-6-2) at Belleville (6-6-1)
TONIGHT
The Phantoms seek their third straight win as their Canadian road swing continues with a Saturday night showdown at the Belleville Senators, AHL affiliate of the Ottawa Senators. Lehigh Valley (6-6-2) is coming off a thrilling 3-2 win at the Laval Rocket on Friday while the B-Sens feel on home ice in a 3-2 decision against the Manitoba Moose.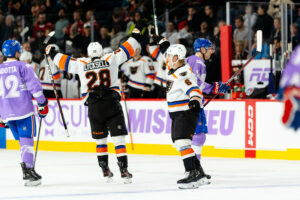 LAST TIME
A wild ending had the Phantoms hanging on for a 3-2 victory in front of a packed house at the Laval Rocket on Friday night. Tanner Laczynski had one goal and two assists while Olle Lycksell scored a pair of goals and Samu Tuomaala's three assists was good for his second three-point performance of the season.
Lehigh Valley led 3-0 in the closing minutes but a five-minute major opened the door for the Rocket who scored a pair of 6-on-4 goals to make it interesting. Laval finished with nine power plays in total in the game (three of which were part of the five-minute major).
Cal Petersen thrived in his return to the Phantoms with 24 saves including three breakaway denials.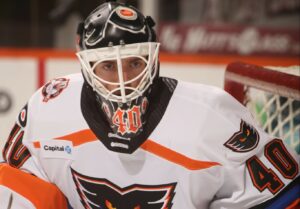 WELCOME BACK CAL AND VICTOR
The Lehigh Valley Phantoms have received veteran defenseman Victor Mete and goaltender Cal Petersen from the Philadelphia Flyers. Mete has been up with Philadelphia since October 26 and played in one game with the big club which was also the 247th game of his NHL career. Petersen was recalled on November 2 and started two games for the Flyers including a 37-save win against his former club in Los Angeles on Saturday night.
TRANSACTIONS
Nov 12 – Add Jacon Gaucher (F) – Recalled from Reading
Nov 14 – Add Cal Petersen (G) – Loaned from Philadelphia
Nov 14 – Add Victor Mete (D) – Loaned from Philadelphia
Nov 14 – Delete Nolan Maier (G) – Loaned to Reading
PHANTASTIC!
Olle Lycksell moved into a tie for second in the AHL with 10 goals. Adam Gaudette of Springfield leads the league with 13
Samu Tuomaala (2-9-11) is tied for second among AHL rookies in assists and is tied for seventh in points
Veteran captain Garrett Wilson leads the AHL with 56 penalty minutes. Wilson's 195 PIM led the AHL in the 2022-23 season
The Phantoms are 6-0-1 when scoring three or more goals
Lehigh Valley killed 20 consecutive opponent power plays before surrendering a pair of 6-on-4 markers late in the Friday game.
Lehigh Valley is third in the AHL and second in the Eastern Conference in shots in the second period with 155 (Springfield 165, Colorado 160)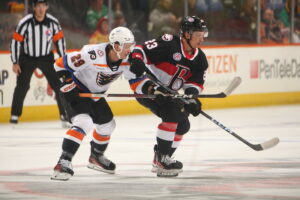 BRING ON THE B-SENS
Belleville (6-6-1) has dropped two straight including a 3-2 decision on home ice against Manitoba on Friday. In their Wednesday game at Laval, the Senators raced out to a 4-0 lead in the first period before the Rocket rallied with six straight goals in an incredible conmeback.
The Phantoms defeated Belleville at PPL Center during Opening Weekend on October 15 when Lehigh Valley rallied from a 2-0 deficit to post a 5-2 win. The Phantoms racked up a franchise-record three shorthanded goals in that game with Cooper Marody, Adam Ginnign and Rhett Gardner all striking when a man-down. The B-Sens are led by Max Gaunette (1-10-11) and University of New Hampshire product Angus Crookshank (4-6-10) as well as 2020 second-rounder Egor Sokolov (3-6-9). 6'7″ Danish big-man Mads Sogaard (4-3-0, 2.35, .923) has been recalled to Ottawa.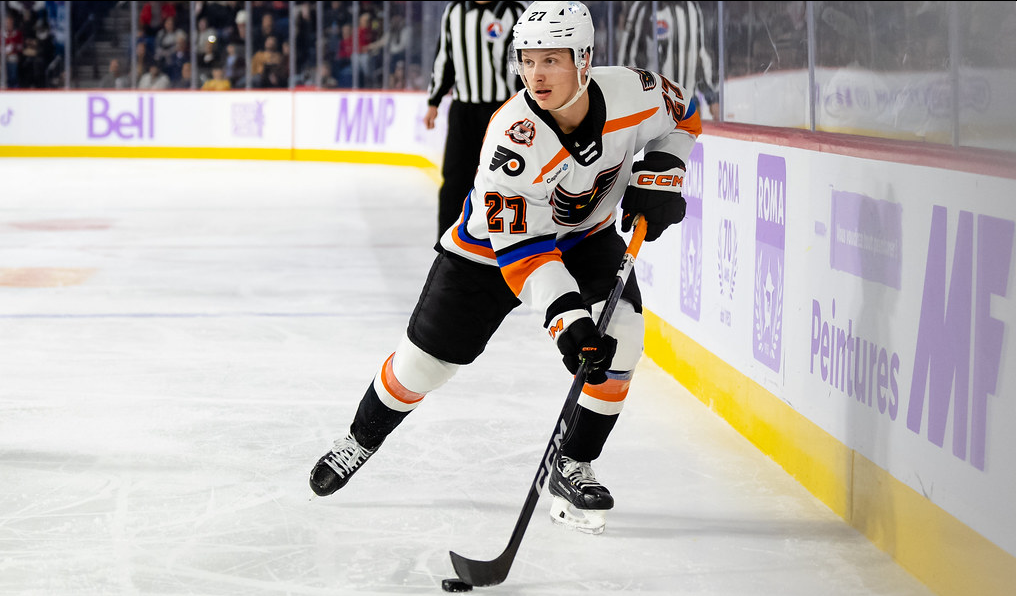 Phantoms Scoring Leaders
Olle Lycksell 10-2-12
Cooper Marody 4-7-11
Tanner Laczynski 2-9-11
Samu Tuomaala 2-9-11
Garrett Wilson 3-6-9
Rocket Scoring Leaders
Max Gaunette 1-10-11
Angus Crookshank 4-6-10
Egor Sokolov 3-6-9
Garrett Pilon 3-5-8
SPECIAL TEAMS
Lehigh Valley PP, 18.9% (15th)
Lehigh Valley PK 83.8% (12th)
Belleville PP 18.6% (15th)
Laval PK 77.4% (25th)
UP NEXT
The Phantoms' road-trip concludes on Tuesday evening at the Toronto Marlies.
Lehigh Valley's next home games are Thanksgiving Weekend on November 24 and November 25 with weekend promotions including SECTV Phantoms Ballcaps and Flyers Night with GRITTY plus postgame photos.
UPCOMING
Saturday, November 18 (7:00 p.m.) – Lehigh Valley Phantoms at Belleville Senators
Tuesday, November 21 (7:00 p.m.) – Lehigh Valley Phantoms at Toronto Marlies
Friday, November 24 (7:05 p.m.) – Providence Bruins at Lehigh Valley Phantoms – SECTV Phantoms Ballcaps
Saturday, November 25 (7:05 p.m.) – Rochester Americans at Lehigh Valley Phantoms – Flyers Night with GRITTY! Plus postgame photos with Phantoms players