Saturday, November 5 at 3:00 p.m.
Lehigh Valley Phantoms (2-5-1) at Laval Rocket (2-6-2)
Place Bell, Laval, Quebec
TONIGHT – The Lehigh Valley Phantoms conclude their three-game road swing this afternoon at the Laval Rocket, AHL affiliate of the Montreal Canadiens. This is the first of two games in the season series. The two teams will rematch in exactly one week on 90s Night at PPL Center.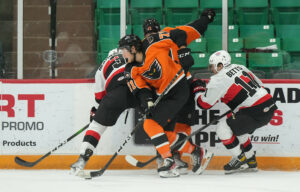 LAST TIME – The Phantoms cranked out a season-high 39 shots, including 20 in the second period, but Mads Sogaard was a brick wall in the Senators' net in a 3-2 decision at Belleville on Friday night. Lehigh Valley rallied in the third from a 3-0 deficit to cut into the margin on goals for Olle Lycksell and Jackson Cates. Zayde Wisdom assisted on both goals and came perilously close to scoring the tying goal himself on two occasions. Lycksell scored his first pro goal in North America and Cates tallied for a second game in a row. The penalty-filled contest saw eight power plays for each side. Rourke Chartier paced the B-Sens with two goals.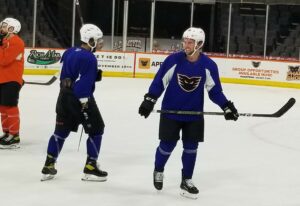 WELCOME HOME – The Phantoms are excited to welcome forward Evan Barratt. The Bucks County native from Bristol, Pa. was acquired in a trade with the Chicago Blackhawks last week in exchange for defenseman Cooper Zech. Barratt was playing with the Rockford IceHogs of the AHL where he scored 14 goals with 14 assists last year. The former Penn State star grew up cheering for the Flyers and can't wait for his first home game at PPL Center with family and friends cheering him on. Barratt could make his Phantoms debut in today's game at Laval.
RECENT TRANSACTIONS – 
Goaltender Pat Nagle has been recalled by the Phantoms from the Reading Royals of the ECHL.
CAPTAIN CAL PASSES JOHN STEVENS – Today's game will move Phantoms captain Cal O'Reilly will move all alone into 32nd place all-time, passing John Stevens, with his 835th career game today. O'Reilly veteran is the AHL's active career scoring leader with 684 points and the 36-year-old veteran is serving as a captain with his fourth different team. John Stevens was the first Philadelphia Phantoms captain and the leader for the team's 1998 Calder Cup title. As head coach of the Phantoms seven years later, he led the Phantoms to another Calder Cup in 2005.
FIRSTS! – Olle Lycksell scored his first career pro goal in North America in Friday night's comeback effort at Belleville. The Flyers 6th round selection in the 2017 NHL Draft is 23 years old. He scored 14 goals last year for Vaxjo HC in Sweden.
Jackson Cates has a two-game goal streak which is his first stretch of games with consecutive goals.
Zayde Wisdom had a big night and contributed a pair of assists for his first two points of the season. Wisdom had five multi-point games as an 18-year-old rookie in the abbreviated 2020-21 season when he became the youngest player in franchise history. Following off-season shoulder surgery, Wisdom returned to the Kingston Frontenacs of the OHL last year before rejoining the Phantoms this season.
ABOUT THE ROCKET – Laval enjoyed a playoff run to the conference finals last year before bowing out to Springfield. Phantoms' alum Danick Martel had four goals in a single playoff game during that run but this season has yet to score a goal through nine games. Gabriel Bourque leads the team with five goals for head coach J-F Houle. The Rocket have dropped three straight including a 5-4 overtime decision to the Toronto Marlies last night when Logan Shaw's winning goal was also good for a hat trick. The Rocket scored twice in the last three minutes to force OT. Two of Laval's losses have been in the closing seconds at the hands of Belleville's Rourke Chartier who had an overtime winner here on Opening Night, October 14 and then had a decisive goal with just nine seconds left in the third on October 27.
UP NEXT –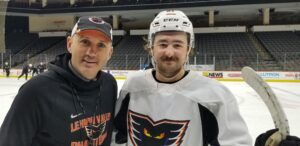 The Lehigh Valley Phantoms return to PPL Center on Friday, November 11 against the Springfield Thunderbirds with the WFMZ-69 Coat Drive and $1 Berks Hot Dogs and then will host the Laval Rocket on Saturday, November 12 at 7:05 p.m. on 90s Night with another Saturday Night Hockey Live performance.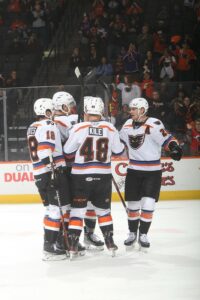 Team Scoring Leaders
Garrett Wilson 2-4-6
Elliot Desnoyers 3-2-5
Tyson Foerster 2-3-5
Olle Lyscksell 1-4-5
Ronnie Attard 2-3-5
Max Willman 2-2-4
Cam York 1-3-4

Laval Rocket Scoring Leaders
Anthony Richard 5-3-8
Jesse Ylonen 3-5-8
Brandon Gignac 2-6-8
Xavier Simoneau 2-4-6
Gabriel Bourque 5-0-5
Rafael Harvey-Pinard 4-1-5
Otto Leskinen 0-5-5
Special Teams
Lehigh Valley Power Play – 20.6% (18th)
Lehigh Valley Penalty Kill – 64.3% (32nd)
Laval Power Play – 23.7% (12th)
Laval Penalty Kill – 72.5% (27th)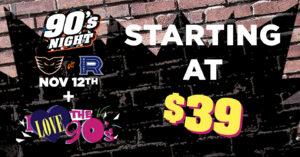 PROMOTIONS – 
– 90s Style Ticket Special! One ticket for 90s Night Phantoms game on Saturday, November 12 PLUS one ticket for "I Love the 90s" concert with Vanilla Ice on Saturday, November 18. Get the All 90s package for just $39!
– Bring your gently used coats during the day on Friday, November 11 for our WFMZ-69 Phantoms Coat Drive. Fans who stop by between 9-5 with a coat donation will receive TWO TICKETS to an upcoming Phantoms game!
– Black Friday Sale!! Mark your calendars. Friday, November 25 from 10:00 a.m. until 2:00 p.m. it's 30% OFF at the Phan Shop inside PPL Center. Discounts apply to most items (not game-worn jerseys or customization). Great gifts for your friends and family at the Phantoms Black Friday Sale!
Phantoms individual game tickets are on sale now. Secure your seats for your favorite promotional nights and big rivalry matchups! PHANTOMS GAME TICKETS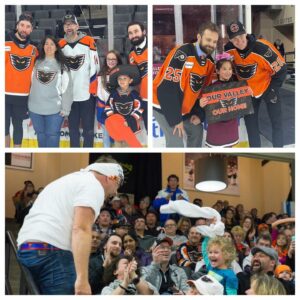 Upcoming Schedule – 
Saturday, November 5 (3:00) at Laval Rocket
Friday, November 11 (7:05) vs. Springfield Thunderbirds – WFMZ-69 Coat Drive. Berks $1 Hot Dogs Night
Saturday, November 12 (7:05) vs. Laval Rocket – 90's Night! Saturday Night Hockey Live
Friday, November 18 (7:05) at Providence Bruins
Saturday, November 19 (7:05) at Providence Bruins
Sunday, November 20 (3:05) at Springfield Thunderbirds