Friday, November 17 at 7:00 p.m.
Place Bell, Laval, Quebec
Lehigh Valley (5-6-2) at Laval (5-7-1)
TONIGHT
The Phantoms head north of the border for the only time this season as they begin a three-game road swing through Canada beginning with tonight's contest at the Laval Rocket, AHL affiliate of the Montreal Canadiens. Tonight is a homecoming of sorts for Quebec and Montreal area members of the Phantoms including head coach Ian Laperriere and forwards Elliot Desnoyers and Alexis Gendron.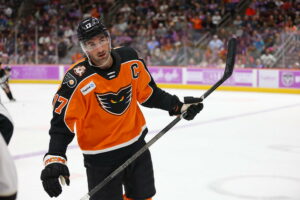 LAST TIME
The Lehigh Valley Phantoms got sweet revenge in Chocolate Town with a 4-1 win at the Hershey Bears on Sunday afternoon. Garrett Wilson's Gordie Howe Hat Trick (Goal, Assist, Fight) sparked the bounce back while Nolan Maier contributed 29 saves on 30 shots in a terrific performance which included backstopping a 7-for-7 penalty kill. Rhett Gardner (3rd), J.R. Avon (3rd) and Cooper Marody (4th) also scored goals for Lehigh Valley.
Maier made perhaps his best save of the day point-blank on Joe Snively early in the third period to protect a 2-1 lead and just moments later Marody connected with Avon on the backdoor for a pivotal goal to make it 3-1.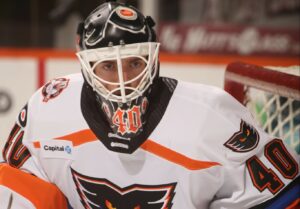 WELCOME BACK CAL AND VICTOR
The Lehigh Valley Phantoms have received veteran defenseman Victor Mete and goaltender Cal Petersen from the Philadelphia Flyers. Mete has been up with Philadelphia since October 26 and played in one game with the big club which was also the 247th game of his NHL career. Petersen was recalled on November 2 and started two games for the Flyers including a 37-save win against his former club in Los Angeles on Saturday night.
TRANSACTIONS
Nov 12 – Add Jacon Gaucher (F) – Recalled from Reading
Nov 14 – Add Cal Petersen (G) – Loaned from Philadelphia
Nov 14 – Add Victor Mete (D) – Loaned from Philadelphia
Nov 14 – Delete Nolan Maier (G) – Loaned to Reading
PHANTASTIC!
J.R. Avon has goals in three of his last five games
Olle Lycksell is fifth in the AHL with eight goals and is tied for second in power-play goals with four
Samu Tuomaala (2-6-8) is tied for 11th in AHL rookie scoring and is sixth in assists
The Phantoms are 5-0-1 when scoring three or more goals
Lehigh Valley's penalty kill has gone a perfect 14-for-14 in the last three games and is 24-for-26 (92.3%) in November
The penalty kill is clicking at 89.5% on the road which is sixth-best in the AHL and third in the Eastern Conference
Lehigh Valley is third in the AHL and second in the Eastern Conference in shots in the second period with 143 (Colorado 155, Laval 150).
LAVAL ROCKET PREVIEW
Lehigh Valley's first game against a Canadian foe is Friday night at the Laval Rocket to open a three-game stretch north of the border. Laval (4-7-1) has climbed out of last place in the Eastern Conference thanks to a three-game win streak following a woeful 1-6-1 beginning. And the Rocket have been racking up the goals with 6-2 and 6-4 wins against the Manitoba Moose and Belleville Senators. Rookie Joshua Roy (7-10-17), a fifth-rounder, is third in the AHL and first among rookies in scoring. First-rounder Logan Mailloux (3-4-7) and Harvard product Sean Farrell (4-7-11) are additional rookie talents in the Montreal system. It is sometimes all-or-nothing for the fast-paced Rocket who lead the league in offense at 3.85 goals per game but are last in defense allowing 4.38 goals per game. Goaltending and defense have been problematic. University of Michigan product Strauss Mann (2-3-1, 3.58, .878) has won consecutive games to tame his goaltending numbers a little bit.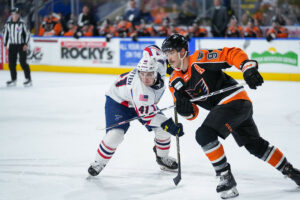 Phantoms Scoring Leaders
Olle Lycksell 8-2-10
Cooper Marody 4-6-10
Garrett Wilson 3-6-9
Samu Tuomaala 2-6-8
Tanner Laczynski 1-7-8
Rocket Scoring Leaders
Joshua Row 7-10-17
Brandon Gignac 4-10-14
Sean Farrell 4-7-11
Mitchell Stephens 3-7-10
Lias Andersson 7-2-9
SPECIAL TEAMS
Lehigh Valley PP, 18.0% (16th)
Lehigh Valley PK 84.7% (12th)
Laval PP 15.5% (24th)
Laval PK 79.6% (23rd)
UP NEXT
The Phantoms' road-trip continues Saturday night at the Belleville Senators and Tuesday evening at the Toronto Marlies.
Lehigh Valley's next home games are Thanksgiving Weekend on November 24 and November 25 with weekend promotions including SECTV Phantoms Ballcaps and Flyers Night with GRITTY plus postgame photos.
UPCOMING
Friday, November 17 (7:00 p.m.) – Lehigh Valley Phantoms at Laval Rocket
Saturday, November 18 (7:00 p.m.) – Lehigh Valley Phantoms at Belleville Senators
Tuesday, November 21 (7:00 p.m.) – Lehigh Valley Phantoms at Toronto Marlies
Friday, November 24 (7:05 p.m.) – Providence Bruins at Lehigh Valley Phantoms – SECTV Phantoms Ballcaps
Saturday, November 25 (7:05 p.m.) – Rochester Americans at Lehigh Valley Phantoms – Flyers Night with GRITTY! Plus postgame photos with Phantoms players