Saturday, March 25, 2023 at 6:05 p.m.
Lehigh Valley Phantoms (31-25-6) vs. WBS Penguins (25-26-10)
Mohegan Sun Arena at Casey Plaza, Wilkes-Barre, PA
TONIGHT
Following a week off between games, the Lehigh Valley Phantoms return to action in a Saturday night clash at rival Wilkes-Barre/Scranton.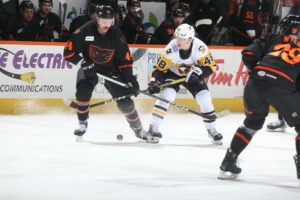 Lehigh Valley (31-25-6) is in fifth place in the Atlantic Division as the team closes in on a Calder Cup Playoff berth.
Wilkes-Barre/Scranton (25-26-10) took five out of six points last weekend to remain in playoff contention but the last-place Penguins are still eight points behind Bridgeport for the last postseason spot.
There are just 10 games remaining for the Phantoms with five at home.
LAST TIME
Sunday, March 19, 2023
Penguins 5 – Phantoms 2
Jackson Cates (11th) and Bobby Brink (8th) found the back of the net for Lehigh Valley but Drake Caggiula scored two early-period goals in the first and second frames to stake visiting Wilkes-Barre/Scranton to a 2-0 lead that they never surrendered. Former Phantom Dustin Tokarski was particularly strong in net with a 36-save performance.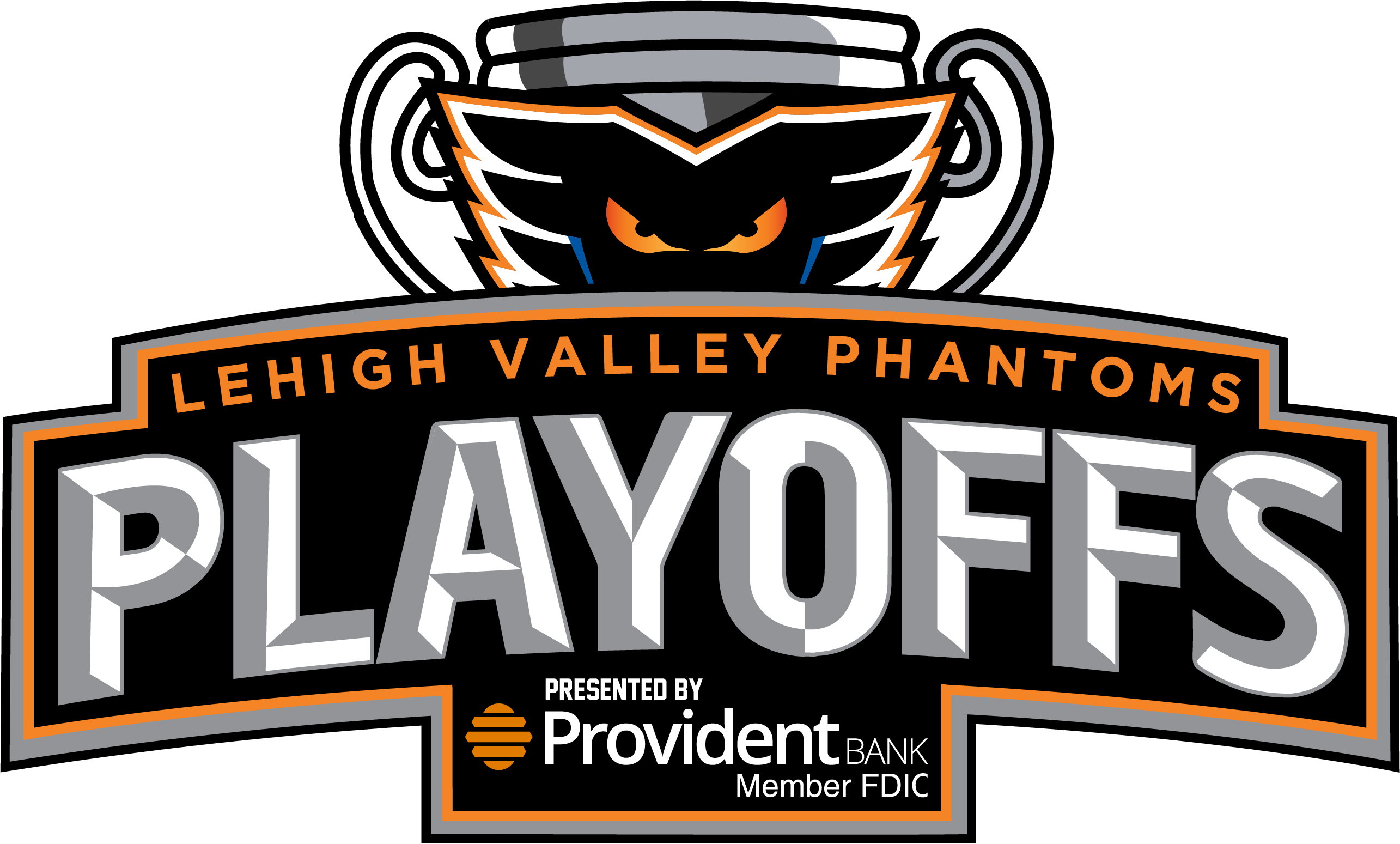 PLAYOFF OUTLOOK
The top six teams in the Atlantic Division qualify for the Calder Cup Playoffs and the fourth-place team will receive home-ice advantage for the first round of the postseason. Lehigh Valley is in fifth place in the division and just three points back of fourth-place Springfield for home-ice advantage in the first round of the playoffs.
Lehigh Valley's Magic Number to clinch a playoff spot is now 17 points (which is points acquired by Lehigh Valley and also points missed by Hartford) and the Phantoms.
The current standings would have the Lehigh Valley Phantoms and Springfield Thunderbirds meeting in the first round in the 5 vs. 4 series in a Best of 3 matchup. The winner would advance to a Best of 5 division semifinals series.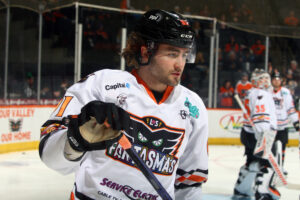 CHASING A RECORD
Elliot Desnoyers has had an exceptional rookie season with the Phantoms that has seen him lead the team in scoring while also making his NHL debut with the Philadelphia Flyers. Now, the 21-year-old center is chasing history. Desnoyers is one goal away from equaling the all-time record for most goals by a rookie with Lehigh Valley held by Danick Martel who scored 22 goals in 2015-16.
Desnoyers also can potentially catch the Phantoms franchise record for goals by a rookie held by Kyle Greentree who had 24 goals in 2007-08.

MOST GOALS BY ROOKIE WITH LEHIGH VALLEY
22 – Danick Martel (2015-16)
21 – Elliot Desnoyers (2022-23)
19 – Connor Bunnaman (2018-19)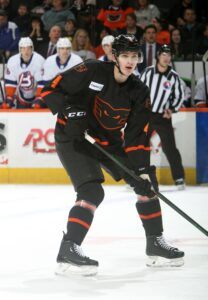 ZAMULA ZOOMS UP 
The Philadelphia Flyers recalled defenseman Egor Zamula from the Lehigh Valley Phantoms. Zamula, 22, has played in 42 games with the Phantoms this season scoring one goal with 15 assists for 16 points. He began this season with Philadelphia where he played in 11 games for the Flyers with two assists. He has been with the Phantoms since December 8. He has scored 5-40-45 in 125 career games with Lehigh Valley while also playing in 23 career games with the Phantoms scoring 0-2-2.
KILE RECALLED
The Phantoms have recalled forward Alex Kile from a loan to the Maine Mariners of the ECHL. The 28-year-old from Troy, Mich. has scored 2-2-4 in 18 games with the Phantoms this season and also has 14-20-34 with Maine in just 31 games. The former University of Michigan captain also played in 27 games with the Phantoms last season scoring 4-3-7 and has 106 career goals as a pro in 332 career games in the ECHL and AHL combined. Kile earned #1 Star of the Game honors with a pair of tying goals in the third period on February 18 in a 4-3 shootout-win comeback against Wilkes-Barre/Scranton,.
PHANTASTIC!
– Garrett Wilson has scored 10-7-17 in the last 13 games in a stretch that has included a five-game point streak as well as two hat tricks (Feb 20 and Mar 15).
– The Phantoms are….
24-8-5 when scoring 3 or more goals
22-2-1 when allowing 2 goals or fewer
17-6-6 in one-goal games
15-3-6 when scoring the first goal
19-2-4 when leading after two periods
5-3 in overtime and 3-3 in shootouts
ABOUT THE PENGUINS
Lehigh Valley is 5-4-1 against the Baby Pens entering Game 11 out 12 in the season series. Wilkes-Barre/Scranton (25-26-19) has stayed alive with a five-out-of-six point performance last weekend but still trails Bridgeport by six points for the last playoff spot. Leading scorer Alex Nylander (25-25-50) has been summoned to Pittsburgh and now goaltender Dustin Tokarski (12-11-5, 2.47, .917) is up top as well . Valtteri Puustinen (21-28-49) and experienced NHL forward Drake Caggiula (17-28-45) provide the bulk of their scoring punch. Caggiula has six goals against the Phantoms this season including two last Sunday in Allentown.
SEASON SERIES vs. Wilkes-Barre/Scranton Penguins: (5-3-1)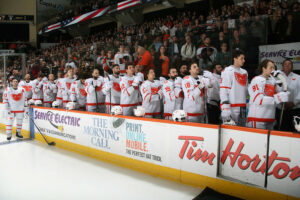 10/15/22                    Away         W             3-2 (OT)
10/28/22                    Home        L              1-3
11/25/22                    Away         SOL           2-3 (SO)
12/31/22                    Home        L              1-4
1/20/22                      Away         W             5-2
1/27/22                      Home        W             4-2
2/18/22                      Home        W             4-3 (SO)
2/22/22                      Away         L              3-4
3/10/22                      Away         W             4-1
3/19/22                      Home         L              2-5
3/25/22                      Away
3/31/22                      Home
Top Performers in Season Series:
Lehigh Valley – Tyson Foerster (5-3-8), Max Willman (3-4-7), Garrett Wilson (1-5-6), Elliot Desnoyers (3-2-5), Sam Ersson (3-2-0, 2.43, .923)
Wilkes-Barre/Scranton – Drake Caggiula (6-3-9), Valtteri Puustinen (4-5-9), Alex Nylander (3-5-8), Dustin Tokarski (4-1-1, 2.12, .927)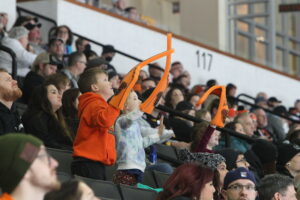 Phantoms Scoring Leaders
Elliot Desnoyers 21-18-39
x Tyson Foerster 19-20-39
Olle Lycksell 10-28-38
Garrett Wilson 15-21-36
Cooper Marody 12-22-34
Artem Anisimov 16-13-29
Penguins Scoring Leaders
x Alex Nylander 25-25-50
Valtteri Puustinen 21-28-49
Drake Caggiula 17-28-45
Filip Hallander 11-22-33
Tyler Sikura 8-22-30
Phantoms Tickets are available HERE
SPECIAL TEAMS 
Lehigh Valley Power Play – 20.8%, 11th (vs. WBS 5/38, 13.2%)
Lehigh Valley Penalty Kill – 73.2%, 32nd
Wilkes-Barre/Scranton Power Play – 20.0%, 14th (vs. LV 9/40, 22.5%)
Wilkes-Barre/Scranton Penalty Kill – 82.3%, 10th
UP NEXT
The Phantoms are back in action with a Sunday engagement in Chocolatetown against the rival Hershey Bears at 5:00 p.m.
Phantoms Tickets are available HERE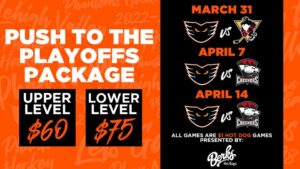 UPCOMING SCHEDULE
Saturday, March 25 (7:05) at Wilkes-Barre/Scranton Penguins
Sunday, March 26 (5:00) at Hershey Bears
Friday, March 31 (7:05) vs. WILKES-BARRE/SCRANTON PENGUINS
Saturday, April 1 (7:05) vs. HERSHEY BEARS
UPCOMING AT PPL CENTER
Sunday, March 26 (6:30) – Penn State vs. Michigan, NCAA Tournament Regional Final
Friday, March 31 (7:05) vs. Wilkes-Barre/Scranton Penguins – Berks $1 Hot Dogs
Saturday, April 1 (7:05) vs. Hartford Wolf Pack – Saturday Night Hockey Live! Jimmy and the Parrots
Friday, April 7 (7:05) vs. Charlotte Checkers – Berks $1 Hot Dogs
Saturday, April 8 (7:05) vs. Springfield Thunderbirds – Star Wars Night! SNHL with DJ Jamal "Jedi" Knight
Friday, April 14 (7:05) vs. Charlotte Checkers – Regular Season Home Finale. Berks $1 Hot Dogs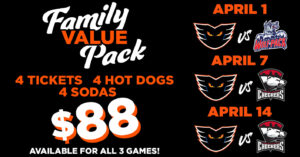 Broadcast coverage of all Phantoms games with Bob Rotruck is available on the Phantoms 365 app and on Real Oldies 1470-AM in Allentown. Also available on the Listen Live button at phantomshockey.com
Fans can also watch the games on AHLTV.com or can listen on their Smart Speakers at: "Play Phantoms Radio 24/7."
Service Electric Network again provides exclusive television coverage of all Phantoms home games with veteran announcer Steve Degler and Phantoms' alum Steven Swavely on the call from the booth. Kristi Fulkerson reports from ice level and also from the Chickie's and Pete's studio with Dan Fremuth for pregame, intermission and postgame show analysis.