Tuesday, November 21 at 7:00 p.m.
Coca-Cola Coliseum, Toronto, Ontario
Lehigh Valley (7-6-2) at Toronto (8-4-2)
TONIGHT
The red-hot Phantoms look to finish a perfect trip through Canada when they take on the first-place Toronto Marlies. Lehigh Valley is fresh off a history-making 8-1 blowout win at the Belleville Senators. The Marlies had their three-game win streak ended on Sunday and are now in a three-way tie for first place in the North Division. This is Lehigh Valley's last game in Canada this season.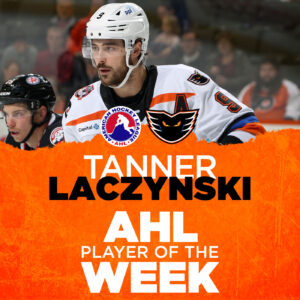 LAST TIME
It had never happened before. The Lehigh Valley Phantoms won by seven goals at the Belleville Senators on Saturday breaking the former team record six-goal margin of victory which had been done twice. Ronnie Attard and Tanner Laczynski both had two goals while Wade Allison, Emil Andrae, Cooper Marody, and Samu Tuomaala also scored. It was the most goals in a game for the Phantoms since April 7, 2019 when the Phantoms reached double-digits for the first time ever in a 10-6 win against Wilkes-Barre/Scranton.
TANN THE MAN!
Tanner Laczynski was named the Howie's Hockey Tape/AHL Player of the Week for his massive performance last weekend which included three goals and two assists in two games. Laczynski was a factor in all three goals in Lehigh Valley's 3-2 win at the Laval Rocket on Friday with one goal and two assists. Then he racked up two more goals in the 8-1 rout of the Belleville Senators on Saturday.
Laczynski is the second Phantom to win the honor this season as he joins Olle Lycksell who received the honor on October 23 following a five-goal weekend in three games that included a hat trick at Springfield on October 20.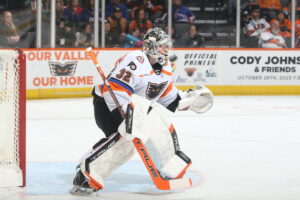 FELIX RETURNS
The Philadelphia Flyers have loaned goaltender Felix Sandström to the Lehigh Valley Phantoms.
Sandström, 26, recently played in two games with Lehigh Valley on a conditioning loan from Philadelphia. But his stint with the Phantoms was cut short due to an upper-body injury in the first period of a home game on Friday, November 3 against Hartford. He was recalled to Philadelphia after that game and placed on injured reserve.  Sandström went 0-0-1, 3.68, .857 in his two games with Lehigh Valley. Last season, he played in seven games with the Phantoms in January on a conditioning loan going 4-1-2, 2.39, .911 which came in between stints with the Philadelphia Flyers
PHANTASTIC!
Olle Lycksell (10-4-14) is tied for third in the AHL with 10 goals
Samu Tuomaala (3-10-13) racked up five points last weekend (1-4-5). He is now all alone in second among AHL rookies with 10 assists trailing only Joshua Roy of Laval who has 11. Tuomaala is tied for fourth among AHL rookies in points
Samu Tuomaala scored the fastest goal to start a period in Lehigh Valley history when he deflected a Ronnie Attard shot into the cage just 10 seconds into the second period on Saturday at Belleville. That ties the Lehigh Valley record set by Pascal Laberge who scored 10 seconds into a game on April 26, 2021 at the Binghamton Devils.
The Phantoms have won AHL Player of the Week honors twice in the same season for only the second time since the team arrived in Lehigh Valley 10 years ago with Olle Lycksell and Tanner Laczynski both winning the award. Scott Laughton and Nick Cousins won the award in the team's inaugural season in 2014-15.
The Phantoms are 7-0-1 when scoring three or more goals
Lehigh Valley's power play is fifth in the AHL, and second in the Eastern Conference, at 21.4% (12/56)
The Phantoms have scored a power-play goal in three consecutive games and are 4-for-8 during the team's three-game win streak
The Phantoms are second in the AHL in second-period goals with 20 (Texas Stars have 21)
The Phantoms are second in the AHL in shots on goal in the second period with 167 (Colorado Eagles have 173)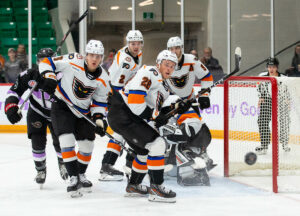 TAKING ON TORONTO
Former NHL defenseman John Gruden has taken the head coaching reigns for the AHL club in Toronto (8-4-2) and has led the Marlies into a first-place tie with Rochester in the early weeks of his first season. Former Adirondack Phantom and Philadelphia Flyer speedster Eric Wellwood is the new assistant coach with the Toronto Marlies after previously serving as head coach of their ECHL club in Newfoundland. Nick Abruzzese was AHL Player of the Week two weeks ago scoring 2-5-7 in just three games. The fourth-rounder out of Harvard has scored 3-9-12 this year. Former Phantom and Flyer Kieffer Bellows has been huge since joining the Marlies in November having immediately gone on a seven-game point streak (5-6-11). Bellows has goals in four of the last five games scoring 4-5-9 in the stretch. Alex Steeves (11-7-18) paces the team and is second in the AHL in goals trailing only Adam Gaudette of Springfield who has 13. Steeves had a 51-point campaign a year ago. 22-year-old prospect Nick Robertson has been recalled to the Maple Leafs. Dennis Hildeby (3-1-1, 1.41, .941) is off to an impressive start between the pipes in his rookie season and leads the AHL in GAA and Save %. The 22-year-old fourth-rounder from Jarfalla, Sweden checks in at 6'7″. 33-year-old Martin Jones (2-1-0, 3.25, .864) played for the Philadelphia Flyers two seasons ago and the Seattle Kraken last year.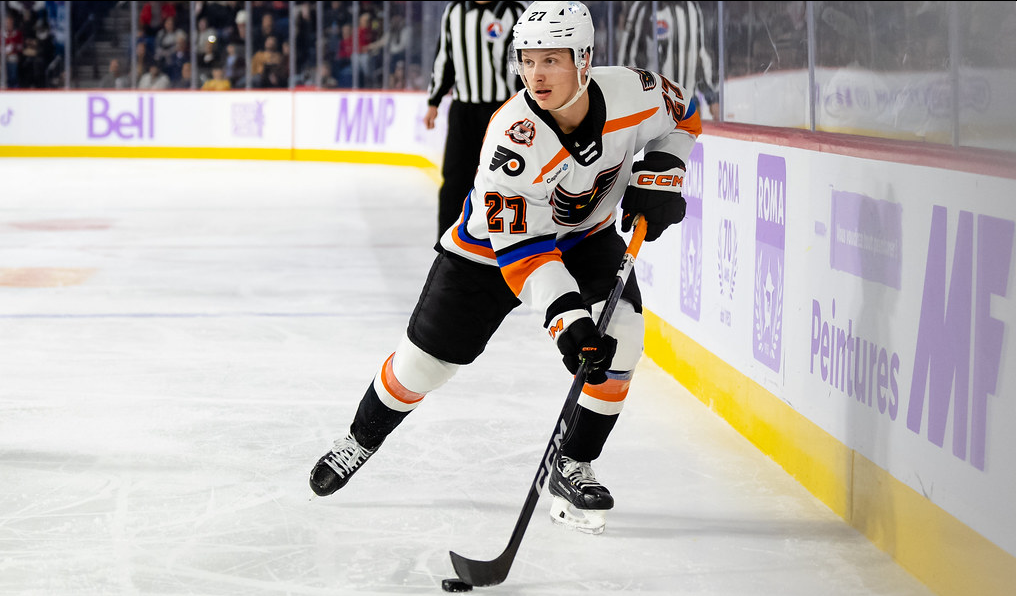 Phantoms Scoring Leaders
Olle Lycksell 10-4-14
Tanner Laczysnski 9-4-13
Samu Tuomaala 3-10-13
Cooper Marody 5-8-13
Garrett Wilson 3-7-10
Marlies Scoring Leaders
Alex Steeves 11-7-18
Nick Abruzzese 3-9-12
Kieffer Bellows 5-6-11
x Nick Robertson 5-6-11
Logan Shaw 5-5-10
SPECIAL TEAMS
Lehigh Valley PP, 21.4% (5th)
Lehigh Valley PK 84.5% (11th)
Toronto PP 14.5% (24th)
Toronto PK 84.6% (10th)
UP NEXT
Lehigh Valley is back at PPL Center for a big Thanksgiving Weekend homestand on Friday, November 24 and Saturday, November 25 with weekend promotions including SECTV Phantoms Ballcaps and Flyers Night with GRITTY plus postgame photos.
UPCOMING
Tuesday, November 21 (7:00 p.m.) – Lehigh Valley Phantoms at Toronto Marlies
Friday, November 24 (7:05 p.m.) – Providence Bruins at Lehigh Valley Phantoms – SECTV Phantoms Ballcaps
Saturday, November 25 (7:05 p.m.) – Rochester Americans at Lehigh Valley Phantoms – Flyers Night with GRITTY! Plus postgame photos with Phantoms players
Friday, December 1 (7:00 p.m.) – Lehigh Valley Phantoms at Hartford Wolf Pack
Saturday, December 2 (7:00 p.m.) – Lehigh Valley Phantoms at Hartford Wolf Pack
Sunday, December 3 (3:05 p.m.) – Lehigh Valley Phantoms at Providence Bruins