Thursday, April 20, 2023 at 7:00 p.m.
Lehigh Valley Phantoms (37-29-6) at Charlotte Checkers (39-25-8)
Bojangles' Coliseum, Charlotte, NC
TONIGHT
The Lehigh Valley Phantoms look to advance tonight as they play the Charlotte Checkers in Game 2 of the Bet of 3 series in the Calder Cup Playoffs.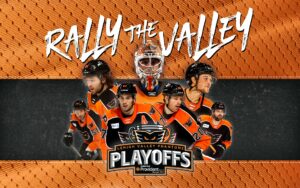 After the first-round series, the Phantoms would take on the first-place Providence Bruins in the Division Semifinals in a Best of 5 series.
Lehigh Valley has a 1-0 lead in the series following an exciting 4-3 win in Charlotte on Tuesday in Game 1. Tyson Feroster scored twice and Sam Ersson had 28 saves to drive the victory.
Lehigh Valley was 4-4-0 against the Checkers this season.
The last time these teams met in the Calder Cup Playoffs, the Phantoms prevailed 4 games to 1 in the Division Finals in a series that included an epic 5 overtime game on May 9, 2018 that broke the record for longest game in AHL history. Alex Lyon recorded 94 saves on 95 shots in an incredible performance and Alex Krushelnyski finally ended the marathon at 1:09 a.m.
The Phantoms have won a pair of Calder Cups as the Philadelphia Phantoms in 2005 (vs. the Chicago Wolves) and in 1998 (vs. the St. John Flames).
PLAYOFF SCHEDULE
Best of 3
Game 1 – Tuesday, April 18 (7:00) – Lehigh Valley 4 – Charlotte 3 (Phantoms lead series 1-0)
Game 2 – Thursday, April 20 (7:00) – Lehigh Valley at Charlotte
Game 3 – Friday, April 21 (7:00) – Lehigh Valley at Charlotte
If the Phantoms advance to the Division Semifinals:
Best of 5
Game 1 – Friday, April 28 – Lehigh Valley at Providence
Game 2 – Saturday, April 29 – Lehigh Valley at Providence
Game 3 – TBD – Providence at Lehigh Valley
Game 4 – TBD – Providence at Lehigh Valley
Game 5 – Sunday, May 7 – Lehigh Valley at Providence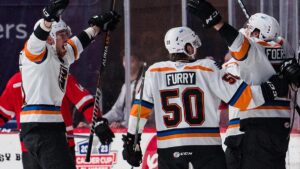 PLAYOFF HISTORY
Lehigh Valley is appearing in the Calder Cup Playoffs for the third time in team history and also the 13th time in the history of the franchise beginning with the Philadelphia Phantoms in 1996.
The Phantoms are 76-58 all-time in postseason play and are 17-10 in playoff series.
The Phantoms are 14-12 all-time in postseason overtime contests.
The Philadelphia Phantoms won the Calder Cup in 1998 (over St. John Flames) and 2005 (over Chicago Wolves).
23 IN 23
The Lehigh Valley Phantoms have thrived in calendar year 2023 beginning with points in seven of eight games to start on their way to 23 total wins so far since January 1. Ian Laperriere's crew has gone an impressive 23-16-3 in 2023 after entering the New Year with a pedestrian 14-13-3 mark.
RALLIES IN THE VALLEY
In four of the last six victories, Lehigh Valley trailed in the third period and rallied from behind. The Comeback Phantoms have nine victories this season in games in which they have trailed at the second intermission. That's the second-most third-period comebacks in the AHL behind only the Providence Bruins who have 10.
RECORDS WATCH
Several Phantoms established new marks and etched their names in the Lehigh Valley record book.
Elliot Desnoyers broke the record for the most goals by a rookie on Lehigh Valley with his 23rd goal of the season on Wednesday at Bridgeport. The all-time franchise record for goals by a rookie is 24 by Kyle Greentree of the Philadelphia Phantoms in 2007-08.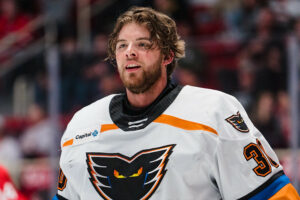 Adam Ginning tied the Lehigh Valley record for best +/- rating in a season and Garrett Wilson established a new record for most career penalty minutes with Lehigh Valley.
Desnoyers and Wilson were recognized during the final home game on Friday for their historic seasons.
Most goals by Rookie – Lehigh Valley
1. Elliot Desnoyers – 23 (2022-23)
1. Danick Martel – 22 (2015-16)
3. Connor Bunnaman – 19 (2018-19)
Most wins in season by Goalie – Lehigh Valley
1. Alex Lyon – 27 (2016-17)
2. Sam Ersson – 24 (2022-23)
3. Anthony Stolarz – 21 (2015-16)
3. Ron Zepp – 21 (2014-15)
Single-Season Plus-Minus – Lehigh Valley
1. Adam Ginning +24 (22-23)
2. Nic Aube–Kubel +24 (17-18)
3. Max Lamarche +21 (17-18)
Penalty Minutes (Career) – Lehigh Valley
1. Garrett Wilson 338
2. Tyrell Goulbourne 313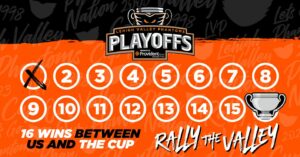 PHANTOMS 2022-23 LEADERS
Points – Tyson Foerster (48)
Goals – Elliot Desnoyers (23)
Assists – Olle Lycksell (31)
Games – Louie Belpedio (70)
PIM – Garrett Wilson (195)
+/- Rating – Adam Ginning (+24)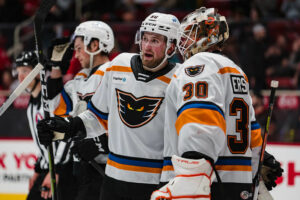 Phantoms to Make NHL Debuts in 2022-23 Season
Olle Lycksell – Oct 15, 2022 (PHI vs. VAN)
Sam Ersson – Dec 23, 2022 (PHI at CAR)
Elliot Desnoyers – Feb 25, 2023 (PHI at NJ)
Tyson Foerster – Mar 9, 2023 (PHI at CAR)
Adam Ginning – Apr 11, 2023 (PHI vs. CBJ)
ABOUT THE CHECKERS
Charlotte (39-25-8) finished the season on a three-game win streak to lock up home ice in the first round of the playoffs. The Checkers had been struggling before their hot finish with only one win in eight games but the return of goaltender Mack Guzda has helped the team find stability again.
The Phantoms went 4-4-0 against the Checkers this season.
Alex Lyon (13-9-1, 2.43, .910) went up to the Florida Panthers to backstop their incredible run into the Stanley Cup Playoffs so big rookie Mack Guzda (16-9-3, 2.88, .897) has been handed the reigns since his return. NHL veteran Riley Nash (24-35-59) leads the team while AHL All-Star Lucas Carlsson (20-34-54) racked up 20 goals from the blue line. Former Phantom Gerry Mayhew (24-20-44) has five goals against the Phantoms this season.
SEASON SERIES LEADERS
Lehigh Valley – Tyson Foerster (2-6-8), Artem Anisimov (3-3-6), Adam Brooks (3-3-6), Elliot Desnoyers (3-3-6), Sam Ersson (4-2-0, 2.71, .912)
Charlotte – Logan Hutsko (2-6-8), Gerry Mayhew (5-2-7), Ruley Nash (3-3-6), Lucas Carlsson (2-4-6), Mack Guzda (3-1-0, 2.28, .915)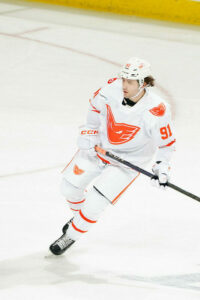 Phantoms Scoring Leaders
Tyson Foerster 20-28-48
Olle Lycksell 14-31-45
Elliot Desnoyers 23-21-44
Garrett Wilson 18-25-43
Cooper Marodty 15-25-40
Artem Anisimov 19-17-36
Checkers Scoring Leaders
Riley Nash 24-35-59
Lucas Carlsson 20-34-54
Gerry Mayhew 24-20-44
Aleksi Heponiemi 12-31-43
Grigori Denisenko 12-24-36
Phantoms Tickets are available HERE
SPECIAL TEAMS 
Lehigh Valley Power Play – 21.0%, 9th (vs. CLT 10/31, 32.3%)
Lehigh Valley Penalty Kill – 73.7%, 32nd
Charlotte Power Play – 21.1, 8th (vs. LV – 7/33, 21.2%
Charlotte Penalty Kill – 82.2, 8th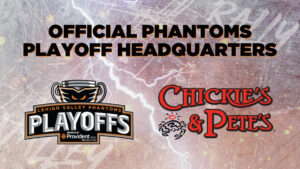 JOIN US AT CHICKIE'S!!
Chickie's and Pete's is your Playoff Headquarters!
Fans can gather at Chickie's and Pete's for every Phantoms playoff game, home and away. During away playoff games, be sure to join us for the watch parties including discount specials and great Phantoms giveaways and prizes.
Chickie's and Pete's at PPL Center is the official Calder Cup Playoff headquarters of the Lehigh Valley Phantoms.
Phantoms Playoff Strips are on sale now. Reserve your same seat for the duration of the upcoming Phantoms playoff run as we "Rally the Valley!" Pay as you go. When the Phantoms advance then you are locked in for the next home games right away and don't have to do anything more.
Ask about Phantoms Playoff Strips at ticketsales@phantomshockey.com
UP NEXT
Game 2 and Game 3 of the Best of 3 Series are in Charlotte this Thursday and Friday!
Phantoms Tickets are available HERE