Saturday, November 19 at 7:05 p.m.
Lehigh Valley Phantoms (6-5-1) at Providence Bruins (10-2-2)
Amica Mutual Pavilion, Providence, RI
TONIGHT
The Lehigh Valley Phantoms look for the weekend sweep of their series at the first-place Providence Bruins following last night's 4-2 wins. The Phantoms have won four straight and ended the five-game win streak of the Bruins. This is also Game 2 of four consecutive away games and is the second of six meetings between the Atlantic Division foes.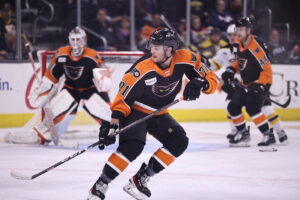 LAST TIME
Isaac Ratcliffe scored his first two goals of the season, including the game-winner in the third period, as the Phantoms prevailed at first-place Providence 4-2. Tyson Foerster and Elliot Desnoyers also scored while Jordy Bellerive registered a pair of assists. Sam Ersson had 25 saves in his fourth straight win as part of his sixth consecutive start.
RECENT TRANSACTIONS
The Phantoms added NHL veteran center Artem Anisimov on a PTO and have received center Tanner Laczynski on loan from the Philadelphia Flyers.
Forward Max Willman has been recalled to Philadelphia from Lehigh Valley.
Goalie Pat Nagle has been recalled from the Reading Royals (ECHL) while goalie Nolan Maier was loaned by the Phantoms back to Reading.
Patrick Brown was briefly with the Phantoms on a conditioning loan but only participated in practices with the Phantoms before he was recalled by the Flyers and activated from injured reserve.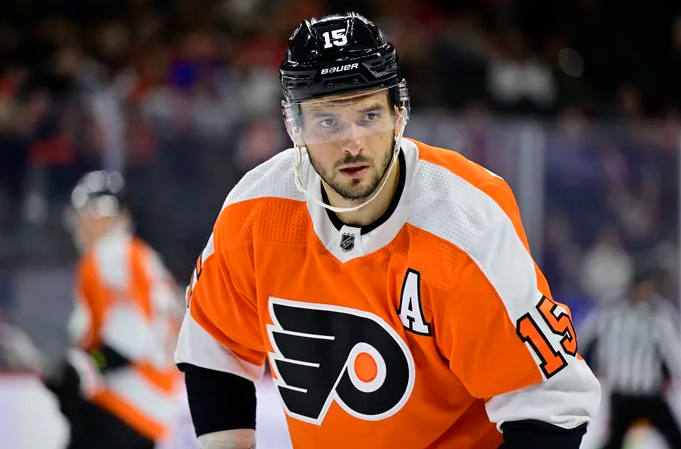 ARTEM ARRIVES
NHL veteran Artem Anisimov played in his first AHL game since 2009 after signing a PTO with the Phantoms earlier in the week. The 34-year-old center had signed with the Philadelphia Flyers in the preseason on a PTO but was injured on a blocked shot on September 24. Anisimov has played in 771 career NHL games with the New York Rangers, Columbus, Chicago and Ottawa scoring 180 goals with 196 assists for 376 points. The left-handed shooter has scored 20 or more goals in a season four times. He had not played in the AHL since 2008-09 when he represented the Hartford Wolf Pack  at the AHL All-Star Classic and rated fourth in the league with 37 goals and fifth in points with 81.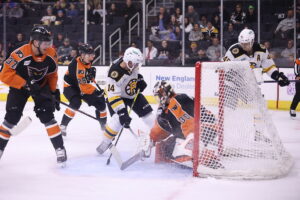 EVERYDAY ERSSON
Sam Ersson has thrived as the team's everyday goalie and now has a four-game win streak. The Flyers' fifth-round selection in 2018 has started the last six consecutive games. In his last four games since November 5, Ersson has allowed seven goals on 119 shots to post a 1.71 GAA and .941 save percentage. Two of the seven goals he has allowed were 5-on-3.
Ersson was limited to just five total games last season due to injury (and did not finish two of those due to injury) but has come into his second season in North America re-energized while benefitting from his regular schedule between the pipes. He excelled right from the start with 35 saves in the Flyers vs. Rangers Rookie Game at PPL Center on September 17 followed by an outstanding training camp with the Flyers in which he posted a .947 save percentage in the preseason.
ABOUT THE BRUINS
The Providence Bruins (10-2-2) remain the top team in the AHL despite having their five-game win streak and eight-game point streak snapped yesterday. who are the top team in the AHL. Allowing just 2.36 goals per game is third in the AHL. The four goals the Phantoms scored yesterday represented just the second time this season that Providence has given up that many in a game. Three young prospects rate among the league's top 10 in Rookie Scoring with first-rounder Fabian Lysell (4-7-11) and undrafted talents Georgii Merkulov (4-8-12) and Luke Toporowski (5-5-10) all off to strong starts. 29-year-old veteran defenseman Mike Reilly cleared waivers from Boston and recorded a goal and assist in his first AHL game in five years.
PHANTASTIC!
– Isaac Ratcliffe scored two goals in a game for the second time in his career. He also had a pair of goals on April 3, 2022 at Bridgeport. It was the second two-goal performance of the season for the Phantoms along with Ronnie Attard's double-lamplighter performance on October 23 vs. Cleveland.
– Elliot Desnoyers is on a two-game goal streak. He began the season, and his career, by scoring ni the first three games of the season. Desnoyers leads the Phantoms with five goals.
– Cam York had five points in a three-game stretch (2-3-5) including two-game winning goals, both against Laval. He was held off the scoresheet on Friday.
– Tanner Laczynski got a lot of ice time as he returned to the Phantoms as a new Dad following the birth of his son in October. Laczynski centered a top line while also playing on the top power-play unit and as a top penalty kill pairing. He scored 7-10-17 in 28 games with the Phantoms last season and has played in 12 games with Philadelphia this year.
– Eight out of 12 games this season have been decided by one goal including the last four games in a row.
– Lehigh Valley's power play on the road is clicking at 27.3% which is third-best in the conference.
– The Phantoms have outshot their opponents in five of the last seven games.
– The Phantoms are 2-1 in overtime games.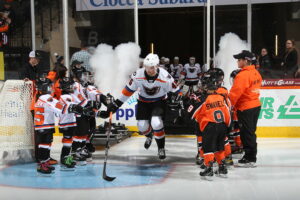 Phantoms Scoring Leaders
Cam York 3-6-9
Tyson Foerster 3-5-8
Elliot Desnoyers 5-2-7
Ronnie Attard 3-4-7
Garrett Wilson 2-5-7
Cal O'Reilly 2-5-7
Providence Bruins Scoring Leaders
Vinni Lettieri 7-7-14
Georgii Merkulov 4-8-12
Fabian Lysell 4-7-11
Luke Toporowski 5-5-10
Connor Carrick 1-7-8
Joona Koppanen 1-7-8
SPECIAL TEAMS 
Lehigh Valley Power Play – 21.7% (11th)
Lehigh Valley Penalty Kill – 68.4% (31st)
Providence Power Play – 18.0% (23rd)
Providence Penalty Kil – 82.1% (14th)
UP NEXT
Lehigh Valley wraps up the busy weekend with a Sunday afternoon game at 3:05 p.m. at the Springfield Thunderbirds.
Lehigh Valley's next home game is Saturday, November 26 against the Rochester Americans featuring a Postgame Skate with the Phantoms players. Fans must bring their own skates to be allowed onto the ice to meet the players after the game.
UPCOMING SCHEDULE –
Saturday, November 19 (7:05) at Providence Bruins
Sunday, November 20 (3:05) at Springfield Thunderbirds
Friday, November 25 (7:05) at Wilkes-Barre/Scranton Penguins
Saturday, November 26 (7:05) vs. ROCHESTER AMERICANS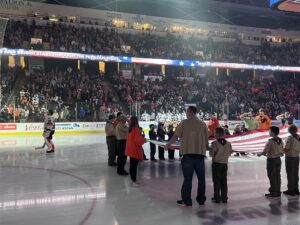 UPCOMING PROMOTIONS –
Saturday, November 26 (7:05) vs. Rochester Americans – Postgame Skate with Phantoms Players
Wednesday, November 30 (7:05) vs. Hershey Bears – Military Appreciation Night Presented by Netizen
Friday, December 9 (7:05) vs. Charlotte Checkers – Berks $1 Hot Dogs!
Saturday, December 10 (7:05) vs. Charlotte Checkers – Phantoms Hat Giveaway Presented by Service Electric
Saturday, December 17 (7:05) vs. Providence Bruins – Teddy Bear Toss Presented by Big Woody's
Broadcast coverage of all Phantoms games with Bob Rotruck is available on the Phantoms 365 app and on Real Oldies 1470-AM in Allentown. Also available on the Listen Live button at phantomshockey.com
Fans can also watch the games on AHLTV.com or can listen on their Smart Speakers at: "Play Phantoms Radio 24/7."