September 14, 2022
After a two-year hiatus, the tradition of the Lehigh Valley welcoming the Philadelphia Flyers to PPL Center resumes this weekend in a pair of Rookie Games against the New York Rangers. A new chapter of the "Flyers in the Valley" story will unfold with the upcoming showdowns this Friday at 7:05 p.m. and Saturday at 5:05 p.m.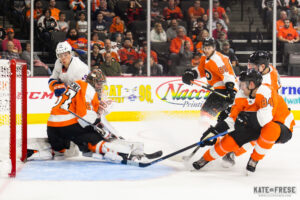 The games will be watched closely by the management and coaches of these proud NHL franchises with their first looks of the season of some of their future star players.
"A lot of these kids are coming in, they want to make an impression and games are the best way to evaluate players," Flyers general manager Chuck Fletcher said of the team's 2019 Rookie Game in Allentown. "It's a great opportunity to make a first impression, particularly with our coaching staff."
The games this weekend represent the seventh and eighth occasions for the Philadelphia Flyers to appear in Center City Allentown. The Flyers are 3-0-2 all-time at PPL Center in various Rookie and preseason games against the New York Islanders and New Jersey Devils. This will be the first time for the New York Rangers to pay a visit to PPL Center.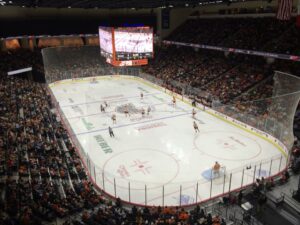 September 27, 2014 – Orange 5 – White 3
"Battle on Hamilton!"
The first time fans got to see the winged "P" design of the Philadelphia Flyers at PPL Center was also the first ever professional hockey exhibition in the Lehigh Valley. The historic night before a sold-out crowd enjoyed a Flyers intrasquad contest at the brand-new, state-of-the-art PPL Center. The buzz was palpable and the energy was high as the hockey-hungry region showed how well the newest AHL city would thrive in its sparkling, new venue.
Phantoms head coach Terry Murray was at the Team Orange bench for this contest and was thrilled with what he saw for the brand new hockey market. "I think this is a hockey place. It's a hockey city. I'm not surprised at all that the crowd was as energetic and full as it was today. They're telling us they want more of it and we're ready to get going!"
Team White defenseman Brett Flemming scored the first-ever goal at PPL Center with a shot from the right point with Mark Alt and Zac Rinaldo providing assists on the history-making tally. Team Orange rallied against goalie Anthony Stolarz to post the come-from-behind win for the thrilled crowd who enjoyed their first experience at the city's dazzling and impressive new venue.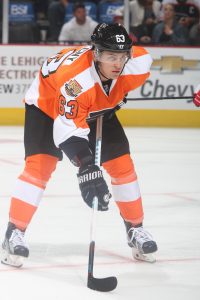 September 21, 2015 – Philadelphia Flyers 5 – New York Islanders 3
The Lehigh Valley's first preseason game between two NHL teams saw Claude Giroux, Jake Voracek and Michael Del Zotto lead the Flyers to a 5-3 victory against the Islanders. The debut of "Flyers in the Valley" saw Del Zotto register a goal with an assist while Jake Voracek added a pair of helpers before a raucous crowd of 8,000 orange-clad fans thrilled to watch some of their favorite NHL stars right here in Allentown. Michael Raffl scored less than six minutes in with a power-play strike off a perfectly placed touched pass from Jake Voracek. Giroux set up a key goal for Del Zotto early in the third period and just one minute after the Islanders had rallied to tie the score at 3-3.
September 28, 2016 – Philadelphia Flyers 2 – New Jersey Devils 0
The NHL returned to PPL Center with a 2-0 victory over the New Jersey Devils. 2015 first-round pick Travis Konecny impressed in his Flyers' debut with a goal and an assist. Michael Raffl scored at PPL Center for a second consecutive season while Anthony Stolarz and Alex Lyon combined on an 18-save shutout.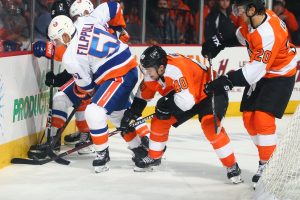 September 20, 2017 – Philadelphia Flyers 3 – New York Islanders 2 (OT)
Shayne Gostisbehere returned to PPL Center and scored the overtime thriller in a thriller at PPL Center. Taylor Leier scored twice in regulation Nolan Patrick set up Ghost's backdoor slam in the opening minute of the 3-on-3 session to cap an exciting night of NHL action in Center City Allentown. It was Ghost's second-ever goal at PPL Center as the Flyers improved their Allentown record to 3-0. Newcomer and highly hyped prospect Mathew Barzal showcased his abilities in his Islanders' debut with a 5-on-3 tally.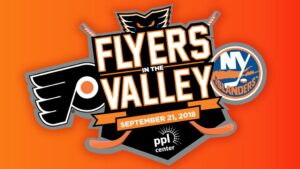 September 21, 2018 – NY Islanders 3 – Philadelphia Flyers 2 (OT)
Hockey returned to PPL Center as the fans welcomed back the NHL Stars with the fourth edition of "Flyers in the Valley." Ryan Pulock blasted home the winner from the left circle on a power-play slam in overtime to end Philadelphia's winning streak in Allentown. Shayne Gostsibehere and Travis Konecny scored for the Flyers.
Fans enjoyed seeing James van Riemsdyk and Jake Voracek solidify their games in the preseason tune-up as well as the Flyers debut of a young goaltender named Carter Hart. The highly hyped prospect and two-time CHL Goalie of the Year saw game competition at PPL Center for his first time ever and played very well during his 30 minutes of action that included some key stops during an Islanders 5-on-3 power play in the second period.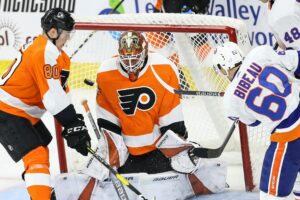 September 11, 2019 – NY Islanders 5 – Philadelphia Flyers 4 (SO)
In the first NHL Rookie Game hosted by PPL Center, the New York Islanders overcame a 3-0 deficit to record a 5-4 shootout decision in a see-saw game. Joel Farabee had almost won the game in overtime with a breakaway and then a shot off the post. Farabee's line with Morgan Frost and Isaac Ratcliffe drew a lot of attention as well as praise. The forecheck pressure of Frost and Ratcliffe provided each with an assist as they helped set up the team's 2-0 need on a goal by Sean Comrie. Felix Sandstrom held off the Islanders for his 32 minutes with 24 saves on 25 shots but New York later surged back with consecutive goals to open the third period to tie the score at 4-4. Oliver Wahlstrom scored the lone shootout goal for either side.