Carter Hart with 29 Saves as Phantoms Stay undefeated on Road
October 27, 2018
Binghamton, NY – Phil Myers and Phil Varone had three points apiece while Carter Hart turned aside 29 of 31 shots he faced in a 5-2 victory for the Lehigh Valley Phantoms at the Binghamton Devils on Saturday night. The Phantoms stayed undefeated on the road this season at 4-0-1 and improved their record on their current road-trip to 3-0-1 with still two games remaining. Lehigh Valley has 21 goals in the four games of the roadie so far.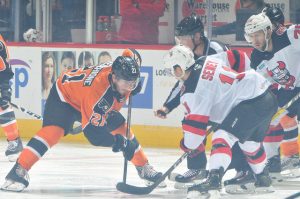 Phil Myers (3rd), T.J. Brennan (4th), Chris Conner (4th), Nicolas Aube-Kubel (3rd) and Tyrell Goulbourne (1st) all scored goals for the Phantoms. Myers tacked on a couple of assists to go along with his goal while Phil Varone notched three assists.
Rookie netminder Carter Hart secured his second win as a pro and his first since his October 6th Opening Night triumph. Hart made several strong denials of quality Devils' chances among his 29 saves. One of his best came in the third period with a scintillating glove-hand snag of first-rounder John Quennville's blast from the right circle when the Phantoms were protecting their 4-2 lead in the third period.
T.J. Brennan's power-play conversion in the second period was his 152nd goal in the American Hockey League moving the popular blue-liner to within 14 goals of the all-time record for most goals by a defenseman. AHL Hall of Famer and former Philadelphia Phantom rear-guard John Slaney holds the current record at 166 goals.
Chris Conner played in his 200th game with Lehigh Valley and became the first to do so while breaking Danick Martel's record of 199 games played for the team since it arrived in Allentown.
Lehigh Valley (5-2-1) weathered an early Devils surge in which Binghamton (4-5-1) out shot the visitors 14-6 in the opening frame. But Hart was up to the task with 13 saves out of the gate. Brandon Baddock was trailing on a rush to bury a rebound try in the game's opening six minutes pushing the Devils to the initial 1-0 advantage.
But Myers squeezed a sneaky shot from the right boards off the left pad of goalie Mackenzie Blackwood and barely inside the right post for a quick Phantoms response just 62 seconds later.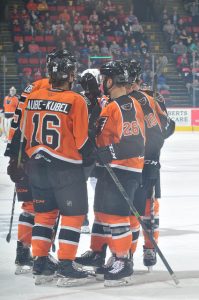 Lehigh Valley broke the tie by notching a power-play goal for a sixth consecutive game when Phil Varone in the slot connected to Brennan in the right circle for a wrister through Blackwood late in the second period.
The Phantoms put the game away early in the third period with a pair of strikes in the opening seven minutes of the last frame. Chris Conner saw just enough daylight over the right shoulder of Blackwood while he sped up the left wing to push the lead to 3-1. And four minutes later it was Myers receiving a pass in the high slot from Varone but from his backhand opted to connect directly to his left for Aube-Kubel who flipped through his third of the season and his first since a two-goal effort on Opening Night.
Blake Pietila's counter-strike on the power play with 6:51 remaining gave the Devils a little life but Goulbourne eventually finished their late push on his empty-net goal with 1:33 remaining.
Binghamton out shot the Phantoms 31-24. Both teams were 1-for-4 on the power play. The Phantoms continue their road trip on Sunday evening with a 5:00 p.m. engagement at Giant Center in a renewal of their long-standing rivalry with the Hershey Bears (3-6-1).
The Phantoms and Devils are meeting two more times next weekend in the form of a home-and-home weekend including a return on Friday night to Binghamton, New York followed by a rematch on Saturday back at PPL Center in Allentown which is also the Phantoms next home game.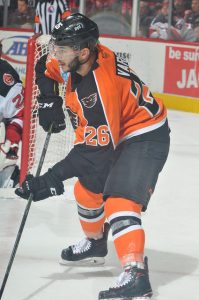 Lehigh Valley's next home game is Saturday, November 3rd vs. the Binghamton Devils featuring special Go Birds Tailgate Ticket Packs offering four tickets for $80 and including an Eagles mini-football. Order online via the link at PhantomsHockey.com or by calling the Phantoms at 610-224-GOAL (4625).
Lehigh Valley Phantoms 5 at Binghamton Devils 2 – Status: Final
Saturday, October 27, 2018 – Floyd L. Maines Veterans Memorial Arena
Lehigh Valley 1 1 3 – 5
Binghamton 1 0 1 – 2
1st Period-1, Binghamton, Baddock 1 (Jacobs, Schmelzer), 5:53. 2, Lehigh Valley, Myers 3 (Aube-Kubel, Varone), 6:55. Penalties-Pietila Bng (holding), 16:21.
2nd Period-3, Lehigh Valley, Brennan 4 (Varone), 15:37 (PP). Penalties-Varone Lv (high-sticking), 1:24; Ramage Bng (high-sticking), 6:00; Willcox Lv (slashing), 12:35; Jacobs Bng (hooking), 15:07; Jacobs Bng (high-sticking), 18:35; Conner Lv (high-sticking), 19:51.
3rd Period-4, Lehigh Valley, Conner 4 2:12. 5, Lehigh Valley, Aube-Kubel 3 (Myers, Varone), 6:38. 6, Binghamton, Pietila 2 (Seney, Quenneville), 13:09 (PP). 7, Lehigh Valley, Goulbourne 1 (Bardreau, Fazleev), 18:27 (EN). Penalties-Twarynski Lv (fighting), 7:11; Bastian Bng (fighting), 7:11; Brennan Lv (hooking), 12:45.
Shots on Goal-Lehigh Valley 6-12-6-24. Binghamton 14-10-7-31.
Power Play Opportunities-Lehigh Valley 1 / 4; Binghamton 1 / 4.
Goalies-Lehigh Valley, Hart 1-2-1 (31 shots-29 saves). Binghamton, Blackwood 1-2-0 (23 shots-19 saves).
A-2,795
Referees-Beaudry Halkidis (48), Furman South (44).
Linesmen-Neil Frederickson (68), Jason Brown (44).