The Lehigh Valley Phantoms and Phantoms Charities, presented by Air Products, welcomed Naimlynne Kirk as their Very Important Phantom, or V.I.P., on Friday, January 13th.
Naimlynne is in 9th grade at Northampton Area High School. She was diagnosed with High Risk Acute Lymphoblastic Leukemia on March 2, 2021. Her treatment will last approximately two and a half to three years, but she will not be considered cured until she tests negative for leukemia cells for five years after remission. She is currently in the maintenance phase and is continuing treatment. She has had several severe infections throughout the process but is a fighter and continues to push forward.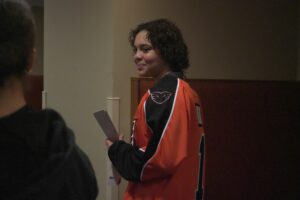 Naimlynne loves to watch and play soccer, and even played soccer before her diagnosis. She enjoys cheering her brother on at wrestling and watching her siblings' plays. She also loves to play board games and watch movies. She is very smart and loves math. Once she is healthy enough to play sports again, she wants to try basketball and volleyball.
As part of her V.I.P. treatment, Naimlynne started the day with a tour of the Phantoms locker room. After exploring the weight room, the equipment room, and the relaxation room, Naimlynne was able to go in the Phantoms dressing room and take photos with the players' jerseys. In the dressing room, she was surprised with a locker with her very own nameplates and a personalized jersey.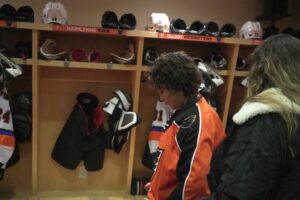 After her locker room tour, Naimlynne was able to do the Phantoms' ceremonial puck drop prior to the game. She was able to drop the puck for Lehigh Valley Phantoms captain Cal O'Reilly and Bridgeport Islanders captain Seth Helgeson. Naimlynne was then honored with a round of applause from fans at the PPL Center supporting her in her fight.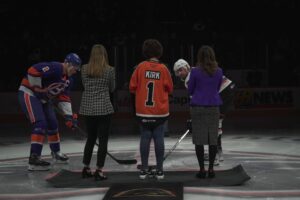 The Phantoms were absolutely thrilled to welcome Naimlynne and her family and continue to cheer Naimlynne on in her fight against cancer.