The Lehigh Valley Phantoms are on the road to take on the rival Hershey Bears tonight, April 9, at 7:00 p.m.  Tonight's game will be the 12th and final time of the 2018-19 campaign that the two teams will face off against one another with the Phantoms currently holding a 5-5-0-1 record against the Bears this season.
Winners in three of their last five games, Lehigh Valley will look to take out a Hershey team that, until Saturday's loss against Laval, had won four consecutive games.
The Phantoms received some reinforcements from the Flyers this past weekend in the form of defensemen Philippe Myers and forward Corban Knight.  Since their return to the Lehigh Valley lineup this past weekend, the two have combined for five total points (1G-4A) in just two games.  Myers has a total of 32 points (9G-23A) in 50 games with the Phantoms this season while Knight has contributed eight points (5G-3A) in just five games.
Also staying hot for the Orange and Black has been forward Byron Froese, who just recently saw his seven-game point streak (4G-6A) come to an end in Sunday's game against the Wilkes-Barre/Scranton Penguins.  Since being acquired in a trade on February 9, Froese has appeared in 21 games for the Phantoms and has tallied six goals and seven assists for a total of 13 points.
On the Hershey end of things, forward Riley Barber continues to lead the team in goals (31) and ranks second on the team in points with 60.  In his 10 games against the Phantoms this season, Barber has four goals and five assists for nine total points to lead Hershey against Lehigh Valley.
Phantoms at Hershey Bears
Phantoms Leading Scorers
Greg Carey (71 GP, 28G-32A, 60 PTS)
Chris Conner (69 GP, 16G-34A, 50 PTS)
Byron Froese (67 GP, 20G-23A, 43 PTS)
T.J. Brennan (60 GP, 8G-34A, 42 PTS)
Mike Vecchione (67 GP, 15G-23A, 38 PTS)
Bears Leading Scorers
Mike Sgarbossa (72 GP, 29G-32A, 61 PTS)
Riley Barber (64 GP, 31G-29A, 60 PTS)
Aaron Ness (68 GP, 5G-45A, 50 PTS)
Jayson Megna (68 GP, 19G-22A, 41 PTS)
Nathan Walker (54 GP, 14G-20A, 34 PTS)
Prior Meetings This Season
Feb. 17 — HER 4, LV 3
Feb. 16 — HER 3, LV 2 (SO)
Feb. 2 — HER 2, LV 1
Jan. 23 — LV 2, HER 1 (SO)
Jan. 13 — HER 5, LV 4
Jan. 12 — HER 3, LV 0
Dec. 22 — LV 6, HER 1
Dec. 19 — LV 5, HER 0
Dec. 7 — LV 1, HER 0
Nov. 23 — LV 6, HER 2
Oct. 28 — HER 3, LV 1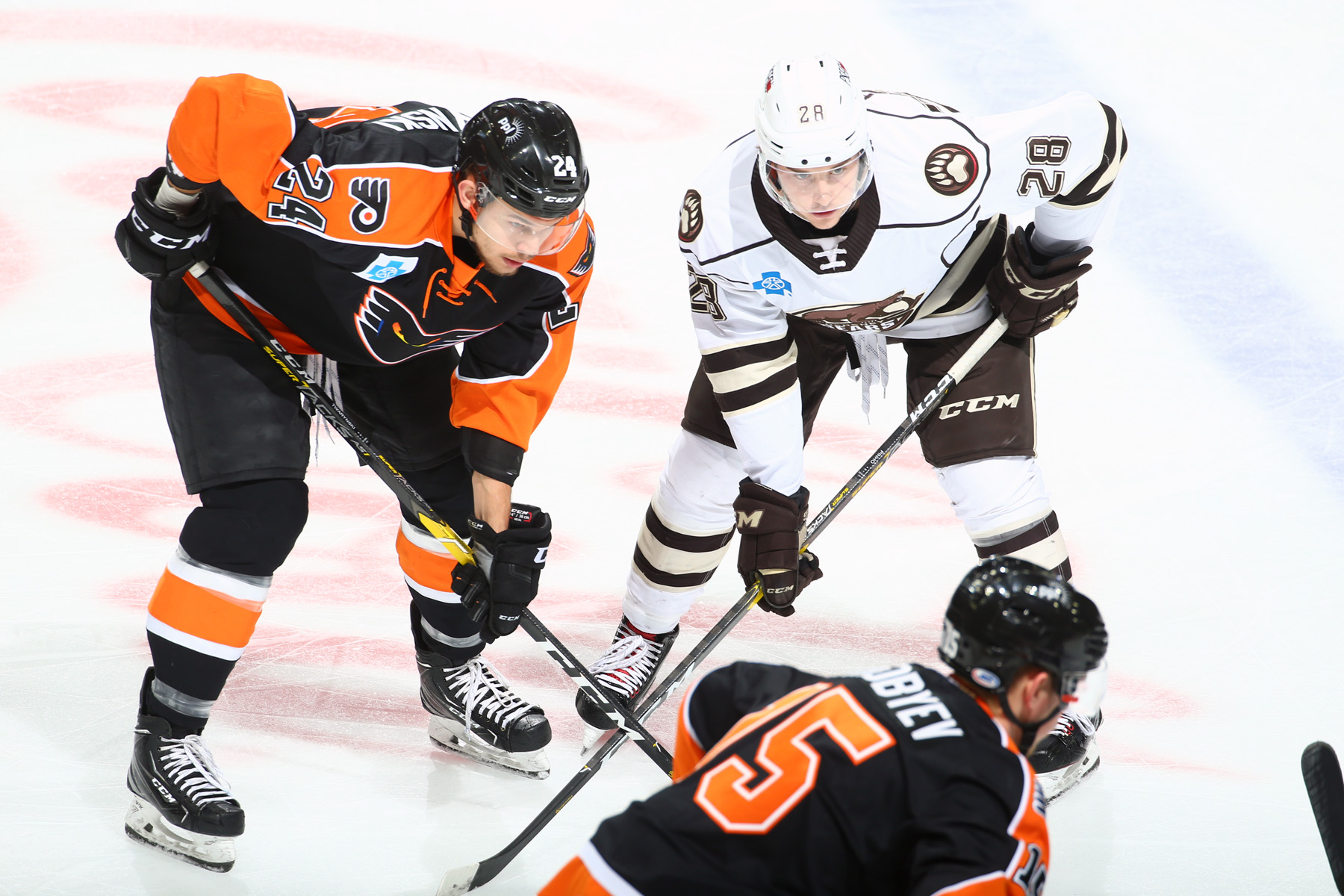 Snap Shots
Lehigh Valley forward Greg Carey is just two goals away from 30 markers this season.  The Hamilton, Ontario, native has already strung together four consecutive seasons of 25 or more goals and should he reach 30, will have back-to-back 30-goal seasons.
The last five times that the Phantoms and Bears have met, the game has been decided by only a single goal with two of those five contests going to a shootout.
Lehigh Valley set a new franchise record with 10 goals in a single game on Sunday afternoon against the Wilkes-Barre/Scranton Penguins.  The offensive explosion was fueled by points from 12 different players on the Phantoms roster.
After making 43 saves in Sunday's victory over the Penguins, Phantoms goaltender Alex Lyon now has an overall record of 12-2-1 in games where he faces 40 or more shots.
With two goals on the man advantage on Sunday, Lehigh Valley recorded its first multi-power-play-goal game since February 10.  The Phantoms have had two or more power-play markers in 16 contests this season.
Through 11 games this season, the Phantoms penalty kill has killed off 37 of 40 against the Bears with a success rate of 93 percent.  That is the Phantoms second-highest success rating against an opponent behind only Belleville (8/8) and Syracuse (4/4).
Defenseman Philippe Myers returned to the Lehigh Valley lineup this weekend for the first time since February 8 and, in Sunday's game against the Penguins, tallied three assists giving him his 6th multi-point game of the season.  The Phantoms currently hold a record of 17-4-2 when Myers records a point of any kind in the contest.
Currently, forwards Nic Aube-Kubel and Chris Conner are tied for the team lead in game-winning goals with five each.
Players to Watch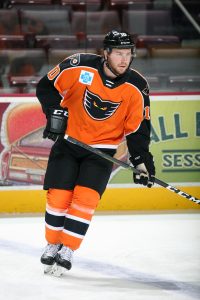 Greg Carey netted his first goal in seven games on Sunday afternoon against Wilkes-Barre/Scranton and finished the game with two total points.  The "Hamilton Howitzer" also currently leads the Phantoms with nine points (4G-5A) in 11 contests against Hershey this season.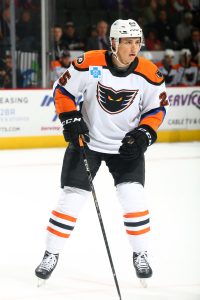 Connor Bunnaman has had quite a bit of success against the Hershey Bears this season and currently ranks second on the team with six points (4G-2A) against the Chocolate and White in just nine games.  He, like Carey, is coming off a game on Sunday that saw him notch a goal and an assist for two points.
Recent Transactions
April 6, 2019: The Lehigh Valley Phantoms loaned forward Steven Swavely to the Reading Royals
April 7, 2019: The Lehigh Valley Phantoms recalled from loan forward Steven Swavely from the Reading Royals
April 7: 2019: The Philadelphia Flyers loaned forward Corban Knight and defenseman Mark Friedman to the Lehigh Valley Phantoms
April 8, 2019: The Philadelphia Flyers reassigned goaltender Felix Sandstrom from HV71 (SHL) to the Lehigh Valley Phantoms
The Road Ahead
The Lehigh Valley Phantoms will take on the Providence Bruins on Friday, April 12, at 7:05 p.m. inside of Dunkin' Donuts Center in Providence.  Friday's game will mark the final road game of the 2018-19 regular season and will represent the sixth and final meeting between the two teams.  Tune into the game on Facebook Live, AHLTV or listen live inside the Phantoms365 App.