The Lehigh Valley Phantoms will hit the road to begin a three-in-three weekend with a Friday-night contest against the North Division's Utica Comets at 7:00 p.m.  This will mark the first time the two teams have met during the 2018-19 season.
The Phantoms, who are currently ranked fourth in the Atlantic with a record of 25-17-3-2 (55 points), will go up against a Comets team that is similarly ranked, fourth in the North Division, with a record of 24-19-3-2 (53 points).  Utica is coming off of a split weekend that saw the team shutout by the Syracuse Crunch, 4-0, this past Friday and then narrowly edge the Springfield Thunderbirds, 4-3, on Saturday night.
During the 2017-18 season, the Phantoms held a record of 1-0-1-0 against the Comets in two meetings.
Phantoms at Utica Comets
Phantoms Leading Scorers
Greg Carey (46 GP, 21G-23A, 44 PTS)
Chris Conner (46 GP, 12G-22A, 34 PTS)
T.J. Brennan (39 GP, 7G-27A, 34 PTS)
Mike Vecchione (47 GP, 11G-18A, 29 PTS)
Philippe Myers (47 GP, 8G-20A, 28 PTS)
Comets Leading Scorers
Reid Boucher (36 GP, 19G-23A, 42 PTS)
Tanner Kero (46 GP, 17G-24A, 41 PTS)
Zack MacEwen (47 GP, 16G-20A, 36 PTS)
Brendan Gaunce (32GP, 13G-13A, 26 PTS)
Evan McEneny (46 GP, 7G-17A, 24 PTS)
Prior Meetings This Season
None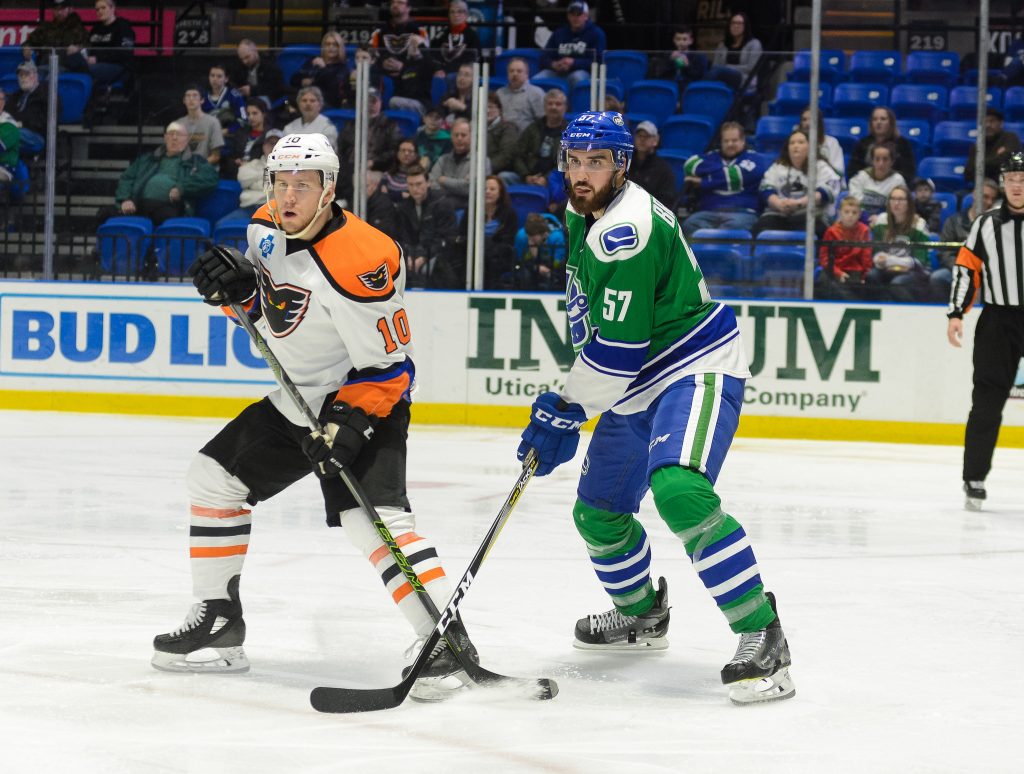 Snap Shots
While Phil Varone (3G-1A) and Travis Sanheim (3A) led the way in scoring against the Comets during the 2017-18 season, not far behind was Mike Vecchione who netted a goal and an assist against Utica last season.  Vecchione currently ranks fourth in scoring for the Phantoms this season, so expect him to factor into the offensive push against the Comets.
Utica has just a 6-5-0 record against Atlantic Division opponents this season while Lehigh Valley boasts an 8-3-2 record against North Division opponents in 2018-19.
Getting off to an early start offensively will be key against the Comets on Friday.  Currently, Utica holds a record of 18-2-0-0 when leading after the first and a 19-1-0-1 record when leading after two periods.
Players to Watch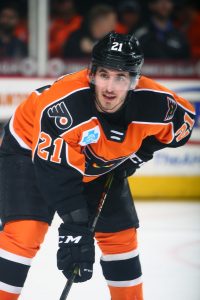 Mike Vecchione is coming off a weekend that saw him reach a new career-best.  In last Friday's game against the Bridgeport Sound Tigers, Vecchione recorded a four-point (1G-3A) night — surpassing his previous best of three points (2G-1A) during the 2017-18 season — and in his past 10 games has netted three goals and tallied six assists for a total of nine points.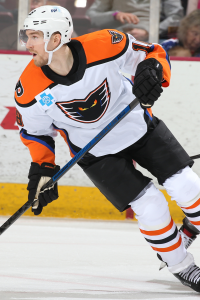 Dale Weise recorded a goal and an assist in last Friday's game against the Bridgeport Sound Tigers and could potentially have had more on the weekend.  Weise, who was paired with Vecchione and Carsen Twarynski over the past weekend, now has a plus-three rating, since being loaned to the Phantoms on January 27, in just two games.
Recent Transactions
February 7, 2019: The Philadelphia Flyers have loaned forward Jori Lehtera to the Lehigh Valley Phantoms
The Road Ahead
The Lehigh Valley Phantoms will return home to PPL Center in downtown Allentown to complete their three-in-three weekend with a pair of games against the Hartford Wolf Pack on Saturday, February 9, and Sunday, February 10.
Tickets for the contests are available online and can be purchased by clicking HERE.