The Lehigh Valley Phantoms travel to Chocolatetown for the fourth time during the 2018-19 season for a Saturday night match up against the rival Hershey Bears at 7:00 p.m.  This will be the two team's ninth, of twelve, overall meeting this season.
Over the past eight meetings, the Phantoms hold a 5-3-0-0 record over the rival Bears.
Phantoms at Hershey Bears
Phantoms Leading Scorers
Greg Carey (45 GP, 21G-23A, 44 PTS)
Chris Conner (45 GP, 12G-22A, 34 PTS)
T.J. Brennan (38 GP, 7G-27A, 34 PTS)
Mike Vecchione (46 GP, 11G-18A, 29 PTS)
Philippe Myers (46 GP, 8G-20A, 28 PTS)
Bears Leading Scorers
Mike Sgarbossa (44 GPm 20G-18A, 38 PTS)
Riley Barber (38 GP, 18G-20A, 38 PTS)
Aaron Ness (40 GP, 3G-27A, 30 PTS)
Liam O'Brien (44 GP, 13G-7A, 20 PTS)
Jayson Megna (40 GP, 9G-11A, 20 PTS)
Prior Meetings This Season
Jan. 23, 2019 — LV 2, HER 1 (SO)
Jan. 13, 2019 — HER 5, LV 4
Jan. 12, 2019 — HER 3, LV 0
Dec. 22, 2018 — LV 6, HER 1
Dec. 19, 2018 — LV 5, HER 0
Dec. 7, 2018 — LV 1, HER 0
Nov. 23, 2018 — LV 6, HER 2
Oct. 28, 2018 — HER 3, LV 1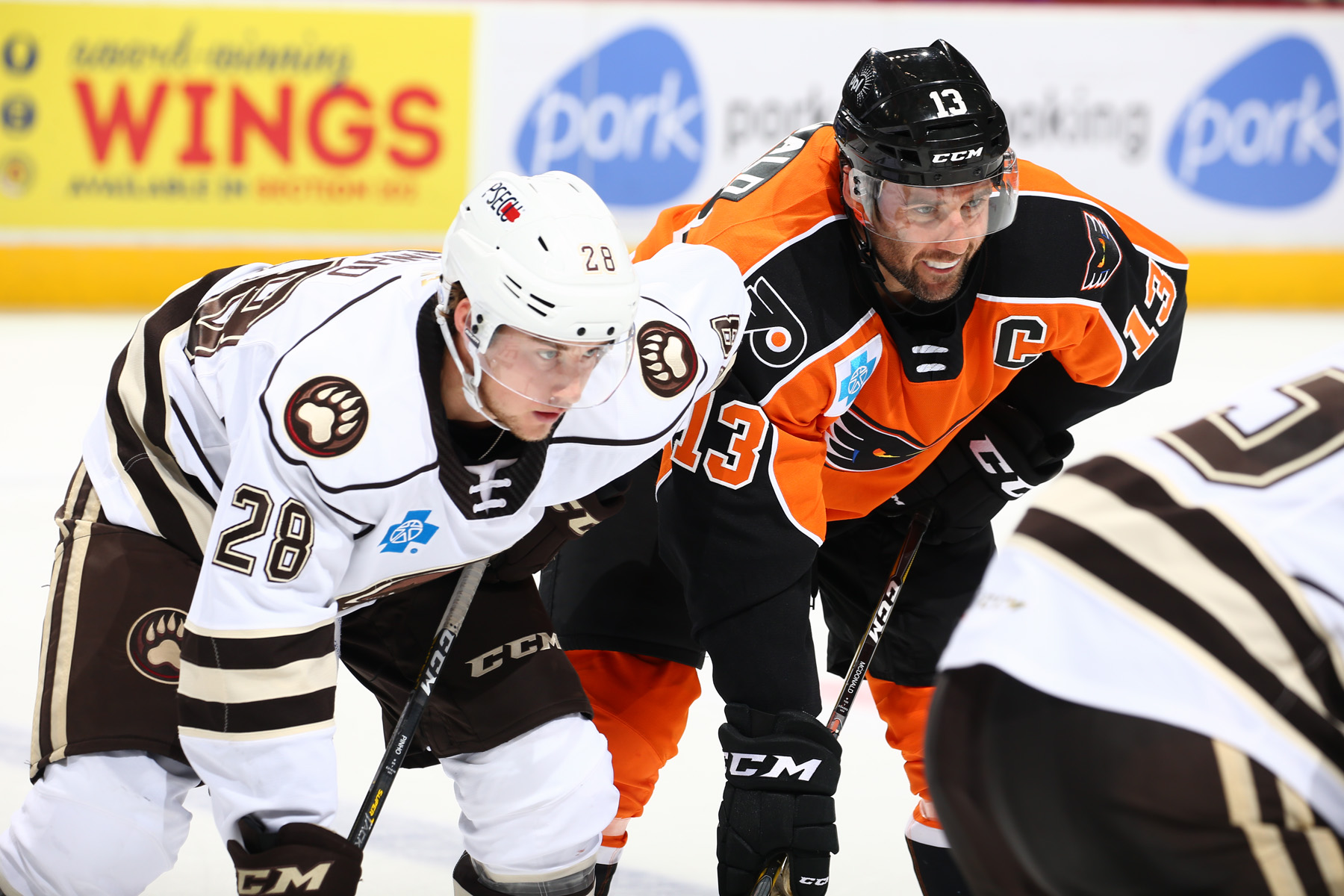 Snap Shots
Through eight head-to-head meetings this season, the Phantoms are currently outscoring their opponent 25-15
Lehigh Valley Phantoms forward Greg Carey currently leads the team in scoring against the Bears with four goals and four assists for eight points in eight games
The Phantoms first-ranked penalty kill will go up against the Bears' 12th ranked power-play unit and so far this season, the Phantoms penalty killers have not allowed a single power-play goal to the Hershey Bears in eight meetings, going 26 for 26 in the process
Players to Watch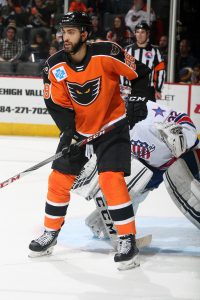 Justin Bailey currently has four goals in his past three games and a total of six points (4G-2A) in his first seven contests with the Phantoms, look for him to keep his hot streak rolling as he beings to gel with his new teammates
T.J. Brennan missed the past seven games prior to last night's contest against the Bridgeport Sound Tigers, look for him to make an impact when the Phantoms head to the power play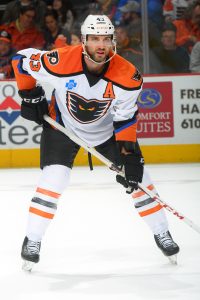 Recent Transactions
January 30, 2019: The Lehigh Valley Phantoms loaned defenseman Frank Hora to the Reading Royals
January 30, 2019: The Philadelphia Flyers loaned goaltender Mike McKenna to the Lehigh Valley Phantoms for Conditioning Purposes
The Road Ahead
The Lehigh Valley Phantoms will begin next weekend on the road with a contest against the Utica Comets on Friday, February 8, at 7 p.m. before returning home to PPL Center for a two-game series against the Hartford Wolf Pack on February 9 and 10.