Bunnaman Scores First Pro Goal and Vorobyev Returns to Lehigh Valley Lineup
October 28, 2018
Hershey, PA – Connor Bunnaman scored his first career professional goal but that turned out to be all the offense for the Phantoms on Sunday evening in a 3-1 loss at the rival Hershey Bears. Vitek Vanecek turned aside 34 of 35 shots he faced in successfully holding off the Phantoms offense.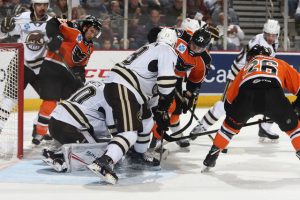 Lehigh Valley (5-3-1) took their first away loss of the season in six outings for a 4-1-1 road record. Alex Lyon made 31 of 34 stops in the Phantoms crease.
The Phantoms fielded a significantly different lineup than they showed less than 24 hours earlier at the Binghamton Devils. Nicolas Aube-Kubel and Tyrell Goulbourne were called up to the Philadelphia Flyers while Taylor Leier was a lineup scratch.
The game also marked the return of Russian center Misha Vorobyev who returned from his first-ever NHL stint to make his Phantoms season debut. The second-year pro had scored nine goals and 20 assists with the Phantoms last year and then was able to crack the Flyers roster following an exceptional September Training Camp. In his return to the Phantoms, Vorobyev can anticipate logging some big minutes as he looks to regain his top form.
Mike Sgarbossa (4th), Liam O'Brien (6th) and Riley Barber (2nd) all lit the lamp for Hershey. In the third period, Barber escaped on a breakaway and was hooked on his way towards Lyon and thus was awarded a penalty shot which he converted off the blocker and through the right arm of Lyon. It was the first-ever penalty-shot goal scored against Lehigh Valley and the first against the Phantoms franchise since October, 2013 when Tim Sestito of the Albany Devils converted against goaltender Yann Danis of the Adirondack Phantoms.
Lehigh Valley trailed 2-0 in the second period when James de Haas carried the puck to the left circle and connected with Phil Varone across the ice. Varone's shot aimed for the far post was kicked out by the right leg of Vanecek for the Bunnaman rebound goal. The 20-year-old prospect formerly of the Kitchener Rangers in the Ontario Hockey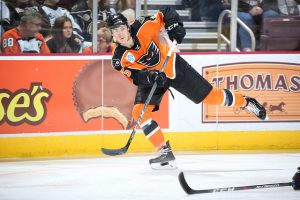 League celebrated his first professional goal.
Phil Varone, the reigning MVP (Les Cunningham Award) in the American Hockey League, moved into second in the AHL in points (14) and first in assists (11).
The game featured a number of big hits and collisions particularly in an increasingly feisty second period. Barber was bothered when he was clipped at center ice and went looking for retribution when he charged into Zach Palmquist and took a penalty providing the Phantoms a power-play opportunity on which they were unable to capitalize. A period later, Barber would go on to score a key breathing-room goal on his penalty shot.
The Phantoms dominated the season series a year ago boasting a 10-2-0 record against their rival from Chocolate Town. But the Hershey Bears (4-6-1) have made their claim that they won't be so easily dominated this time around.
Lehigh Valley out shot Hershey 35-34 while both teams went 0-for-2 on the power play. The rivalry will continue on Black Friday, November 23rd when the Bears visit PPL Center for the first time this season.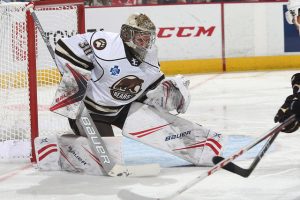 The Phantoms conclude their six-game road-swing on Friday night at the Binghamton Devils.
Lehigh Valley's next home game is Saturday, November 3rd vs. the Binghamton Devils featuring special Go Birds Tailgate Ticket Packs offering four tickets for $80 also including an Eagles mini-football. Order online via the link at PhantomsHockey.com or by calling the Phantoms at 610-224-GOAL (4625).
Lehigh Valley Phantoms 1 at Hershey Bears 3
Sunday, October 28, 2018 – Giant Center
Lehigh Valley 0 1 0 – 1
Hershey 1 1 1 – 3
1st Period-1, Hershey, Sgarbossa 4 (Ness, Hobbs), 1:17. Penalties-No Penalties
2nd Period-2, Hershey, O'Brien 6 (Siegenthaler, Williams), 1:51. 3, Lehigh Valley, Bunnaman 1 (Varone, de Haas), 10:16. Penalties-Kase Lv (slashing), 5:27; Malenstyn Her (hooking), 13:36; Barber Her (interference), 18:35.
3rd Period-4, Hershey, Barber 2 3:36 (PS). Penalties-Twarynski Lv (boarding), 10:00.
Shots on Goal-Lehigh Valley 10-13-12-35. Hershey 9-13-12-34.
Power Play Opportunities-Lehigh Valley 0 / 2; Hershey 0 / 2.
Goalies-Lehigh Valley, Lyon 1-1-0 (34 shots-31 saves). Hershey, Vanecek 3-3-1 (35 shots-34 saves).
A-8,332
Referees-Conor O'Donnell (41), Corey Syvret (42).
Linesmen-Colin Gates (3), Richard Jondo (55).
Ticket Information
Tickets for each and every Phantoms home game throughout the 2018-19 season are available online at pplcenter.com, by calling 610-347-TIXX [8499] or in-person at the QNB Box Office [7th & Hamilton].