Lehigh Valley Racks Up Points in 5 of 6 on Road-Trip
November 2, 2018
Binghamton, NY – The Lehigh Valley Phantoms overcame an early 2-0 deficit but the Binghamton Devils had a late comeback of their own in a 4-3 overtime thriller on Friday night in the New York's southern tier. Colton White's incredible backhand spin-o-rama move around the right wing set up his drive to the net and top-shelf game-winner.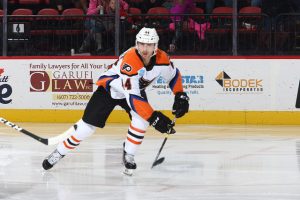 The Lehigh Valley Phantoms concluded their longest road-trip of the season with a 3-1-2 mark. The overtime loss was the team's first of the season although Lehigh Valley had dropped a shootout decision earlier in the year. Through the first 10 games of the regular season, the Phantoms stand at 5-3-2.
The game featured many scuffles and hard hits which should nicely set the stage for the Saturday night rematch in Allentown as the Phantoms open a four-game homestand at PPL Center by again taking on the Binghamton Devils (5-5-1).
Phantoms rookies David Kase (3rd) and German Rubtsov (5th) both scored impressive goals for Lehigh Valley to even the score at 2-2 in the second period. And Misha Vorobyev, in just his second game back from Philadelphia, scored off the post in the third period for a 3-2 lead. Vorobyev also assisted nicely on Rubtsov's shorthanded strike in the second for a picture-perfect Russian connection tally. Vorobyev was generating chances with creative passes and solid play throughout the night.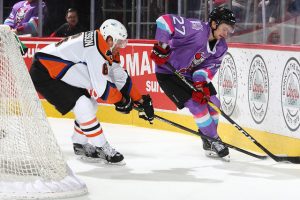 Carter Hart made several incredible stops in net including a post-to-post kick save with his outstretched left leg on a backdoor opportunity in the second period. He similarly robbed John Quenneville with the left leg in overtime immediately after the Devils had blasted one off the post.
Binghamton emerged from the first period with a 2-0 advantage on goals by Ryan Schmelzer (1st) and Brandon Gignac (1st) who scored on a deflection and mini-breakaway respectively.
But the Phantoms responded in the second period with Kase's two-handed chip-deflection of a Greg Carey laser from the right boards. And less than four minutes later, Vorobyev spotted an open Rubtsov while shorthanded who then proceeded to curl wide from the right of the cage to push a forehander past the left skate of a deked-out veteran goalie Eddie Lack to forge a 2-2 tie.
Vorobyev's second point, and first goal, came due to his awareness from center-point to quickly release the puck as Colin McDonald screened the goalie's eyes.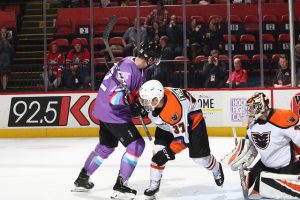 But first-rounder Michael McLeod tied the game with just 3:18 remaining on a give-and-go with Nathan Bastian on his close-range deflection past Hart to force overtime which eventually set up the Devils thrilling victory.
Binghamton out shot the Phantoms 36-29. Both teams were 0-for-4 on the power play.
The Lehigh Valley Phantoms return to PPL Center for their first home game in 15 days with their Saturday night rematch against the Devils. The Phantosm are encouraging fans to wear green for the Go Birds tailgate while the Philadelphia Eagles cheerleaders will also be in attendance. Tickets are available at PPLCenter.com
Lehigh Valley Phantoms 3 at Binghamton Devils 4 (OT)
Friday, November 2, 2018 – Floyd L. Maines Veterans Memorial Arena
Lehigh Valley 0 2 1 0 – 3
Binghamton 2 0 1 1 – 4
1st Period-1, Binghamton, Schmelzer 1 (Sissons, Studenic), 6:34. 2, Binghamton, Gignac 1 (Baddock, Quenneville), 8:10. Penalties-Quenneville Bng (hooking), 9:50; Speers Bng (interference), 12:19; Myers Lv (slashing), 19:23.
2nd Period-3, Lehigh Valley, Kase 3 (Carey, Palmquist), 5:04. 4, Lehigh Valley, Rubtsov 5 (Vorobyev, Friedman), 8:47 (SH). Penalties-Brennan Lv (tripping), 7:48; Brennan Lv (high-sticking), 14:39.
3rd Period-5, Lehigh Valley, Vorobyev 1 (Myers, Vecchione), 7:29. 6, Binghamton, McLeod 2 (Bastian, White), 16:42. Penalties-Pietila Bng (boarding), 5:15; served by Studenic Bng (bench minor – too many men), 10:20; Myers Lv (hooking), 14:29.
OT Period-7, Binghamton, White 2 (Studenic, Sharangovich), 3:25. Penalties-No Penalties
Shots on Goal-Lehigh Valley 8-7-10-4-29. Binghamton 12-8-14-2-36.
Power Play Opportunities-Lehigh Valley 0 / 4; Binghamton 0 / 4.
Goalies-Lehigh Valley, Hart 2-2-2 (36 shots-32 saves). Binghamton, Lack 1-0-0 (29 shots-26 saves).
A-2,939
Referees-Michael Markovic (47), Carter Sandlak (6).
Linesmen-James Tobias (61), Neil Frederickson (68).
Ticket Information
Tickets for each and every Phantoms home game throughout the 2018-19 season are available online at pplcenter.com, by calling 610-347-TIXX [8499] or in-person at the QNB Box Office [7th & Hamilton].