Finish November With Tremendous 11-2 Mark
November 29, 2016
Toronto, ON – Lehigh Valley received goals from Chris Conner (4th), Danick Martel (5th), Jordan Weal (7th) and then an empty-netter from Colin McDonald (9th) to push aside the Toronto Marlies 4-1 on a Tuesday night north of the border. Alex Lyon turned in another strong performance in net with 25 saves to record his seventh win of the year.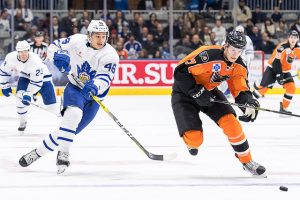 The Phantoms and Marlies were tied 1-1 after two periods but Danick Martel's screen cutting in front of Toronto goalie Antoine Bibeau while Sam Morin was loading the gun led to a deflection goal at 4:44 into the final period that held up as the game-winner.
Lyon was tested throughout and made a number of quality stops when the game was tied or the Phantoms were clinging to their one goal lead. Byron Frose, Kasperi Kapanen and others were left scratching their heads at the quick reactions of the rookie netminder from Yale University. With 6:15 left in the third, Brendan Leipsic on the power play found himself with the puck all alone on Lyon but the league's top point-producer was denied by Lyon sliding to his right to stay with the shooter for a wonderful blocker save which was perhaps his best of the evening.
Jordan Weal notched a goal and an assist in the triumph to move into a tie for third in the AHL in points with 19 (7 goals, 12 assists) trailing only Toronto's Brendan Leipsic (23) and Chicago's Brad Hunt (20).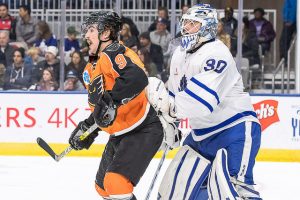 The Phantoms began the final game of their season-series sweep of the Marlies with a power-play strike past the midway mark of the first. Greg Carey's quick drive in the slot made its way through Bibeau but was still spinning in the blue when Chris Conner from the right of the cage was able to pull it away from a diving Kasperi Kapanen to keep the play alive. Conner promptly lifted his fourth goal of the season over the diving penalty killer on a tally that was also assisted by Jordan Weal.
Toronto responded at 7:30 into the second period on their own power play with Andreas Johnsson between the circles perfectly deflecting a line-drive from the right boards by Brendan Leipsic. Lyon had no chance on the impressive connection with Johnsson's fourth of the season deadlocking matters at 1-1.
Lehigh Valley broke the tie at 4:44 into the third with Martel's smart and speedy screen setting up his own deflection goal on Morin's left-point slapper just after a power play had expired.
Weal took care of matters himself for the backbreaking goal with 3:02 remaining. After two Marlies players miscommunicated and ran into each other behind the net, Weal came away with the puck all alone and was able to pull to the left of the cage for a shot of the blocker of Bibeau and then a quick hand-eye response to the top shelf for a 3-1 lead.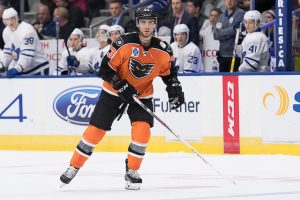 The Phantoms finished the deal in the closing seconds with Taylor Leier's nudge through a defenseman connecting with McDonald for the empty-net tap-in that also came on the power play.
Lehigh Valley concludes a monumentally successful month of November with a mark of 11-2-0 and hits the one-quarter mark of the season (19 games out of 76) with an overall record of 13-5-2 placing them just one point back of first-place Wilkes-Barre/Scranton in the competitive Atlantic Division. The Phantoms just completed their second-best November in franchise history bested only by the 13-1-0 posting by the Philadelphia Phantoms in November of 2004 as part of the team's record 17 game win streak.
Lehigh Valley out shot the Marlies 32-26. The Phantoms were 2-for-7 on the power play while Toronto was 1-for-4.
Lehigh Valley is back at PPL Center on Friday, December 2 for Youth Sports Night when the rival Hershey Bears invade downtown Allentown. A limited number of tickets remain for Friday's rivalry showdown and can be purchased online at PPLCenter.com or by calling 610-347-TIXX (8499)
Lehigh Valley Phantoms 4 at Toronto Marlies 1 – Status: Final
Tuesday, November 29, 2016 – Ricoh Coliseum
Lehigh Valley 1 0 3 – 4
Toronto 0 1 0 – 1
1st Period-1, Lehigh Valley, Conner 4 (Carey, Weal), 11:26 (PP). Penalties-Moore Tor (hooking), 5:42; C. Smith Tor (hooking), 11:14.
2nd Period-2, Toronto, Johnsson 4 (Leipsic, Nielsen), 7:30 (PP). Penalties-Sanheim Lv (cross-checking), 6:10; Wrenn Tor (holding), 12:22; Nielsen Tor (delay of game), 16:02; Laich Tor (high-sticking), 16:22; Leier Lv (tripping), 18:14.
3rd Period-3, Lehigh Valley, Martel 5 (Morin, Zengerle), 4:44. 4, Lehigh Valley, Weal 7 16:58. 5, Lehigh Valley, McDonald 9 (Leier, Sanheim), 19:26 (PP EN). Penalties-Wrenn Tor (tripping), 2:06; Lamarche Lv (slashing), 4:59; Hagg Lv (slashing), 14:38; Nielsen Tor (slashing), 18:34.
Shots on Goal-Lehigh Valley 8-10-14-32. Toronto 9-8-9-26.
Power Play Opportunities-Lehigh Valley 2 / 7; Toronto 1 / 4.
Goalies-Lehigh Valley, Lyon 7-3-1 (26 shots-25 saves). Toronto, Bibeau 6-5-2 (31 shots-28 saves).
A-4,507
Referees-Peter MacDougall (45), Ben Moser (3).
Linesmen-Jordan Browne (67), Justin Knaggs (17).
RISE UP! Another thrilling season of Lehigh Valley Phantoms hockey at PPL Center is underway! Reserve your season tickets and group outings for the 2016-2017 season of Phantoms hockey today. For more information on how to reserve your seat at PPL Center to the hottest ticket in town, call the Phantoms front office today at 610-224-GOAL [4625]!
And for the latest Phantoms news, visit www.phantomshockey.com or follow the team on Facebook (www.facebook.com/lehighvalleyphantoms), Twitter (@lvphantoms), Instagram (@lehighvalleyphantoms) and Snapchat (lvphantoms).
The Phantoms are thrilled to host the 2017 Capital BlueCross AHL All-Star Classic at PPL Center January 28-30. The Capital BlueCross AHL All-Star Classic weekend includes a Phan Fest during the day on Saturday, January 28 and a Tailgate Party that evening, followed by the AHL All-Star Skills Competition on Sunday, January 29 and the 2017 AHL All-Star Game on Monday, January 30. Don't miss this once-in-a-lifetime event. Packages starting at just $67 for the 2017 AHL All-Star Classic weekend are on sale now and include admission to Saturday's Phan Fest & Tailgate Party, Sunday's AHL All-Star Skills Competition and Monday's All-Star Game. To purchase tickets, please visit www.phantomshockey.com or www.pplcenter.com.
The Phantoms are coming off their 20th Anniversary Season and second campaign in the Lehigh Valley playing at the state-of-the-art PPL Center. Established in 1996, the Phantoms spent their first 13 seasons at the Spectrum in Philadelphia before re-locating to Glens Falls, New York in 2009 where the team spent the next five seasons as the Adirondack Phantoms. A new era of Phantoms hockey began in the fall of 2014 when the Lehigh Valley Phantoms began play at the state-of-the-art PPL Center. Through 20 incredibly successful campaigns, the Phantoms have captured two Calder Cup Championships (1998, 2005), two Conference Championships (1998, 2005), two Regular Season Titles (1996-97, 1997-98) and four Division Championships (1996-97, 1997-98, 1998-99, 2003-04).