Next Stop: Charlotte!
April 17, 2023
Lehigh Valley, PA – With the 72-game regular season now in the rear-view mirror, the Lehigh Valley Phantoms turn their sights south for an upcoming playoff series against the Charlotte Checkers, AHL affiliate of the Florida Panthers.
The Phantoms will open the postseason on Tuesday night to commence the Best of 3 series. Lehigh Valley and Charlotte will again tangle at Bojangles' Coliseum on Thursday and Friday (if necessary) evenings.
Because of AHL standards regarding distance between first-round opponents, the three-game series will be played in entirely in Charlotte.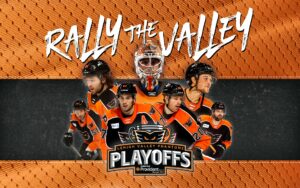 After the first-round series, the Phantoms would take on the first-place Providence Bruins in the Division Semifinals in a Best of 5 series.
Lehigh Valley (37-29-6) finished as the 6 seed in the Atlantic Division with 80 points. Charlotte (39-25-8) is the 3 seed with 86 points.
The season series of eight games between the two teams was exactly even at 4-4.
The Phantoms have won a pair of Calder Cups as the Philadelphia Phantoms in 2005 (vs. the Chicago Wolves) and in 1998 (vs. the St. John Flames).
WEEKLY RECAP
Wednesday, April 12, 2023
Islanders 6 – Phantoms 4
Ronnie Attard scored in the opening minute and Elliot Desnoyers scored a historic 23rd goal (most by a rookie with Lehigh Valley) but the Islanders prevailed via a hat trick from Chris Terry and a pair of goals from former Phantom Andy Andreoff.
Friday, April 14, 2023
Checkers 5 – Phantoms 2
Lehigh Valley concluded the home portion of the schedule with an attempt for another exciting comeback. Bobby Brink scored on a third-period breakaway to tie the game at 2-2 but Gerry Mayhew countered for the Checkers less than four minutes later and Charlotte tacked on a pair of power-play goals in the closing minutes to provide for the final margin.
Saturday, April 15, 2023
Bears 6 – Phantoms 4
Brendan Furry made quite an impression in his third pro game and his first opportunity on the top line scoring a goal with two assists while Bobby Brink (12th) scored in a second consecutive game to stretch his point streak to six and Olle Lycksell (14th) struck for a fourth goal in the last six games. The game was tied at 3-3 after 40 minutes Hershey held off the Phantoms' comeback efforts and a hat trick goal from Ethen Frank with 4:01 left helped the Bears to the win at GIANT Center in the season finale.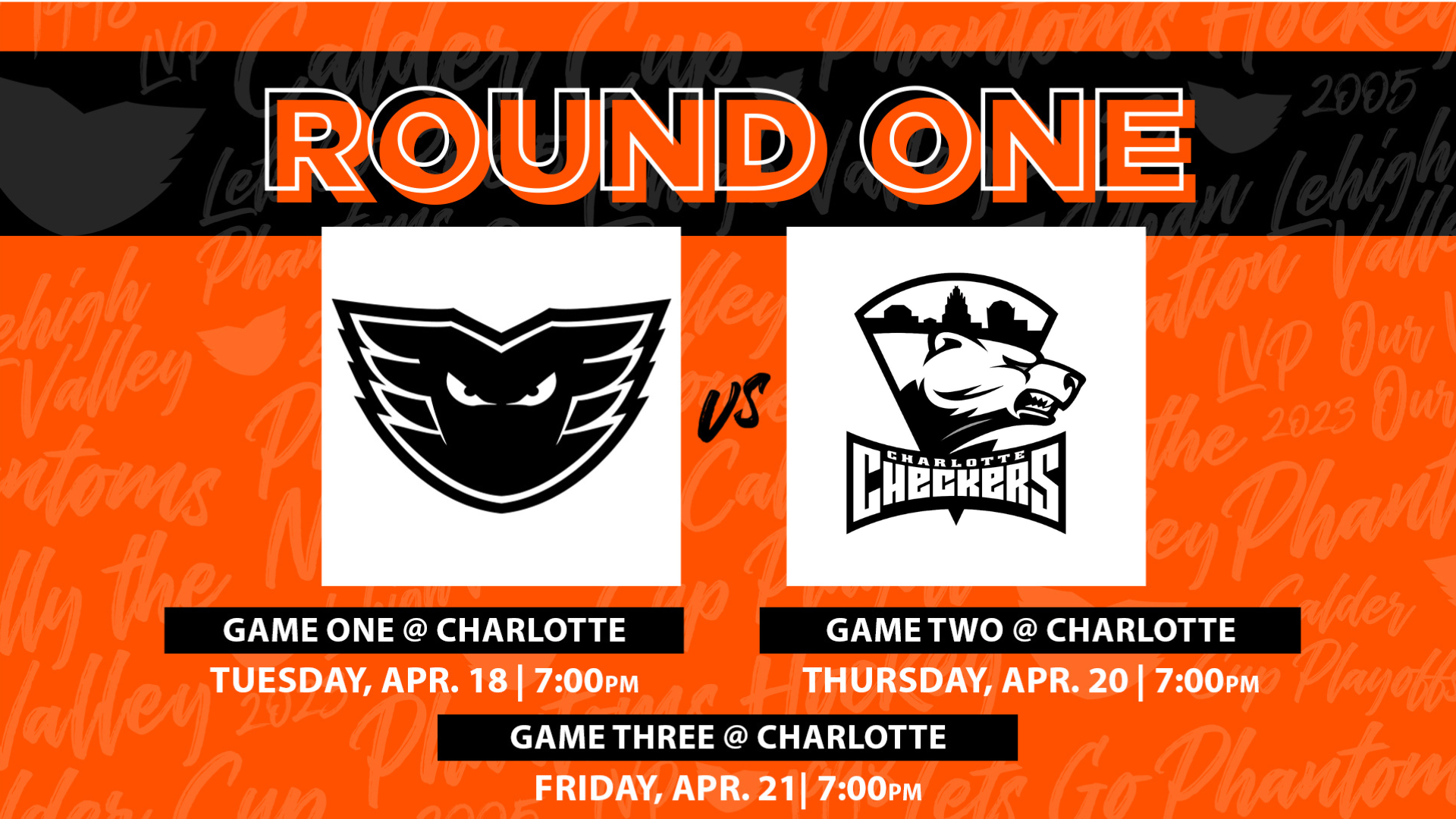 PLAYOFFS!
The Phantoms travel to Charlotte for the first round of the Calder Cup Playoffs. The Best of 3 series will see the Atlantic Division rivals squaring off with games on Tuesday, Thursday and Friday.
Lehigh Valley was 4-4-0 against the Checkers this season.
The last time these teams met in the Calder Cup Playoffs, the Phantoms prevailed 4 games to 1 in the Division Finals in a series that included an epic 5 overtime game on May 9, 2018 that broke the record for longest game in AHL history. Alex Lyon recorded 94 saves on 95 shots in an incredible performance and Alex Krushelnyski finally ended the marathon at 1:09 a.m.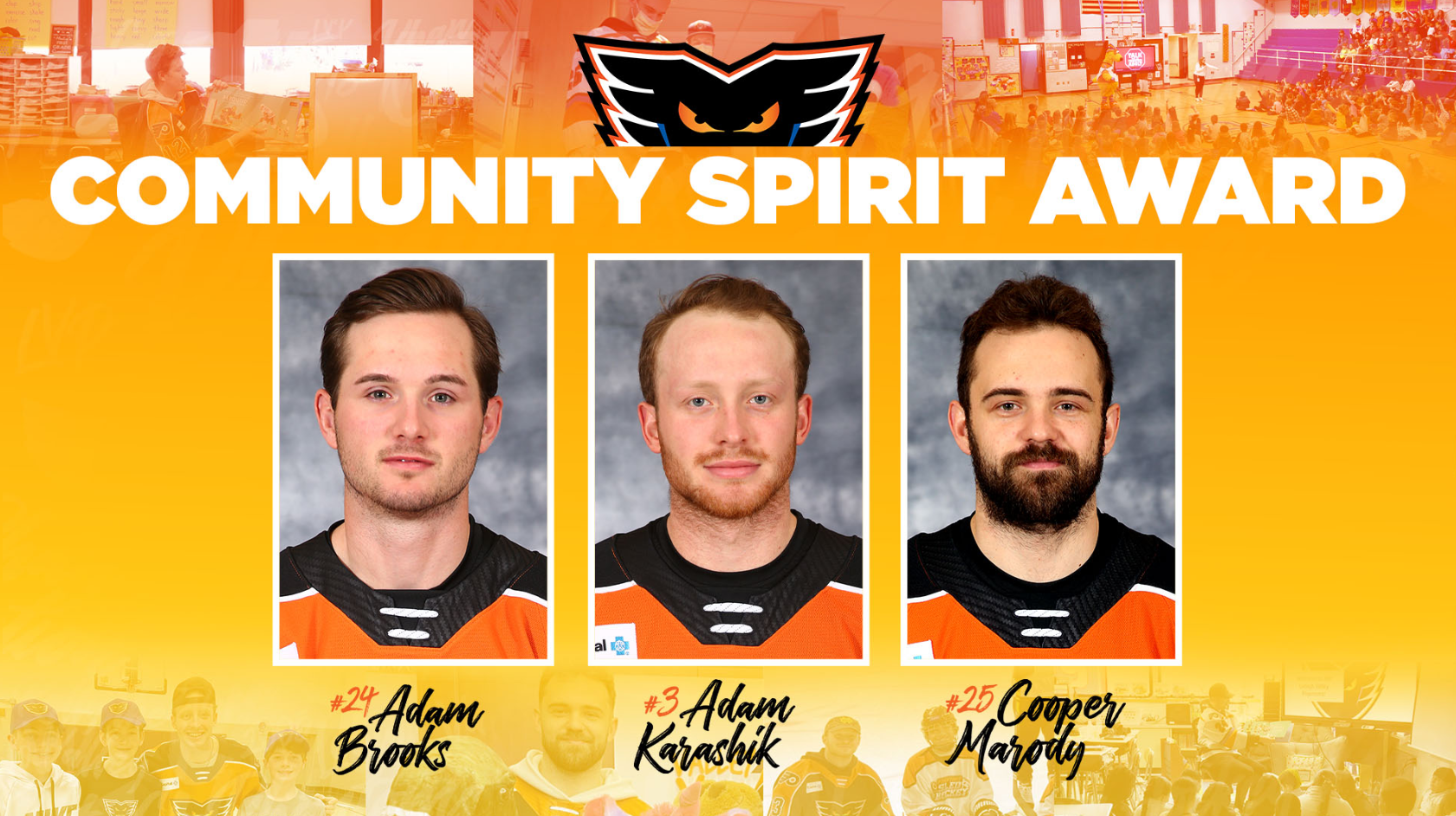 COMMUNITY SPIRIT AWARD
Friday's regular season home finale featured a celebration of the Phantoms' return to the community. The organization proudly honored Adam Brooks, Adam Karashik and Cooper Marody in a pregame ceremony as the recipients of the team's inaugural Community Spirit Award.
Several Phantoms players have interacted with fans throughout the season all across the region at area schools, hospitals, youth practices and community events. But the three winners of the inaugural Community Spirit Award went above and beyond in their continued and regular efforts to give back to the community. Thanks to "The Two Adams" and Cooper for being such wonderful ambassadors of the Phantoms all season long! Congratulations!!
23 IN 23
The Lehigh Valley Phantoms have thrived in calendar year 2023 beginning with points in seven of eight games to start on their way to 23 total wins so far since January 1. Ian Laperriere's crew has gone an impressive 23-16-3 in 2023 after entering the New Year with a pedestrian 14-13-3 mark.
RALLIES IN THE VALLEY
In four of the last six victories, Lehigh Valley trailed in the third period and rallied from behind. The Comeback Phantoms have nine victories this season in games in which they have trailed at the second intermission. That's the second-most third-period comebacks in the AHL behind only the Providence Bruins who have 10.
RECORDS WATCH
Several Phantoms are establishing new marks and etching their names in the Lehigh Valley record book.
Elliot Desnoyers has broken the record for the most goals by a rookie on Lehigh Valley with his 23rd goal of the season on Wednesday at Bridgeport. The all-time franchise record for goals by a rookie is 24 by Kyle Greentree of the Philadelphia Phantoms in 2007-08.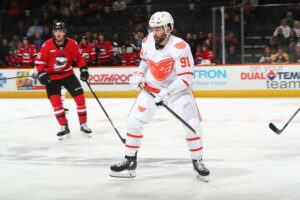 Adam Ginning tied the Lehigh Valley record for best +/- rating in a season and Garrett Wilson established a new record for most career penalty minutes with Lehigh Valley.
Desnoyers and Wilson were recognized during the final home game on Friday for their historic seasons.
Most goals by Rookie – Lehigh Valley
1. Elliot Desnoyers – 23 (2022-23)
1. Danick Martel – 22 (2015-16)
3. Connor Bunnaman – 19 (2018-19)
Most wins in season by Goalie – Lehigh Valley
1. Alex Lyon – 27 (2016-17)
2. Sam Ersson – 24 (2022-23)
3. Anthony Stolarz – 21 (2015-16)
3. Ron Zepp – 21 (2014-15)
Single-Season Plus-Minus – Lehigh Valley
1. Adam Ginning +24 (22-23)
2. Nic Aube–Kubel +24 (17-18)
3. Max Lamarche +21 (17-18)
Penalty Minutes (Career) – Lehigh Valley
1. Garrett Wilson 338
2. Tyrell Goulbourne 313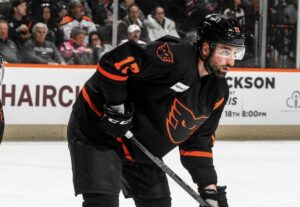 PHANTASTIC
The Phantoms are….
27-9-2 when scoring a power-play goal
33-9-4 when scoring 3 or more goals
28-2-1 when allowing 2 goals or fewer
21-6-6 in one-goal games
17-3-6 when scoring the first goal
22-2-4 when leading after two periods
6-3 in overtime and 4-3 in shootouts
UPCOMING
Tuesday, April 18, 2018 (7:00)
Bojangles Coliseum, Charlotte, NC
Phantoms at Charlotte Checkers
Charlotte (39-25-8) finished the season on a three-game win streak to lock up home ice in the first round of the playoffs. The Checkers had been struggling before their hot finish with only one win in eight games but the return of goaltender Mack Guzda has helped the team find stability again.
The Phantoms went 4-4-0 against the Checkers this season.
Alex Lyon (13-9-1, 2.43, .910) went up to the Florida Panthers to backstop their incredible run into the Stanley Cup Playoffs so big rookie Mack Guzda (16-9-3, 2.88, .897) has been handed the reigns since his return. NHL veteran Riley Nash (24-35-59) leads the team while AHL All-Star Lucas Carlsson (20-34-54) racked up 20 goals from the blue line. Former Phantom Gerry Mayhew (24-20-44) has five goals against the Phantoms this season.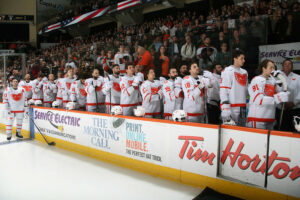 PHANTOMS SCORING LEADERS
Tyson Foerster 20-28-48
Olle Lycksell 14-31-45
Elliot Desnoyers 23-21-44
Garrett Wilson 18-25-43
Cooper Marodty 15-25-40
Artem Anisimov 19-17-36
PHANTOMS 2022-23 LEADERS:
Points – Tyson Foerster (48)
Goals – Elliot Desnoyers (23)
Assists – Olle Lycksell (31)
Games – Louie Belpedio (70)
PIM – Garrett Wilson (195)
+/- Rating – Adam Ginning (+24)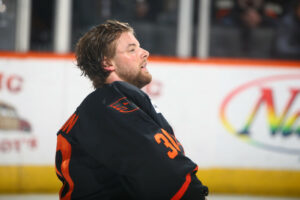 Phantoms to Make NHL Debuts in 2022-23 Season
Olle Lycksell – Oct 15, 2022 (PHI vs. VAN)
Sam Ersson – Dec 23, 2022 (PHI at CAR)
Elliot Desnoyers – Feb 25, 2023 (PHI at NJ)
Tyson Foerster – Mar 9, 2023 (PHI at CAR)
Adam Ginning – Apr 11, 2023 (PHI vs. CBJ)
JOIN US AT CHICKIE'S!!
Chickie's and Pete's is your Playoff Headquarters!
Fans can gather at Chickie's and Pete's for every Phantoms playoff game, home and away. During away playoff games, be sure to join us for the watch parties including discount specials and great Phantoms giveaways and prizes.
Chickie's and Pete's at PPL Center is the official Calder Cup Playoff headquarters of the Lehigh Valley Phantoms.
Phantoms Playoff Strips are on sale now. Reserve your same seat for the duration of the upcoming Phantoms playoff run as we "Rally the Valley!" Pay as you go. When the Phantoms advance then you are locked in for the next home games right away and don't have to do anything more.
Ask about Phantoms Playoff Strips at ticketsales@phantomshockey.com
The Playoffs are presented by Provident Bank.
Phantoms Tickets are available HERE
UPCOMING SCHEDULE
Game 1 – Tuesday, April 18 (7:00) at Charlotte Checkers
Game 2 – Thursday, April 20 (7:00) at Charlotte Checkers
Game 3 (if necessary) – Friday, April 21 (7:00) at Charlotte Checkers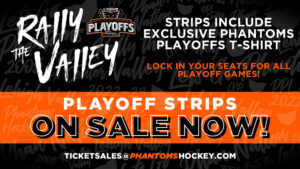 Broadcast coverage of all Phantoms games, home and away, is available on the Phantoms 365 app and on Real Oldies 1470-AM in Allentown. Fans can watch on AHLTV.com and can listen on their Smart Speakers at: "Play Phantoms Radio 24/7." Join the Voice of the Phantoms, Bob Rotruck, for all the action!
Service Electric Network again provides exclusive television coverage of all Phantoms home games with veteran announcer Steve Degler and Phantoms' alum Steven Swavely on the call from the booth. Kristi Fulkerson reports from ice level and also from the Chickie's and Pete's studio with Dan Fremuth for pregame, intermission and postgame show analysis.