Back-to-Back Comebacks
March 29, 2023
Lehigh Valley, PA – The Lehigh Valley Phantoms were the Comeback Kids last weekend with back-to-back rallies in the third period to post a pair of exciting extra-time road victories at Wilkes-Barre/Scranton and Hershey.
The Phantoms occupy the fifth-place playoff spot in the Atlantic Division and have a Magic Number of 12 points to clinch a playoff berth with eight games remaining in the regular season. Lehigh Valley is one point behind Springfield for a first-round home ice position.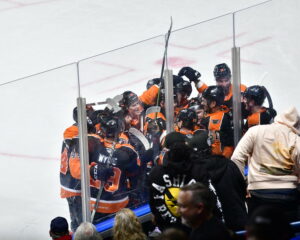 The Phantoms are at home this Friday and Saturday against the Wilkes-Barre/Scranton Penguins and Hartford Wolf Pack and then have a Sunday afternoon contest on the road at the Bridgeport Islanders.
WEEKLY RECAP
Saturday, March 25, 2023
Phantoms 3 – Penguins 2 (OT)
Adam Brooks (9th) scored the overtime winner at Wilkes-Barre/Scranton as the Phantoms came from behind for the exciting win and their sixth overtime triumph of the season. Artem Anisimov assisted on the winner after his power-play goal in the third period tied the game at 2-2. Garrett Wilson (17th) also scored for Lehigh Valley and new defenseman Emil Andrae recorded an assist in his North American debut.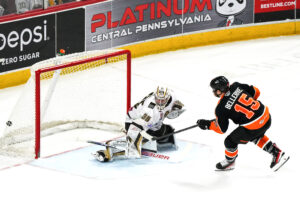 Sunday, March 26, 2023
Phantoms 4 – Phantoms 3 (SO)
The comeback Phantoms did it again and shootout goals by Jordy Bellerive and Bobby Brink clinched a hard-fought victory in Chocolateotwn on Sunday evening. Sam Ersson had a career-high 37 saves. Artem Anisimov (18th) tied the game on the power play in the third period for a second consecutive evening while Louie Belpedio (6th) and Ryan Fitzgerald (1st) started the third-period rally. Egor Zamula notched two assists in his first game back with the Phantoms while Tyson Foerster smartly set up Anisimov for the tying tally with his strong shot/pass right onto the tape of the big, veteran center that froze the defense. The Phantoms trailed 2-0 and 3-1 in the third period before pushing through for the terrific win. It's the seventh time this season that Lehigh Valley has rallied for a win when trailing at the second intermission.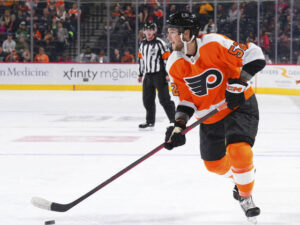 THEY'RE BACK
Tyson Foerster and Egor Zamula did well in recent stints with the Philadelphia Flyers and now have been returned to the Phantoms to bolster the team's Calder Cup Playoff push.
Foerster, 21, scored 3-4-7 in eight games with Philadelphia. The #23 overall selection in the 2020 draft ended his stay with a two-game goal streak and a five-game point streak. After making his NHL debut on March 9 at Carolina, Foerster would go on to score his first NHL goal on March 18 in a home game against the Hurricanes. He added a snipe on the rush on March 23 at Minnesota and tacked on an empty-net goal against Detroit on Saturday. Foerster is now tops on the Phantoms in scoring with 19-21-40 in 58 games
Zamula, 22, played in three games with the Flyers this week which were his first NHL games since December 1. The third-year pro has played in 14 total games with Philadelphia this year recording four assists. Zamula has played in 131 career games with the Phantoms and also 26 games with the Flyers. He had two assists in his first game back on Sunday and now has scored 1-17-18 in 43 games this year with Lehigh Valley.
TRANSACTIONS – ANDRAE SIGNS, ERSSON GOES UP
– Defenseman Emil Andrae has signed an entry-level contract with the Philadelphia Flyers and will play with the Phantoms on a tryout basis for the remainder of the 2022-23 season.
– Goaltender Sam Ersson has been recalled to the Philadelphia Flyers on emergency conditions.
– Goaltender Pat Nagle has been recalled by the Lehigh Valley Phantoms from the Reading Royals of the ECHL.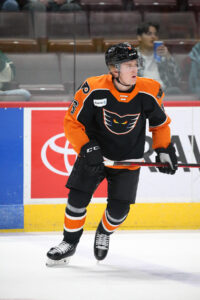 Andrae, 21 (2/23/02), has collected two assists in his first two games with the Phantoms on Saturday and Sunday at Wilkes-Barre/Scranton and Hershey. He is expected to make his PPL Center debut when the Phantoms play at home this coming weekend. Andrae was selected by the Flyers in the second round (54th overall) of the 2020 NHL Draft. The 5-foot-9 native of Vastervik, Sweden collected 6-20-26 this season with HV71 of the Swedish Hockey League (SHL) and last August was captain of Sweden's World Juniors team that won bronze.
Ersson, 23, is 21-14-1, 2.70, .904 with the Phantoms this season. With the Philadelphia Flyers this year, Ersson is 6-1-0, 3.07, .898. The rookie goalie has had an impressive bounce-back campaign after being limited to only five games in 2021-22 due to injuries. Ersson has recorded his first career NHL and AHL shutouts this season and also became just the eighth NHL goaltender to begin a career with a 6-0-0 record. This past Sunday with Lehigh Valley, he set a career-high with a tremendous 37-save performance in a shootout win at Hershey.
Nagle, 35, is 1-7-1, 3.81, .877 with the Phantoms this season and is 17-5-0, 2.49, .916 with the Reading Royals including 8-1-0 with Reading since returning to the Royals on February 28. Nagle moved to second all-time in ECHL history with his 218th career win on March 24 passing Marc Magliarditi. Only Nick Vitucci (265) has more career victories in the ECHL.
OVERTIME COOLNESS
Lehigh Valley has racked up six overtime wins this season including five on the road. Adam Brooks is the latest to strike in the extra frame with his Saturday night conversion at Wilkes-Barre/Scranton. Louie Belpedio (twice), Cam York, Artem Anisimov and Ronnie Attard also have struck for overtime goals this season. The Phantoms are 6-3 in overtimes and 4-3 in shootouts this season and also boast a record of 19-6-6 in one-goal decisions.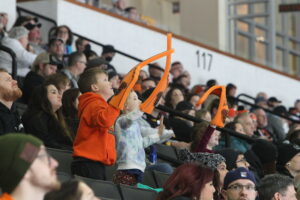 PHANTASTIC!
– Garrett Wilson has scored 11 goals in the last 14 games in a stretch that has included a five-game point streak as well as two hat tricks (Feb 20 and Mar 15).
– The Phantoms are….
26-8-5 when scoring 3 or more goals
23-2-1 when allowing 2 goals or fewer
19-6-6 in one-goal games
15-3-6 when scoring the first goal
19-2-4 when leading after two periods
6-3 in overtime and 4-3 in shootouts
UPCOMING
Friday, March 31 (7:05)
PPL Center, Allentown, PA
Phantoms vs. Wilkes-Barre/Scranton Penguins
Wilkes-Barre/Scranton (25-27-11) has fallen further off the pace with a pair of setbacks last weekend. The Penguins are seven points back of Bridgeport for the playoff cutline with just nine games remaining entering the week.
Lehigh Valley is 6-4-1 against the Baby Pens entering the last game of the season series. Alex Nylander (25-25-50) is up with Pittsburgh.  Dustin Tokarski (12-12-5, 2.53, .913) has returned from Pittsburgh. Drake Caggiula (18-29-457 has scored 7-4-11 against the Phantoms including three goals in the last two games. The Penguins are last in the Eastern Conference with just 2.7 goals per game. Tyson Foerster has scored 5-3-8 against WBS.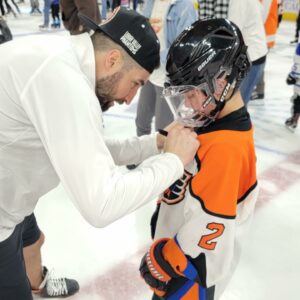 Saturday, April 1, 2023 (7:05)
PPL Center, Allentown, PA
Phantoms vs. Hartford Wolf Pack
Hartford (28-25-11) has put together a nice little run winning four out of its last six to close to within one point of sixth-place Bridgeport for the last playoff spot going into a critical head-to-head showdown on Wednesday. Highly touted rookie Will Cuylle (24-17-41) and returned captain Jonny Brodzynski (18-23-41) pace the scoring. Brodzynski has been especially hot with 9-7-16 in just his last eight games including a five-point performance (1-4-5) last Friday against Springfield. Former Phantoms Adam Clendening and Cooper Zech have joined the Wolf Pack via trades since the last time the two teams played. Garrett Wilson had a hat trick against Hartford on February 19 but the Pack rallied for a shocking 6-4 win at PPL Center on a pair of goals for Gustav Rydahl.
Sunday, April 2, 2023 (3:00)
Total Mortgage Arena, Bridgeport, CT
Phantoms at Bridgeport Islanders
Bridgeport (30-25-8) is hanging on to the final playoff spot in the Atlantic Division…barely. The Islanders enter play this week with just a one-point lead over the Hartford Wolf Pack with whom they will tussle on Wednesday. Also important; The fifth-place Phantoms are four points ahead of the sixth-place Islanders and Bridgeport has one game-in-hand (which they will play on Wednesday). The Phantoms are 4-1-1 against the Islanders this season including a 4-3 win at Bridgeport on February 26 in the most recent encounter between the teams.
Former Phantoms veteran forward Andy Andreoff is having a career year with 31 goals which rates him second in the AHL and first in the conference. Andreoff has scored 4-5-9 against the Phantoms. Popular former Phantom Cole Bardreau (15-14-29) has set a new career-best for goals as well. Chris Terry (19-43-62) is sixth in the AHL in assists and points. Ruslan Ishakov (17-32-49) is second among AHL rookies in points.
Veteran goalie and former NHL All-Star Cory Schneider (18-8-3, 2.88, .916) is their 36-year-old rock between the pipes.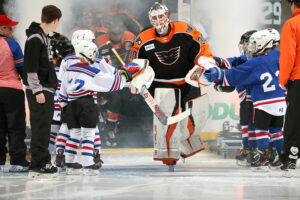 Phantoms Scoring Leaders
Tyson Foerster 19-21-40
Elliot Desnoyers 21-18-39
Olle Lycksell 10-28-38
Garrett Wilson 16-21-37
Cooper Marody 12-22-34
Artem Anisimov 18-15-33
Phantoms Tickets are available HERE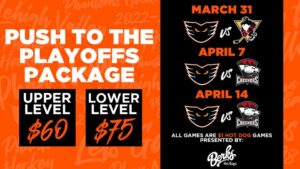 UPCOMING SCHEDULE
Friday, March 31 (7:05) vs. WILKES-BARRE/SCRANTON PENGUINS
Saturday, April 1 (7:05) vs. HERSHEY BEARS
Sunday, April 2 (3:00) at Bridgeport Islanders
Friday, April 7 (7:05) vs. CHARLOTTE CHECKERS
Saturday, April 8 (7:05) vs. SPRINGFIELD THUNDERBIRDS
UPCOMING AT PPL CENTER
Friday, March 31 (7:05) vs. Wilkes-Barre/Scranton Penguins – Berks $1 Hot Dogs
Saturday, April 1 (7:05) vs. Hartford Wolf Pack – Saturday Night Hockey Live! Jimmy and the Parrots
Friday, April 7 (7:05) vs. Charlotte Checkers – Berks $1 Hot Dogs
Saturday, April 8 (7:05) vs. Springfield Thunderbirds – Star Wars Night! SNHL with DJ Jamal "Jedi" Knight
Friday, April 14 (7:05) vs. Charlotte Checkers – Regular Season Home Finale. Berks $1 Hot Dogs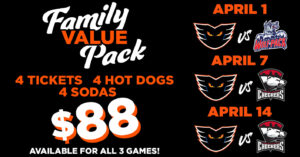 Broadcast coverage of all Phantoms games, home and away, is available on the Phantoms 365 app and on Real Oldies 1470-AM in Allentown. Fans can watch on AHLTV.com and can listen on their Smart Speakers at: "Play Phantoms Radio 24/7." Join the Voice of the Phantoms, Bob Rotruck, for all the action!
Service Electric Network again provides exclusive television coverage of all Phantoms home games with veteran announcer Steve Degler and Phantoms' alum Steven Swavely on the call from the booth. Kristi Fulkerson reports from ice level and also from the Chickie's and Pete's studio with Dan Fremuth for pregame, intermission and postgame show analysis.