Road Trip Ahead
February 21, 2023
Lehigh Valley, PA – The Phantoms hit the road for four straight beginning with a Wednesday night clash at the Wilkes-Barre/Scranton Penguins. Lehigh Valley (25-20-5) is in fifth place in the Atlantic Division entering the important stretch of contests. There are just 22 games remaining in the 2022-23 regular season.
The Phantoms are 7-3-1 on the road since January 1 and are 14-10-2 in the 2022-23 season.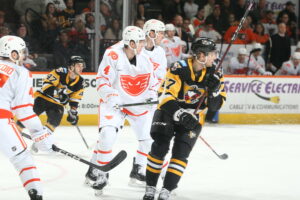 WEEKLY RECAP
Tuesday, February 14, 2023
Checkers 3 – Phantoms 2
Ronnie Attard and Adam Brooks scored for the Phantoms but the Checkers hung on for a tight win in Charlotte. Goalie Troy Grosenick (24 saves) was solid in his first game since October after sitting out for 3.5 months due to injury but former Phantom Alex Lyon picked up the W for the Checkers. Lehigh Valley's three-game win streak was snapped as was its six-game away win streak and eight-game away point streak.
Wednesday, February 15, 2023
Checkers 4 – Phantoms 1
Zayde Wisdom scored his second goal in under a week but that was all the offense for an injury and illness-plagued Phantoms lineup. Former Phantom Gerry Mayhew victimized his ex-team with Charlotte's first hat trick in two years. Lehigh Valley had a streak of 17 consecutive games scoring two or more goals before the mid-week result.
Saturday, February 18, 2023
Phantoms 4 – Penguins 3 (SO)
In one of the best games of the year, the Phantoms overcame a 2-0 deficit in the third period to defeat rival Wilkes-Barre/Scranton before a raucous and electric crowd at PPL Center. This game had a little bit of everything including a Troy Grosenick penalty shot save with just 35.5 seconds remaining in overtime.
Egor Zamula's first goal of the season was followed in quick succession by Alex Kile's tally just 16 seconds later in his first game back with the team since December. Kile scored his second goal later in the third to again tie the game. Bobby Brink scored in the first round of the shootout for Lehigh Valley while Grosenick denied all three Penguins' efforts including a poke-check on Valtteri Puustinen to seal the win.
Sunday, February 19, 2023
Wolf Pack 6 – Phantoms 4
Garrett Wilson recorded the Phantoms' first hat trick in almost two years but Lehigh Valley couldn't hold a 4-2 lead in the third period as Gustav Rydahl countered with a hat trick for the visiting Hartford Wolf Pack who stole a 6-4 win at PPL Center on Sunday evening. Elliot Desnoyers factored in all four Phantoms tallies with his team-leading 18th goal of the season as well as three assists. Desnoyers became the third Phantom to notch a four-point game joining Olle Lycksell and Artem Anisimov. It was only the second time ever Lehigh Valley has seen a hat trick FOR and AGAINST in the same game. It was also the first time this season the Phantoms have taken a regulation loss when leading at the second intermission.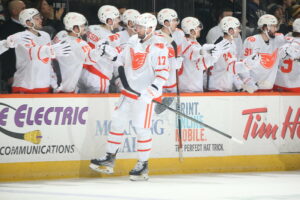 HATS OFF FOR GARRETT
Garrett Wilson's hat trick on Sunday against Hartford was the 15th in Lehigh Valley history and the seventh ever at PPL Center. It was the first hat trick for the Phantoms since Brennan Saulnier recorded a trifecta on May 9, 2021 against Wilkes-Barre/Scranton. The only other game in which there was a hat trick for each team in the same contest was February 5, 2016 at Bridgeport when Danick Martel scored three goals for Lehigh Valley and Bracken Kearns scored three for the Sound Tigers.
PHANTOMS HAT TRICKS AT PPL CENTER
2/19/23                     Garrett Wilson                            vs. Hartford Wolf Pack
5/9/21                       Brennan Saulnier                       vs. WBS Penguins
10/7/17                      Danick Martel                             vs. Hershey Bears
1/25/17                      Danick Martel                             vs. Binghamton Senators
2/10/16                      Taylor Leier                                vs. Binghamton Senators
1/27/16                      Colin McDonald                        vs. Binghamton Senators
1/17/15                      Nick Cousins                               vs. Binghamton Senators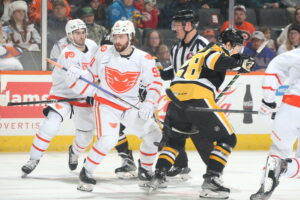 DESTROYING A RECORD
Elliott "The Destroyer" Desnoyers is on pace to establish a new Lehigh Valley record for most goals by a rookie. He only needs three more to equal the record of 20 goals held by Danick Martel in 2015-16.
Kyle Greentree holds the Phantoms franchise record for goals by a rookie with 24.
LEHIGH VALLEY RECORD BOOK – GOALS BY ROOKIE
20 – Danick Martel (2015-16)
19 – Connor Bunnaman (2018-19)
18 – Elliot Desnoyers (2022-23)
PHANTOMS WITH FOUR POINTS IN A GAME, 2022-23
11/26/22 Olle Lycksell (1G, 3A) vs. Rochester
12/10/22 Artem Anisimov (2G, 2A) vs. Charlotte
2/18/23 Elliot Desnoyers (1G, 3A) vs. Wilkes-Barre/Scranton
TRANSACTIONS
Feb 14 – Add Mason Millman (D) – Assigned by PHI to LV from Reading
Feb 14 – Add Charlie Gerard (F) – Recalled to LV from Reading
Feb 15 – Add Alex Kile (F) – Recalled to LV from Maine
Feb 18 – Delete Mason Millman (D) – Assigned by PHI to Reading
Feb 18 – Add Jacob Gaucher (F) – Recalled to LV from Reading
Feb 20 – Delete Charlie Gerard (F) – Loaned to Reading
Feb 20 – Delete Jacob Gaucher (F) – Loaned to Reading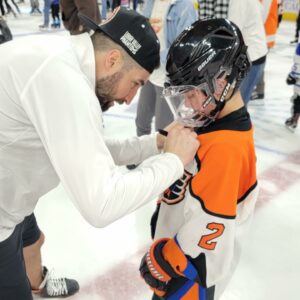 PHANTASTIC!
– The Phantoms are….
19-6-4 when scoring 3 or more goals
20-1-1 when allowing 2 goals or fewer
14-4-5 in one-goal games
13-2-5 when scoring the first goal
17-1-4 when leading after two periods
4-3 in overtime and 3-2 in shootouts
UPCOMING
Wednesday, February 22, 2023
Mohegan Sun Arena at Casey Plaza, Wilkes-Barre, PA
Phantoms at Wilkes-Barre/Scranton Penguins
The Phantoms have won three straight in the season series and are 4-2-1 against Wilkes-Barre/Scranton entering Game 8 out of 12. Wilkes-Barre/Scranton (21-21-7) is mired in the cellar of the Atlantic Division but just three points back of Bridgeport for the last playoff spot. The Penguins have just one win in their last eight games. Veteran goalie Dustin Tokarski (9-7-4, 2.31, .920) with over 200 AHL wins has returned from Pittsburgh. Alex Nylander (21-22-43) and Valtteri Puustinen (20-20-40) pace the offense.
Saturday, February 25, 2023 (7:00)
GIANT Center, Hershey, PA
Phantoms at Hershey Bears 
It's Round 10 out of 14 between the Phantoms and rival Bears as Lehigh Valley looks to make it three straight wins in the season series against their foes from Chocolatetown. Lehigh Valley took consecutive decisions over Hershey before the All-Star Break by scores of 5-2 and 5-1 on February and February 4. Hershey (31-12-7) has slipped out of first place behind the Providence Bruins as the Bears have just three wins in the last nine games. Veteran Mike Sgarbossa (18-28-45) is tops on the team while Ethen Frank (23-16-39) leads all AHL rookies in goals. Hunter Shepard (13-3-5, 2.13, .918) has the top GAA in the league. The Bears allow a conference-best 2.52 goals against per game. Lehigh Valley's Jackson Cates has scored four of his 10 goals this season against Hershey including a pair of goals in the last meeting on February 4 at GIANT Center. Mike Sgarbosa, Ethen Frank and Connor McMichael all have five goals against the Phantoms this year.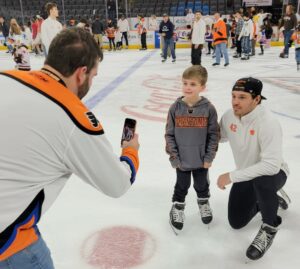 Sunday, February 26, 2023 (5:00)
Total Mortgage Arena, Bridgeport, CT
Phantoms at Bridgeport Islanders
It's been a streaky season for Bridgeport (22-19-8) who began the campaign as one of the best teams in the league and then fell into an 11-game losing skid in November and December. The Islanders are stronger again and currently hold down the sixth, and last, playoff spot in the division. Sam Ersson recorded a 15-save shutout against the Islanders in the last meeting on February 11 at PPL Center. Lehigh Valley is 3-1-1 against the B-Isles entering Game 6 of 8 in the series. Chris Terry (16-33-49) leads the offensive attack and ranks 10th in the AHL. Former Phantom Andy Andreoff (20-18-38) has been recalled to the New York Islanders. Second-rounder Ruslan Ishakov (11-27-38) is second among all AHL rookies in assists and sixth in points. 36-year-old veteran goaltender Cory Schneider (14-5-3, 2.65, .919) brings 410 games of NHL experience to the crease for Brent Thompson's contingent.
Phantoms Scoring Leaders
Elliot Desnoyers 18-16-34
x Olle Lycksell 9-25-34
Tyson Foerster 17-16-33
Artem Anisimov 13-11-24
Ronnie Attard 8-15-23
Garrett Wilson 8-14-22
Phantoms Tickets are available HERE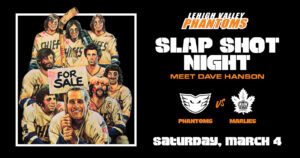 UPCOMING SCHEDULE
Wednesday, February 22 (7:05) at Wilkes-Barre/Scranton Penguins
Saturday, February 25 (7:00) at Hershey Bears
Sunday, February 26 (5:00) at Bridgeport Islanders
Friday, March 3 (7:00) at Syracuse Crunch
UPCOMING PROMOTIONS
Saturday, March 4 (7:05) vs. Toronto Marlies – Slap Shot Night with Dave Hanson!
Sunday, March 5 (7:05) vs. Providence Bruins – Team Poster Giveaway and Postgame Autographs
Saturday, March 11 (7:05) vs. Belleville Senators – Hockey Fiesta Weekend
Sunday, March 12 (4:05) vs. Utica Comets – meLVin Youth Jersey Day (first 2,000 kids age 4 and younger) and Hockey Fiesta Weekend
Broadcast coverage of all Phantoms games, home and away, is available on the Phantoms 365 app and on Real Oldies 1470-AM in Allentown. Fans can watch on AHLTV.com and can listen on their Smart Speakers at: "Play Phantoms Radio 24/7." Join the Voice of the Phantoms, Bob Rotruck, for all the action!
Service Electric Network again provides exclusive television coverage of all Phantoms home games with veteran announcer Steve Degler and Phantoms' alum Steven Swavely on the call from the booth. Kristi Fulkerson reports from ice level and also from the Chickie's and Pete's studio with Dan Fremuth for pregame, intermission and postgame show analysis.