Petr Straka Scores Twice as Phantoms Win Wild 5-4 Decision at Hershey
November 1, 2015 –
Hershey, PA – Kevin Sundher had signed a professional tryout contract with the Lehigh Valley Phantoms earlier in the day. Little did he know he would put the capper on a wild game and marathon shootout with his game-winner in the 10th round. Lehigh Valley hung on at Hershey in a 5-4 decision in the first out of 12 games this season between the two rivals.
The game featured a somewhat make-shift and improvised lineup for the Phantoms who had Chris Conner called up to Philadelphia while fellow forwards Nick Cousins and Evan Rankin were added to the ever-growing injury list following different ailments in Friday's game against St. John's. But Kevin Sundher in his 130th all-time AHL game and his first with a team other than Rochester would gel with his new teammates right away and seal an exciting victory for the orange-clad invaders.
The 24-year-old Sundher had three goals with Reading in the ECHL this season and was no stranger to his new teammates in Lehigh Valley having recently played in a pair of preseason games for the Phantoms.
Sundher's opportunity to strike for the winner in 10 rounds almost never happened. After Sean Collins converted in the eighth round for Hershey it was up to another Reading call-up, Brandon Alderson, to keep it going. Alderson successfully extended the shootout past Dan Ellis in the bottom of the eighth.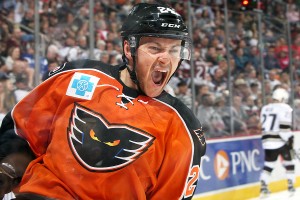 Petr Straka led the Phantoms attack with a pair of goals which were his team-leading fifth and sixth of the season. He just missed on a breakaway in the third period that would have been a hat trick and would have also pushed Lehigh Valley out to a 5-2 advantage at the time.
Speedy rookie center Danick Martel made his mark in his second game back from injury with his third goal in only four total games while also adding an assist. Aaron Palushaj tallied his third goal of the season as well.
The Phantoms built a 4-1 lead in the second period after blasting home three straight in a four-minute stretch capped by Petr Straka's shorthanded breakaway tally that quieted the large sellout contingent at Giant Center.
But Hershey would bring their crowd into the game and would roar back with a three-goal rally. Sean Collins scored in the crease on the power play with just 7.9 seconds remaining in the middle frame. Then veteran leader Chris Bourque blasted a power-play goal from the top of the right circle with just under 11 minutes which would lead to Zach Sill's tying tally with just 2:07 to go forcing the first overtime of the year for the Phantoms.
In the team's first overtime game of the season the Lehigh Valley Phantoms had the first opportunity to end the 3-on-3 stanza when Danick Martel raced in all alone on his breakaway but Dan Ellis made back-to-back saves to keep the game going. Later in the overtime, the Phantoms took an untimely penalty thus affording Hershey their sixth power-play opportunity of the game. LaBarbera made a couple big saves in the 4-on-3 to close out the extra period while Andrew MacDonald and others came through with key blocks and important clears to force the shootout.
It was a tale of two performances for the Phantoms who looked great and had amazing energy in the first period with a 17-8 shot advantage. The tables were turned in the third period especially when the Phantoms got into penalty trouble allowing the Bears to roar back from the three-goal deficit.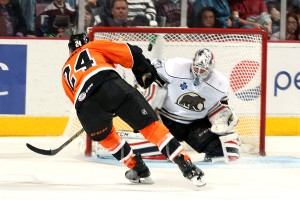 Phantoms head coach Scott Gordon indicated that the team will focus on what the team did right in the first period and look to maintain that quality more consistently.
"When you do the right things with the puck and make the right decisions, it can work that way," Gordon said. "The way the first period went is the way our team SHOULD play. It was a drastic difference between the first and third period. We started playing slower with the puck."
For Straka, he blasted his first goal from the slot on a Martel centering feed from behind the goal that may have deflected off a skate. His second goal came on a shorthanded breakaway. Straka leads the Phantoms with six goals in just nine games this year. The third-year pro from the Czech Republic is off to a fine start this season. His shorthanded tally in the wide-open seemed to catch everyone a little off-guard…including him.
"I was a little surprised that nobody was there," Straka said. "It was a good chance to skate and take the puck and I buried it."
"He gets into that range at the hash-marks and he's got his places that he likes to shoots," Scott Gordon said of Straka's early-season success. His release is really deceiving and I don't think the goalie expects it. And that's enough for him to score some goals."
Jason LaBarbera turned aside eight of ten chances in the shootout to secure his first win of the season. It's been a tough go to start the season for the 35-year-old veteran who has had very little opportunity to get into a flow.
"He made some huge saves," Gordon said. "You got to understand, he's been a yo-yo between here and Philadelphia and hasn't gotten into a rhythm between practices and games. We haven't seen his A-Game yet. When we get that it's going to be a lot better. He's been going back and forth and hasn't had a whole lot of practices. He needs to get into a rhythm which is our objective now."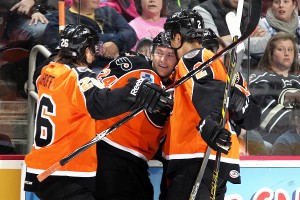 The game was a battle of the two oldest goalies in the American Hockey League. Jason LaBarbera and Hershey's Dan Ellis both check-in at 35 years old although LaBarbera is six months older than Ellis.
The 10-round shootout was the longest in the Lehigh Valley incarnation of the Phantoms besting the eight-round battle with the Norfolk Admirals on December 27, 2014 at PPL Center. That game was won by Adam Comrie against John Gibson. Strangely and almost ironically, Comrie was also making his Phantoms debut after a call-up from Reading when he stepped into the starring role at the end.
The longest shootout ever for the Phantoms franchise was a 15-round marathon on April 14, 2013 when Mark Alt finished the insanity in just his third pro game to leading the Adirondack Phantoms past the Binghamton Senators. That is also the second longest shootout ever in the American Hockey League which has only been topped by a 16-rounder in 2003 by Cleveland against Utah.
The Lehigh Valley Phantoms are now 8-1 all-time in shootouts after going 7-1 in their debut season.
The game was the 197th all-time between the Phantoms and the Bears. Game #198 of the Rivalry Series comes in the home-and-home series rematch on Friday night at PPL Center in Allentown as the Phantoms celebrate 20 years of the franchise with the first of four poster giveaways. The Phantoms are also at home on Sunday, November 8th at 5:05 p.m. taking on the Binghamton Senators featuring a "Go Birds" Tailgate with the Eagles Cheerleaders on hand.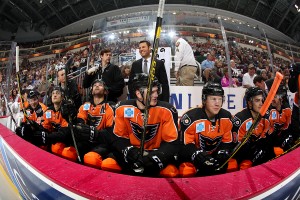 Tickets for upcoming Phantoms games are available at pplcenter.com, by calling (610) 347-TIXX (8499) or in person at the Mealey's Furniture Box Office at PPL Center (701 Hamilton).
Lehigh Valley Phantoms 5 (SO) at Hershey Bears 4 – Status: Final SO, 10 Rounds
Sunday, November 1, 2015 – Giant Center
Lehigh Valley 1 3 0 0 – 5
Hershey 0 2 2 0 – 4
1st Period-1, Lehigh Valley, Martel 3 (Morin, Straka), 9:59 (PP). Penalties-Morin Lv (tripping), 3:34; O'Brien Her (tripping), 9:05; Carrick Her (holding), 13:37.
2nd Period-2, Hershey, Djoos 1 (Boyd, Carey), 1:40. 3, Lehigh Valley, Straka 5 (Martel, Gostisbehere), 4:11. 4, Lehigh Valley, Palushaj 3 (Brent, Drewiske), 5:39. 5, Lehigh Valley, Straka 6 (Lashoff, LaBarbera), 8:08 (SH). 6, Hershey, Collins 1 (Bourque, Ness), 19:52 (PP). Penalties-Drewiske Lv (tripping), 6:42; Lashoff Lv (holding), 18:48.
3rd Period-7, Hershey, Bourque 3 (Djoos, Barber), 9:18 (PP). 8, Hershey, Sill 1 (Mitchell, O'Brien), 17:53. Penalties-Martel Lv (holding), 8:17; Straka Lv (holding), 14:54.
OT Period- No Scoring.Penalties-Brent Lv (hooking), 2:54.
Shootout – Lehigh Valley 3 (Leier G, Straka NG, Martel NG, Palushaj NG, Gostisbehere NG, Padakin NG, Brent NG, Alderson G, Goulbourne NG, Sundher G), Hershey 2 (Carrick NG, Bourque NG, Barber G, Mitchell NG, Boyd NG, Camper NG, Gazley NG, Collins G, Carey NG, Walker NG).
Shots on Goal-Lehigh Valley 17-8-12-3-1-41. Hershey 8-10-13-2-0-33.
Power Play Opportunities-Lehigh Valley 1 / 2; Hershey 2 / 6.
Goalies-Lehigh Valley, LaBarbera 1-3-0 (33 shots-29 saves). Hershey, Ellis 2-2-1 (40 shots-36 saves).
A-10,817
Referees-Fred Leblanc (30), Evgeny Romasko (39).
Linesmen-Leo Boylan (97), Bob Goodman (90).
Upcoming Events:
Friday, November 6 (7:05) – Hershey Bears vs. Lehigh Valley Phantoms
(20 Years of Phantoms Night. Commemorative Poster Giveaway 1 of 4 free to first 3,000 fans in attendance.)
Sunday, November 8 (5:05) – Binghamton Senators at Lehigh Valley Phantoms
(Go Birds Tailgate featuring Eagles Cheerleaders.)
RISE UP! Reserve your season tickets and groups now for the 2015-2016 season of Lehigh Valley Phantoms hockey. For more information on how to reserve your seat at PPL Center to the hottest ticket in town call the Phantoms front office today at 610-224-GOAL (4625)!
In the midst of their 20th season of operation, the Phantoms are coming off their Inaugural Season as the Lehigh Valley Phantoms playing at the brand-new PPL Center. Established in 1996, the Phantoms spent their first 13 seasons at the Spectrum in Philadelphia before re-locating to Glens Falls, New York in 2009 where the team spent the next five seasons as the Adirondack Phantoms. A new era of Phantoms hockey began in the fall of 2014 when the Lehigh Valley Phantoms began play at the state-of-the-art PPL Center. Through 19 incredibly successful campaigns, the Phantoms have captured two Calder Cup Championships (1998, 2005), two Conference Championships (1998, 2005), two Regular Season Titles (1996-97, 1997-98) and four Division Championships (1996-97, 1997-98, 1998-99, 2003-04).