O'Reilly and Attard convert in consecutive nights for the Phantoms
January 28, 2023
Lehigh Valley, PA –  Cal O'Reilly and Ronnie Attard both tallied for a second consecutive night in front of a packed, sold out PPL Center crowd of 8,624. The first 2,000 kids age 12 and younger rocked meLVin Youth Winter Hats presented by Lehigh Valley Reilly Children's Hospital to add to the fun environment.  The Atlantic Division-leading Hershey Bears spoiled the party with a 7-3 decision over the Lehigh Valley Phantoms (20-16-5).
Hershey scored thrice in the first period to claim a 3-0 lead by first intermission. Former Phantoms' power forward Mike Vecchione opened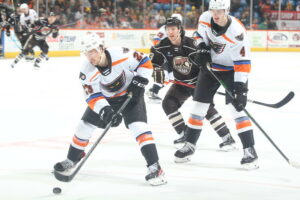 the scoring at 7:55 from Ethan Frank and Mike Sgarbossa off a quick off-man rush. Shane Gersich later finished a tic-tac-toe passing play at 11:05 to double Hershey's lead, and Sgarbossa hit pay-dirt on a 3-on-1 odd-man rush at 19:31.
Next period, the Bears soon extended their advantage to 4-0 on a strike from Garrett Pilon at 1:49 from Connor McMichael and Gabriel Carlsson.
But the Phantoms soon solved Hershey goaltender Zach Fucale courtesy of a shorthanded dandy by captain Cal O'Reilly. Racing into the offensive zone, O'Reilly chipped a perfect backhander over Fucale's shoulder to tickle the twine at 10:34. Max Willman earned the lone assist.
Both teams traded back-and-forth blows in the final frame to put on an entertaining show in front of the Phantoms' passionate hometown faithful. Hershey's Ethen Frank tallied twice in the period at 34 seconds and 12:05, but each goal was met with a sound Lehigh Valley response.
Rookie rearguard Ronnie Attard jumped into the play as a trailer in the offensive zone and tallied his seventh marker of the season at 2:53. O'Reilly earned the primary assist for his third multipoint night of the season.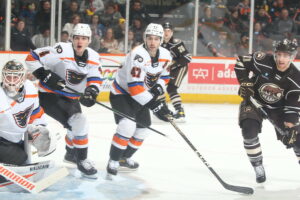 After Frank's second goal, Jackson Cates joined the scoring parade for the Orange and Black. Firing a fade-away shot from the right circle, the puck changed direction off a Hershey defender at the net front to elude Fucale. Zayde Wisdom and Wyatte Wylie both earned the helpers at 14:03.
Mason Morelli completed the scoring with a power-play deflection at 16:46 to round out the 7-3 final. Shots on goal finished 28-23 Hershey.
The Lehigh Valley Phantoms return to action on Wednesday, February 1 in a rematch against the Hershey Bears. Fans are encouraged to arrive early at PPL Center for a Pregame Happy Hour! $2 Miller Lites and Yuenglings will be available until Puck Drop.
SCORING SUMMARY
1st – 7:55 – HER M. Vecchione (14) (E. Frank, M. Sgarbossa) 0-1
1st – 11:05 – HER S. Gersich (3) (V. Iorio, B. Nardella) 0-2
1st – 19:31 – HER M. Sgarbossa (15) (E. Frank, L. Day) 0-3
2nd – 1:49 – HER G. Pilon (6) (C. McMichael, G. Carlsson) 0-4
2nd – 10:34 – LV C. O'Reilly (5) (M. Willman) (SH) 1-4
3rd – :34 – HER E. Frank (19) (M. Vecchione, L. Day) 1-5
3rd – 2:53 – LV R. Attard (7) (C. O'Reilly, A. Ginning) 2-5
3rd – 12:05 – HER E. Frank (20) (D. McIlrath, G. Carlsson) 2-6
3rd – 14:03 – LV J. Cates (8) (Z. Wisdom, W. Wylie) 3-6
3rd – 16:46 – HER M. Morelli (8) (C. McMichael, M. Sgarbossa) (PP) 3-7
Shots:
LV 23 – HER 28
PP:
LV 0/1, HER 1/2
Goalies:
LV – P. Nagle (L) (1-5-1) (21/28)
HER – Z. Fucale (W) (14-7-2) (20/23)
Records:
Lehigh Valley (20-16-5)
Hershey (28-8-5)
UPCOMING SCHEDULE
Wednesday, February 1 (7:05) vs. HERSHEY BEARS
Friday, February 3 (7:05) vs. PROVIDENCE BRUINS
Saturday, February 4 (7:050 at Hershey bears
UPCOMING PROMOTIONS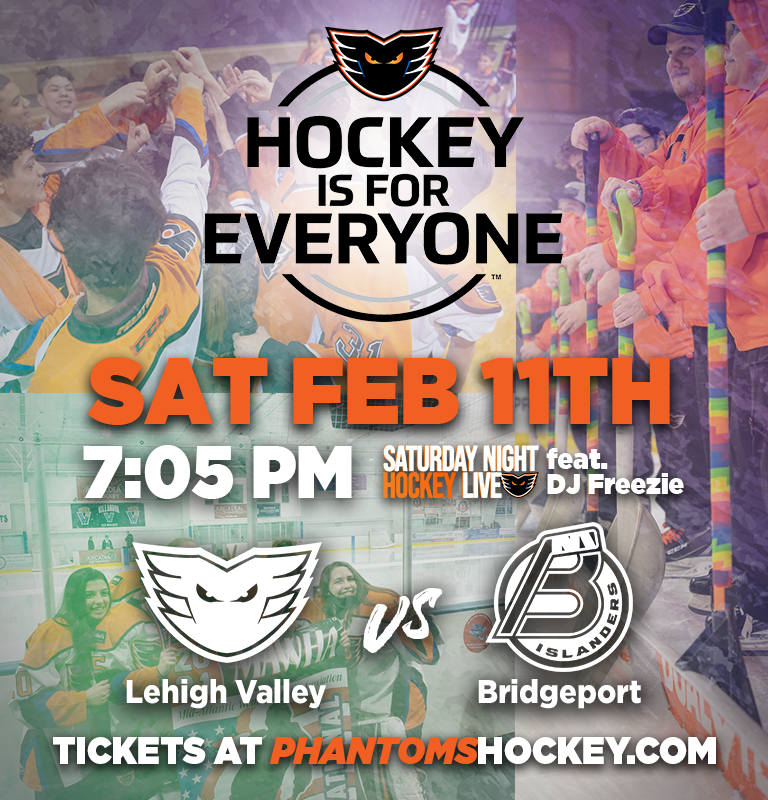 Wednesday, February 1 (7:05) vs. Hershey Bears – Pregame Happy Hour. $2 Miller Lites and Yuenglings available until Puck Drop
Friday, February 3 (7:05) vs. Providence Bruins – Phantoms Premier Member Appreciation Night. Great Prizes! Berks $1 Hot Dogs
Saturday, February 11 (7:05) vs. Bridgeport Islanders – Hockey is for Everyone!