Anisimov and Lycksell with Three Points Each
January 7, 2023
Toronto, ON – Artem Anisimov (11th, 12th) scored twice and Olle Lycksell (6th) also had a three-point game but the Toronto Marlies eventually secured the extra standings point with a 5-4 shootout win on Saturday evening at Coca-Cola Coliseum.
The wild, topsy-turvey game saw eight combined goals in the first 40 minutes before goaltenders Felix Sandstrom and Erik Kallgren got back to form and made some impressive stops the rest of the way.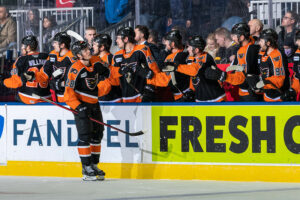 Lehigh Valley (15-13-4) impressive took three of four standings points in the tough road-trip to open 2023 taking on the top two teams in the North Division back-to-back. And the Phantoms almost made it a perfect four-point sweep.
Special teams made the difference as the Marlies struck for three power-play goals while the Phantoms finished at 0-for-3.
The Phantoms raced out to a 2-0 lead before the first promo timeout on goals by Lycksell and Adam Ginning (2nd). Lycksell's score just 3:59 into the game came on the long rebound of a Wyatte Wylie shot from the right boards. Lycksell was ready for the put back from the left side and Kallgren couldn't recover in time. Anisimov's lead pass to Wylie earned him a secondary assist on the play.
Ginning's shot from left point at 8:05 went over the glove hand of Kallgren for a 2-0 lead with assists by Linus Hogberg and Garrett Wilson.
Toronto (21-9-2) quickly got to work in its comeback efforts with a pair of goals by Joey Anderson (11th, 12th) at 9:58 and 15:34 of the first period. Anderson deflected a Logan Shaw power-play point-shot at the net front on the glove side of Sandstrom for his first tally and then got to a rebound-scramble at the net front to tuck one underneath the left pad of the sprawled Phantoms goalie to forge a 2-2 tie at the first intermission.
The Marlies took their first lead less than five minutes into the second period on Nick Abruzzeses's (9th) goal on the backdoor on the power play.
The Phantoms equalized exactly one minute later when Artem Anisimov's shot no the rush missed wide and then his second effort off the endboard was repelled off the pads of Kallgren. But Lycksell came up with a quick retrieval and set up Anisimov out in front for a third try which he found to be the charm to claim a 3-3 tie.
Toronto again struck on the man advantage past the midway mark of the game with Adam Gaudette (11th) striking on a cross-slot pass by Joseph Blandisi for a 4-3 lead.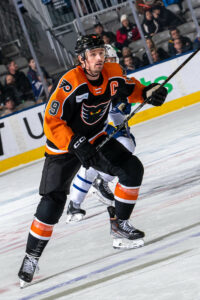 But the Phantoms again answered within a minute. This time it was 56 seconds later for Anisimov's next response as he buried the rebound of a Tyson Foerster shot off the pads of Kallgren after a nifty move across the slot almost had Foerster scoring the goal himself.
Anisimov recorded his third multi-goal game of the season in just 17 games and moved into a tie for the team lead with Elliot Desnoyers who also has 12 goals.
After the teams traded power plays and chances in the third period, the game remained deadlocked into a breathless overtime in which each team had four additional shots on goal.
It looked like Lycksell was going to end matters late in the overtime with a backdoor set up from Foerster but Kallgren just got there in time for a scintillating save off the left pad. Kallgren came up with another denial on Lycksell on a rapid put-back just seconds later as well.
Jordy Bellerive scored for the Phantoms in the first round of the shootout but Toronto had a pair of top-shelf goals in the first two rounds by Gaudette and Anderson. Foerster and Lycksell were denied off the right pad of Kallgren in the second and third rounds as the Marlies finished the exciting win.
The Lehigh Valley Phantoms return to action on Wednesday night at the Bridgeport Islanders in the finale of their three-game road trip. The Phantoms return to PPL Center for a pair of games on Friday, January 13 and Saturday, January 14 against the Bridgeport Islanders and Syracuse Crunch.
SCORING SUMMARY
1st 3:59 – LV O. Lycksell (6) (W. Wylie, A. Anisimov) 1-0
1st 8:05 – LV A. Ginning (2) (L. Hogberg, G. Wilson) 2-0
1st 9:58 – TOR J. Anderson (12) (L. Shaw, N. Abruzzese) (PP) 2-1
1st 15:34 – TOR J. Anderson (13) (B. McMann, M. Rifai) 2-2
2nd 4:48 – TOR N. Abruzzese (9) (J. Anderson, L. Shaw) (PP) 2-3
2nd 5:48 – LV A. Anisimov (11) (O. Lycksell) 3-3
2nd 11:21 – TOR A. Gaudette (14) (J. Blandisi, S. Der-Arguchintsev) (PP) 3-4
2nd 12:17 – LV A. Anisimov (12) (T. Foerster, O. Lycksell) 4-4
SHOOTOUT
TOR – Gaudette GOAL, Anderson GOAL, Abramov X
LV – Bellerive GOAL, Foerster X, Lycksell X
Shots:
LV 25 – 29
PP:
LV 0/3
TOR 1/4
Goalies:
LV – F. Sandstrom (SOL) (1-0-1) (24/28)
TOR – E. Kallgren (W) (2-3-1) (21/25)
Records:
Lehigh Valley (15-13-4)
Toronto (21-9-2)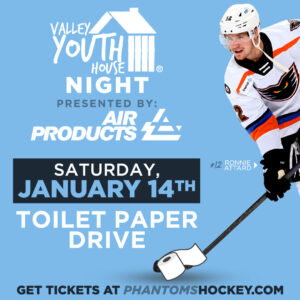 Phantoms Tickets are available HERE
UPCOMING SCHEDULE
Wednesday, January 11 (7:00) at Bridgeport Islanders
Friday, January 13 (7:05) vs. BRIDGEPORT ISLANDERS
Saturday, January 14 (7:05) vs. SYRACUSE CRUNCH
UPCOMING PROMOTIONS
Friday, January 13 (7:05) vs. Bridgeport Islanders – Berks Dollar Dog Night
Saturday, January 14 (7:05) vs. Syracuse Crunch – Valley Youth House Night Presented by Air Products – Toilet Paper Donation Drive with great prizes
Friday, January 27 (7:05) vs. Wilkes-Barre/Scranton Penguins – Flyers Night with Lou Nolan and GRITTY!!!
Saturday, January 28 (7:05) vs. Hershey Bears – meLVin Hat Night for the first 2,000 fans age 12 and under.