Desnoyers knocks in team-leading 20th with highlight-reel goal
March 4, 2023
Lehigh Valley, PA – Reigning American Hockey League Rookie of the Month, Elliot Desnoyers reached the 20-goal milestone, and Artem Anisimov (16th), Garrett Wilson (11th) and Olle Lycksell (10th) all struck to lead the Lehigh Valley Phantoms past the North Division-best Toronto Marlies by a 4-3 count on Saturday night at PPL Center.
Lehigh Valley's (27-22-6) home ice victory opened the PPL Center portion of a busy month of March that will feature eight total home games. Eleven of the Phantoms' 17 remaining regular season games will be at PPL Center as the Orange and Black begin their push for the 2023 Calder Cup Playoffs.
After a scoreless first period, lightning struck twice for the Phantoms less than two minutes apart. At 5:09, rookie sensation Elliot Desnoyers scored a jaw-dropping, highlight reel goal by batting a loose puck in mid-air on the backhand. Kevin Connauton and Garrett Wilson both earned the helpers on the game's opening mark.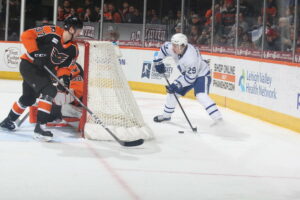 Only 1:37 later, an "Arty Party" ensued at PPL Center among the 6,911 hometown fans in attendance, including hockey-icon Dave Hanson on Slap Shot Night. Anisimov buried a rebound chance into a wide-open net after a point-shot from Ronnie Attard was kicked fortuitously to the veteran's tape by Toronto goaltender Erik Kallgren.
The Marlies responded at 9:48 to cut their deficit to 2-1. Pontus Holmberg blasted home a power-play goal from the point for his fifth goal of the campaign. But prior to second intermission, Sam Ersson continued to stand tall in the Phantoms' cage. Ersson kept his team in front with a key breakaway save on Orrin Centazzo after receiving a perfect stretch pass from Jordie Benn.
In a spirted, "Slap Shot" themed third period with plenty of physicality, Lehigh Valley and Toronto also traded blows offensively to entertain the energetic crowd. Garrett Wilson went to the blue paint and jammed home a power-play marker at 6:15 to restore his club's two-goal advantage, and his sixth goal in his last seven games.
Leading 3-1 late in the third period, the Marlies pulled Kallgren for an extra attacker to turn a 4-on-3 power play into a two-man advantage. Noel Hoefenmayer tallied his 11th goal of the season to again bring Toronto within one.
But at 19:06, Olle Lycksell scored into an empty net to move the needle to 4-2 Phantoms inside the final minute. Lycksell's goal stood as the eventual game-winner, as the Marlies' Filip Kral converted with only 20 seconds left to provide his team with a glimmer of hope. One last stop by Ersson in the final seconds capped a 4-3 win and a 17-save performance for his 17th victory of the season.
The Lehigh Valley Phantoms return to action and conclude three games in three nights on Sunday, March 5 against the Providence Bruins. It's a Team Poster Giveaway and Postgame Autographs for Phan Nation at PPL Center! Puck drop is slated for 4:05 p.m.
SCORING SUMMARY
2nd 5:09 – LV E. Desnoyers (20) (K. Connauton, G. Wilson) 1-0
2nd 6:46 – LV A. Anisimov (16) (R. Attard, T. Foerster) 2-0
2nd 9:48 – TOR P. Holmberg (5) (N. Abruzzese, A. Steeves) (PP) 2-1
3rd 6:15 – LV G. Wilson (11) (O. Lycksell, A. Anisimov) (PP) 3-1
3rd 16:41 – TOR N. Hoefenmayer (11) (N. Abruzzese, A. Stevens) (PP) 3-2
3rd 19:06 – LV O. Lycksell (10) (Unassisted) (EN) 4-2
3rd 19:40 – TOR F. Kral (2) (K. Clifford, J. Blandisi) 4-3
Shots:
LV 27 – TOR 20
PP:
LV 1/3, TOR 2/4
Goalies:
LV – S. Ersson (W) (17-11-1) (17/20)
TOR – E. Kallgren (L) (8-6-2) (23/26)
Records:
Lehigh Valley (27-22-6)
Toronto (37-16-3)
Phantoms Tickets are available HERE
UPCOMING SCHEDULE
Sunday, March 5 (4:05) vs. PROVIDENCE BRUINS
Friday, March 10 (7:00) at Wilkes-Barre/Scranton Penguins
Saturday, March 11 (7:05) vs. BELLEVILLE SENATORS
Sunday, March 12 (4:05) vs. UTICA COMETS
UPCOMING PROMOTIONS
Sunday, March 5 (4:05) vs. Providence Bruins – Team Poster Giveaway and Postgame Autographs
Saturday, March 11 (7:05) vs. Belleville Senators – Hockey Fiesta Weekend and Saturday Night Hockey Live
Sunday, March 12 (4:05) vs. Utica Comets – meLVin Youth Jersey Day (first 2,000 kids age 14 and younger) and Hockey Fiesta Weekend
Wednesday, March 15 (7:05) vs. Hershey Bears – Truist Night. Chamber of Commerce Night. $2 Pregame Happy Hour Beers
Friday, March 17 (7:05) vs. Hershey Bears – St. Patrick's Day! Whiteout Night. $1 Hot Dogs
Sunday, March 19 (4:05) vs. Wilkes-Barre/Scranton Penguins – Prospect Pack Trading Card Sets for First 5,000 Fans