School Programs Have Reached More Than 41,000 Students in 3 Years
May 11, 2017
Lehigh Valley, PA – meLVin sure has been a busy puck-nosed pladottle this year.
With today's presentation of the Lehigh Valley Phantoms' Bully Busters Unite program to the students at Central Elementary, the team's school initiative has eclipsed more than 10,000 students reached this season.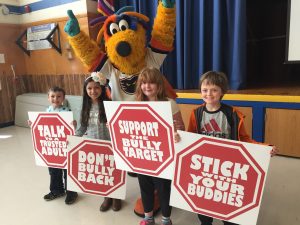 "We're extremely excited to have reached this incredible milestone this season," said Director of Public Relations Dan Fremuth. "meLVin and the Phantoms would like to extend a huge thank you to all of the students and teachers who have invited the Bully Busters Unite program into their schools and made it such a tremendous success."
Bully Busters Unite, which debuted in the Lehigh Valley in January 2016, presents elementary students with four helpful tips for dealing with situations of bullying – Talk To A Trusted Adult, Don't Bully Back, Support The Bully Target and Stick With Your Buddies. The program has now reached more than 20,000 students across 68 total programs since its inception 16 months ago.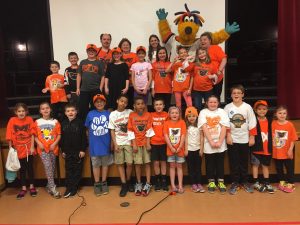 Since arriving in the Lehigh Valley, the Phantoms' school initiatives, Bully Busters Unite and the G.O.A.L. (Get Out And Live) Program presented by Lehigh Valley Health Network, have reached more than 41,000 total students through 139 programs across the Lehigh Valley.
Click HERE for more information on Bully Busters Unite and click HERE for more information on the G.O.A.L. Program presented by Lehigh Valley Health Network.