First Practice is Sunday Morning at PPL Center
September 30, 2023
The Lehigh Valley Phantoms have announced their initial roster for Training Camp presented by PenTeleData. The team officially opens camp on Sunday morning at PPL Center with the team's first practice which is open to all Phantoms Premier Members.
There are 23 players on the Phantoms Training Camp roster including 20 skaters and three goaltenders. This includes nine players who were on the Phantoms last year as well five tryout players from the Reading Royals of the ECHL.
The nine returning Phantoms so far include forwards Jordy Bellerive, Elliot Desnoyers, Alex Kile, Garrett Wilson and Zayde Wisdom as well as defensemen Adam Karashik, Mason Millman, Will Zmolek and goaltender Nolan Maier.
Wilson racked up 18 goals last season including a pair of hat tricks while the rugged veteran and locker-room leader also accumulated a career-high 195 penalty minutes.
Desnoyers notched 23 goals in a stellar rookie season to establish a new Lehigh Valley standard for lamplighters by a rookie. The speedy and creative center also made his NHL debut with the Philadelphia Flyers where he appeared in four games.
There are several exciting new arrivals on the team as well. Among them are defenseman Helge Grans who arrived via a trade with the Los Angeles Kings. Defenseman Ethan Samson and forward Alexis Gendron are entering their rookie season of professional hockey.
The Philadelphia Flyers Training Camp roster currently stands at 40 players so Phantoms fans can expect more arrivals as the week progresses.
Phantoms Training Camp Roster
2 Helge Grans D
3 Adam Karashik D
4 Will Zmolek D
5 Ethan Samson F
8 Mason Millman D
10 Evan Polei D
11 Ryan Chyzowski C
14 Zyde Wisdom RW
15 Jordy Bellerive F
17 Garrett Wilson RW
18 Shane Sellar F (tryout)
21 Darren Brady D
25 Devon Paliani F (tryout)
29 Alexis Gendron
39 Kyle Olson (tryout)
45 Trevor Thurston (tryout)
48 Alex Kile F
56 Jacob Gacuher F
59 Koletrane Wilson D
91 Elliot Desnoyers F
31 Parker Gahagen G
33 Jake Kucharski G (tryout)
73 Nolan Maier G
The Lehigh Valley Phantoms open their Training Camp, presented by PenTeleData, on Sunday morning at PPL Center. Ian Laperriere's contingent will play its first preseason game on Tuesday night when they host the rival Wilkes-Barre/Scranton Penguins. The Phantoms will also have a home preseason game next Sunday, October 8 against the Hershey Bears.
The highly anticipated 10th Season of the Lehigh Valley Phantoms, presented by Service Electric, begins on Saturday, October 14 with an Opening Night clash against the Cleveland Monsters. Opening Weekend continues with a big 1:05 p.m. matinee on Sunday, October 16 taking on the Belleville Senators.
UPCOMING
Tuesday, October 3 (7:05) – W-B/Scranton Penguins at Lehigh Valley Phantoms (Preseason)
Saturday, October 7 (6:05) – Lehigh Valley Phantoms at W-B/Scranton Penguins (Preseason)
Sunday, October 8 (1:05) – Hershey Bears at Lehigh Valley Phantoms (Preseason)
Saturday, October 14 (7:05) – Cleveland Monsters at Lehigh Valley Phantoms (OPENING WEEKEND!!)
Sunday, October 15 (1:05) – Belleville Senators at Lehigh Valley Phantoms (OPENING WEEKEND!!)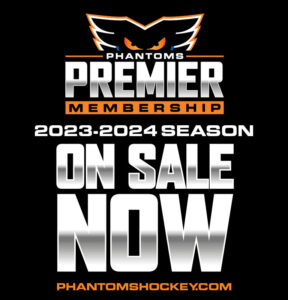 Phantoms Premier Memberships provide a true year-long membership that includes tickets to all Phantoms home games as well as year-round benefits and experiences that are exclusive to Premier Members only. Receive early entrance, presale ticket access for PPL Center events, 20% team store discount, enhanced insider access and experiences, and so much more!