Former Penguin Chris Conner Scores Lone Goal for Lehigh Valley
February 4, 2017
Wilkes-Barre, PA – For the first time this season, the Wilkes-Barre/Scranton Penguins defeated the Lehigh Valley Phantoms. And this time they made it count in their efforts to avenge two earlier setbacks to their Allentown rivals. Josh Archibald and Tom Kostopoulos each scored a pair of goals to lead the way in a 7-1 victory for Wilkes-Barre/Scranton.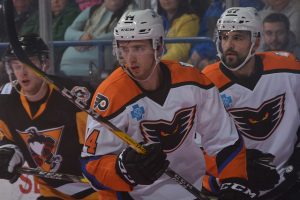 Chris Conner (13th) scored for the second night in a row. The former Pittsburgh and Wilkes-Barre/Scranton Penguin deflected a Greg Carey 5-on-3 shot in the 2nd period to put the Phantoms on the board but that's all they would have offensively against the solid goaltending of Tristan Jarry.
Anthony Stolarz played the entire game and was charged with all seven goals but was hardly the issue for the Phantoms in this game. Most of the Penguins goals came when they were speeding into the zone on the rush or as the result of a Phantoms turnover. There weren't really any "soft" goals in the bunch to blame on Stolarz.
Phantoms head coach Scott Gordon cited other aspects of his team's game that led to the Penguins offensive explosion.
"We backed off and gave them opportunity to have speed," Gordon said. "We didn't keep tight gaps. That and our turnovers."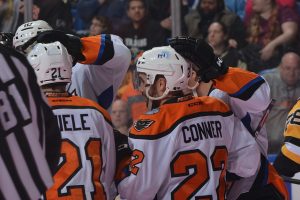 Despite the disappointing margin in this battle of the top two teams in the American Hockey League, it still counts as only one tally mark in the loss column for the Phantoms who have taken just 13 regulation setbacks this season. Additionally, there are still nine more engagements for these two fierce rivals to square off which means lots of chances for goals, wins, and a few more hits.
Lehigh Valley's record stands at 30-13-2 which still rates second-best out of 30 teams in the AHL. Wilkes-Barre/Scranton improved to 34-10-3.
This game took a slightly nastier tone at the end with more hitting and jabbing as well as a quick fight between an onrushing Tom Sestito who blasted his way into Samuel Morin. It would appear the tone has been set for a fun and intense rivalry series which seems to be par for the course when it's the Penguins and Phantoms.
Tom Kostopoulos struck first on a 3-on-3 rush with a clapper from the right circle at 6:42 for a 1-0 lead.
Garrett Wilson speeding up the right wing was dispossessed by defenseman Reece Willcox but Josh Archibald trailing blasted through the team's second tally from close range. And Archibald (11th) would again strike after Kevin Porter's blocked shot. Archibald converted on a shorthanded breakaway for a 3-0 lead after 20 minutes.
Garrett Wilson (11th) scored point-blank nine minutes into the second period from Josh Archibald on a play that appeared to have been potentially offsides. And just 59 seconds later it was Sahir Gill (2nd) muscling his goal through the stick of Stolarz after a centering feed by Ryan Haggerty gaining speed on his zone-entry.
The Phantoms used their timeout when they found themselves with a 5-on-3 power play. And Chris Conner had a Greg Carey shot hit him in the shin pads for a deflected goal that was good for his 13th of the season to cut the score to 5-1. The Phantoms enjoyed another power play after the 5-on-3 conversion but were unable to narrow the gap.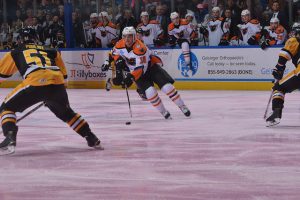 Danny Kristo (5th) was out in front to take advantage of Jean-Sebastian Dea's steal behind the Phantoms net to make it 6-1 at the second break. And Sahir Gill forced a steal in the third period to set up 38-year-old Kostopoulos for his 17th of the season while he enjoyed his 500th game played in a Wilkes-Barre/Scranton jersey.
Wilkes-Barre/Scranton out shot th Phantoms 32-31. Lehigh Valley was 1-for-6 on the power play while the Phantoms were 0-for-2. The two teams will rematch again on Tuesday, February 14th back in Wilkes-Barre and it is unlikely that any love will be in the air between these two fierce rivals. The Penguins next sojourn to Center City Allentown is February 25.
The Phantoms next home game is Wednesday, February 8 against the Binghamton Senators. Lehigh Valley remains at PPL Center for contests against the St. John's IceCaps on February 10 and 11 with T-Shirt Night presented by Capital Blue Cross coming on Friday followed by Post-Game Autographs with the Phantoms players on Saturday. Tickets for the upcoming three-game homestand are on sale at PPLCenter.com
Lehigh Valley Phantoms 1 at Wilkes-Barre/Scranton Penguins 7
Saturday, February 4, 2017 – Mohegan Sun Arena at Casey Plaza
Lehigh Valley 0 1 0 – 1
W-B/Scranton 3 3 1 – 7
1st Period-1, W-B/Scranton, Kostopoulos 16 (Porter, Sestito), 6:42. 2, W-B/Scranton, Archibald 10 (Wilson, Gaunce), 11:11. 3, W-B/Scranton, Archibald 11 (Porter), 16:36 (SH). Penalties-Goers Wbs (tripping), 16:05; Morin Lv (roughing, roughing), 19:35; Wilson Wbs (roughing), 19:35.
2nd Period-4, W-B/Scranton, Wilson 11 (Archibald), 9:05. 5, W-B/Scranton, Gill 2 (Haggerty, Oleksy), 10:04. 6, Lehigh Valley, Conner 13 (Carey, Miele), 14:34 (PP). 7, W-B/Scranton, Kristo 5 (Dea), 15:36. Penalties-Gaunce Wbs (interference), 11:59; served by Gill Wbs (bench minor – too many men), 13:50; Pouliot Wbs (slashing), 14:01; Brennan Lv (roughing), 14:54; Brennan Lv (misconduct – abuse of officials), 18:36.
3rd Period-8, W-B/Scranton, Kostopoulos 17 (Gill), 8:46. Penalties-Simon Wbs (hooking), 1:59; Morin Lv (roughing, fighting), 13:53; Dea Wbs (roughing), 13:53; Sestito Wbs (instigating, fighting, misconduct), 13:53.
Shots on Goal-Lehigh Valley 10-13-8-31. W-B/Scranton 14-15-3-32.
Power Play Opportunities-Lehigh Valley 1 / 6; W-B/Scranton 0 / 2.
Goalies-Lehigh Valley, Stolarz 10-5-0 (32 shots-25 saves). W-B/Scranton, Jarry 20-8-1 (31 shots-30 saves).
A-7,663
Referees-Peter MacDougall (45), Pierre Lambert (47).
Linesmen-Ryan Daisy (81), Francois Dussureault (60).
For the latest Phantoms news, visit www.phantomshockey.com or follow the team on Facebook (www.facebook.com/lehighvalleyphantoms), Twitter (@lvphantoms), Instagram (@lehighvalleyphantoms) and Snapchat (lvphantoms).
The Phantoms are coming off their 20th Anniversary Season and second campaign in the Lehigh Valley playing at the state-of-the-art PPL Center. Established in 1996, the Phantoms spent their first 13 seasons at the Spectrum in Philadelphia before re-locating to Glens Falls, New York in 2009 where the team spent the next five seasons as the Adirondack Phantoms. A new era of Phantoms hockey began in the fall of 2014 when the Lehigh Valley Phantoms began play at the state-of-the-art PPL Center. Through 20 incredibly successful campaigns, the Phantoms have captured two Calder Cup Championships (1998, 2005), two Conference Championships (1998, 2005), two Regular Season Titles (1996-97, 1997-98) and four Division Championships (1996-97, 1997-98, 1998-99, 2003-04).