Philippe Myers Snipes His Third of Season for Phantoms
January 17, 2018
Wilkes Barre, PA – Philippe Myers and the Lehigh Valley Phantoms drew first blood but couldn't get the breaks after that as the host Wilkes-Barre/Scranton Penguins rallied for a 4-1 win on Wednesday night.
A post shot in the second period for Nicolas Aube-Kubel and a disallowed goal in the third for Greg Carey on a goalie interference call were among the hard-luck issues for the Phantoms in this showdown of the top two teams in the Atlantic Division.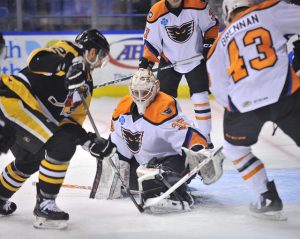 Wilkes-Barre/Scranton won against the Phantoms for the first time in its last four tries after Lehigh Valley took all three decisions in December including a pair of victories in their most recent visits to northeast Pennsylvania on December 23 and December 27.
Gage Quinney (7th), Christian Thomas (11th), Teddy Blueger (12th) and Zack Aston Reese (6th) all lit the lamp for the Penguins in a balanced scoring attack. Dustin Tokarski allowed three goals on 27 shots and then Wilkes-Barre tacked on an empty-netter in the closing minutes to seal the victory.
The Phantoms had the early edge in the game and converted late in the first-period via a power-play strike from right-center point by Myers for his first goal since his return from injury issues. Myers had not scored since October 30th but his rocket from the blue-line appeared to hit off a Penguins defenseman to deflect past the blocker of goaltender Anthony Peters. The Phantoms enjoyed a 1-0 lead at the first intermission and ended up taking just their third regulation loss when holding the advantage after 20 minutes.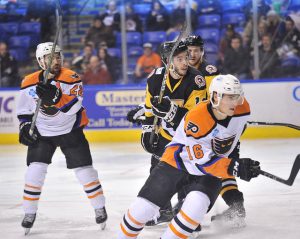 Nicolas Aube-Kubel rushed up the left-wing on a 2-on-1 with Chris Conner in the middle. Aube-Kubel's bid for his 12th goal of the season (and third in his last four games) rang off the left post and clanged out as the Phantoms efforts to boost their lead to two bounced away.
Instead it was Gage Quinney on the move with Ryan Haggerty for a tying goal at 5:32 when Haggerty cut in and dropped for Quinney in the slot to snipe past Tokarski.
The Penguins broke the tie with consecutive goals just over three minutes apart later in the frame. Wilkes-Barre/Scranton's Greg McKegg drove up the right wing on a power-play rush and left a puck on the doorstop for two intruding Penguins attackers. Tokarski blocked down the initial drive of Zack Aston-Reese with a sprawling save but the loose change was there to be tossed in top shelf for Christian Thomas from the blue paint for the Penguins' first lead of the night at 13:09 into the second period.
Wilkes-Barre/Scranton would convert on the rush again when Colin Smith lifted a perfect pass for a Teddy Blueger chip to convert a two-on-one at 16:34.
In the third period, Greg Carey thought he had scored to the right post on a snipe from the high slot with 12:30 remaining but the officials determined a goaltender interference call was warranted and quickly waived off the goal much to the disappointment and frustration of Phantoms head coach Scott Gordon.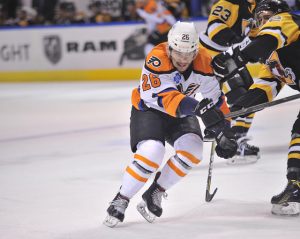 Lehigh Valley pulled their goalie for an extra attacked with 5:31 remaining with an offensive zone faceoff but Wilkes-Barre/Scranton eventually emerged with the biscuit. Aston-Reese's attempt to clear the puck down to the corner inadvertently caromed off a linesman and right back to him with suddenly a better angle to shoot for the open net for which the rookie standout decided to take full advantage thus concluding the scoring for the evening.
Lehigh Valley is 4-3-1 against the Penguins in the season series with a rematch scheduled for next Friday, January 26th at PPL Center. The Phantoms are 23-13-5 overall while the first-place Penguins improved to 24-10-3.
When the Phantoms next play they will be taking it outside in the 10th ever AHL game in the great outdoors and the second ever for the Phantoms franchise. Lehigh Valley and Hershey will square off at Hersheypark Stadium under the lights, as well as the night sky, on Saturday evening at 7:00 p.m.
The Lehigh Valley Phantoms return home on Wednesday, January 24th to take on the Providence Bruins on Photograph Night. All fans are allowed to meet their favorite Phantoms players after the game to snag some pics in another tremendous fan interaction opportunity. That night also opens a four-game homestand for the Phantoms. Secure your tickets in advance at PPLCenter.com or by calling 610-347-TIXX [8499]
Lehigh Valley Phantoms 1 at Wilkes-Barre/Scranton Penguins 4
Wednesday, January 17, 2018 – Mohegan Sun Arena at Casey Plaza
Lehigh Valley 1 0 0 – 1
W-B/Scranton 0 3 1 – 4
1st Period-1, Lehigh Valley, Myers 3 (Varone, Brennan), 15:11 (PP). Penalties-Summers Wbs (hooking), 9:16; Pedan Wbs (roughing), 15:00; Carey Lv (roughing), 17:54.
2nd Period-2, W-B/Scranton, Quinney 7 (Haggerty, Aston-Reese), 5:32. 3, W-B/Scranton, Thomas 11 (Aston-Reese, McKegg), 13:09 (PP). 4, W-B/Scranton, Blueger 12 (Smith, DiPauli), 16:34. Penalties-Friedman Lv (slashing), 11:32; Alt Lv (tripping), 17:42.
3rd Period-5, W-B/Scranton, Aston-Reese 6 (Haggerty), 14:58 (EN). Penalties-Corrado Wbs (cross-checking), 18:17.
Shots on Goal-Lehigh Valley 8-5-10-23. W-B/Scranton 11-9-8-28.
Power Play Opportunities-Lehigh Valley 1 / 3; W-B/Scranton 1 / 3.
Goalies-Lehigh Valley, Tokarski 11-4-3 (27 shots-24 saves). W-B/Scranton, Peters 6-2-1 (23 shots-22 saves).
A-4,530
Referees-Brandon Schrader (24), Reid Anderson (49).
Linesmen-Libor Suchanek (41), J.P. Waleski (14).
Reserve your group outings for the 2017-2018 season of Phantoms hockey. For more information on how to reserve your seat at PPL Center to the hottest ticket in town, call the Phantoms front office today at 610-224-GOAL [4625]!