Attard, Belpedio, Brink With Goals
January 17, 2023
Cleveland, OH – Felix Sandstrom was oh so close. Just 19.8 seconds away from his third career shutout in the AHL, Owen Sillinger broke through to break his otherwise perfect evening. Breaking the shutout bid was small consolation for the Monsters however as the Lehigh Valley Phantoms prevailed 3-1 on Tuesday night thanks to a stellar 6-for-6 performance from the penalty kill.
Ronnie Attard (5th) and Louie Belpedio (3rd) each hit pay-dirt and Bobby Brink (3rd) capped the night with an empty net goal. Sandstrom made 28 saves in improving to 3-1-2 in his two-week conditioning loan with the Phantoms. The two teams will rematch on Wednesday night in Cleveland.
Lehigh Valley (17-14-5) hits the midway point of the season on a roll with points in five of the last six games. The Phantoms have played 36 games of the 2022-23 season and have 36 remaining.
The Phantoms would bend but not break in the opening 20 minutes with an outstanding, 3-for-3 performance on the penalty kill. Elliot Desnoyers, Cooper Marody and Adam Ginning were all whistled for minor infractions, but Sandstrom stopped all 12 shots he faced while the Phantoms found their footing.
Lehigh Valley saw only one power-play chance in the opening frame, but Ronnie Attard cashed in on the backdoor for his fifth goal of the campaign. Patrick Grasso served a tripping minor by Cleveland's Brenden Miller at 17:47, and Attard buried the rebound of a Desnoyers shot at the 18:55 mark. Bobby Brink earned his first assist of the season on the play.
In the second period, the Phantoms penalty kill remained perfect with two more sensational kills, and Sandstrom successfully carried his shutout bid into the final stanza with 22 saves. Six minutes into the period, Olle Lycksell nearly doubled his club's lead, but Jet Greaves made an acrobatic save with his blocker on a chance from the low-slot.
Soon after, the Orange and Black went to the man-advantage for four minutes courtesy of a Roman Ahcan double-minor for high-sticking at 7:24. Despite not scoring on the extended power play, Lehigh Valley tickled the twine moments after its expiration.
Jackson Cates feathered a drop pass to Louie Belpedio, and a laser from Belpedio from the high slot glanced the iron before entering the net at the 11:29 mark. Max Willman recorded the secondary assist on Belpedio's third goal of the season.
Both teams traded chances in the third period, and Lehigh Valley's penalty kill saw its sixth successful attempt. Garrett Wilson was called for cross-checking at 3:17, but Sandstrom remained stellar in net.
Cleveland elected to pull goaltender Jet Greaves with four minutes left in regulation for the extra-attacker. Bobby Brink from his own blue line iced the game for the Phantoms with an empty net marker at 18:45. Louie Belpedio and Jackson Cates both earned the assists.
Owen Sillinger spoiled Sandstrom's shutout bid with his fifth goal of the campaign at 19:40. On a chance from near the goal line, Sillinger hit the goal post, and the loose puck banked across the line after glancing off Sandstrom's pad. Final shots on goal registered 31-29 Lehigh Valley.
At the halfway point of the 2022-23 regular season, the Lehigh Valley Phantoms improve to 17-14-5 and sit in 5th place in the Atlantic Division.
The Phantoms and Monsters rematch on Wednesday, January 18 at Rocket Mortgage FieldHouse to conclude the four-game season-series and back-to-back road set at Cleveland.
SCORING SUMMARY
1st – 18:55 – LV R. Attard (5) (E. Desnoyers, B. Brink) (PP) 1-0
2nd – 11:29 – LV L. Belpedio (3) (J. Cates, M. Willman) 2-0
3rd – 18:45 – LV B. Brink (3) (L. Belpedio, J. Cates) (EN) 3-0
3rd – 19:40 – CLE O. Sillinger (5) (J. Gaudet, R. Ahcan) 3-1
Shots:
LV 31 – CLE 29
PP:
LV 1/4, CLE 0/6
Goalies:
LV – F. Sandstrom (W) (3-1-2) (28/29)
CLE – J. Greaves (L) (6-7-2) (28/30)
Records:
Lehigh Valley (17-14-5)
Cleveland (14-17-4)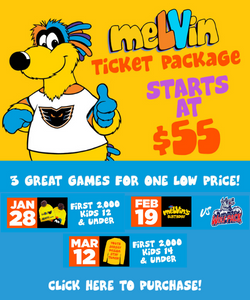 UPCOMING SCHEDULE
Wednesday, January 18 (7:00) at Cleveland Monsters
Friday, January 20 (7:05) at Wilkes-Barre/Scranton Penguins
Sunday, January 22 (11:00 a.m.) Outdoor Practice presented by Velaspan at Spring Mountain Adventures
Wednesday, January 25 (7:05) vs. HERSHEY BEARS
UPCOMING PROMOTIONS
Sunday, January 22 (11:00 a.m.) – Phantoms Outdoor Practice presented by Velaspan at Spring Mountain in Schwenksville. Free to the public!
Wednesday, January 25 (7:05) vs. Hershey Bears – Pregame Happy Hour. $2 Miller Lites and Yuenglings available until Puck Drop.
Friday, January 27 (7:05) vs. Wilkes-Barre/Scranton Penguins – Flyers Night with Lou Nolan and GRITTY!!!
Saturday, January 28 (7:05) vs. Hershey Bears – meLVin Youth Winter Hats presented by Lehigh Valley Reilly Children's Hospital (first 2,000 kids age 12 and younger)