Three-time AHL All-Star Reflects on Being Named Captain
By: John Williams
It was the afternoon of November 29, just after the Lehigh Valley Phantoms had finished up a practice on the ice inside of Place Bell, when Phantoms Captain Colin McDonald picked up his phone to find a voicemail from the President of the American Hockey League, Dave Andrews.
"We were actually up in Laval at the practice the day before the game," McDonald recalled.  "I had a voicemail from Dave Andrews and once I saw his name come up I kind of had an idea of what he wanted to talk to me about."
Andrews was calling to let McDonald know he was selected as the captain of the Eastern Conference All-Stars for the 2019 AHL All-Star Classic.  And while the 34-year old will be participating in his third set of AHL All-Star festivities, this one, which will take place in Springfield, Massachusetts, holds a deeper meaning, as he will be returning to the location of his hockey roots.  
"At this point in my career, I'm just very humbled to be in that capacity at the All-Star Game and I think it means a little bit more to me because Springfield is where I started my career," McDonald said. "Even going back before that, most of my youth hockey and junior hockey was out in that area."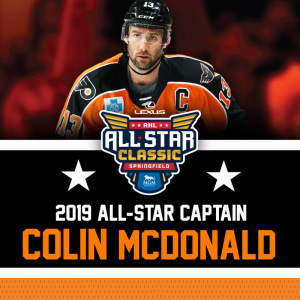 A Wethersfield, Connecticut, native, McDonald was around hockey from an early age as his father, Gerry, a former NHLer, broadcasted games for the Hartford at the time.  
McDonald started playing youth hockey in his pre-teen years. His teams played just over the border of Enfield, Connecticut, 15 minutes outside of Springfield. He eventually played his junior hockey for the New England Jr. Coyotes. It was with those Coyotes teams that he began to see a future in pro hockey.
"Because of the team we had [in juniors], it attracted a lot of NHL scouts and I was able to get my name into the mix," McDonald said.
All the additional attention from scouts led to his selection in the second round of the 2003 NHL Entry Draft by the Edmonton Oilers. It also gave him the opportunity to play Division I hockey for Providence College.
McDonald played four seasons with Providence, including his senior season where he was named team captain. While he was in school, the Oilers' AHL affiliate changed multiple times, going from Toronto, to Edmonton and then a split between Iowa and Hamilton. Eventually, the team would relocate one more time before his senior year; to Springfield.
After his time at Providence was over, McDonald spent the next three years playing in Springfield for a team that was then known as the Falcons. At times, it felt like nothing had changed for him at all.
"It was kind of more of the same for me, seeing the same people come watch me play pro that came to watch me play when I was 10, 11, 12-years old," McDonald said. "Obviously my goal wasn't to be there, but I was also realistic and knew my time was going to be there."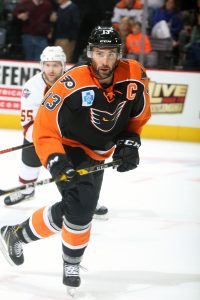 Since his time in Springfield, a lot has changed in McDonald's life. While he doesn't want to say that this upcoming All-Star Weekend seems as if everything is coming full circle, he does think that the timing adds to the honor. He hopes it will be a chance to reconnect with old friends and a chance for his family to reflect and reminisce on old times.
"Now that I am older, I understand how lucky we have to be to play," McDonald said.  "That's where the coaches I had, the family I have, the friends, the community; it doesn't take just one person, you need a lot of people to get you where you are and now that I am older, it is easier for me to kind of reflect on that.  It's just going to be a special weekend."