Attard tallies 11th in 2-1 loss against the Bears
March 17, 2023
Lehigh Valley, PA – A pair of Western Michigan Broncos tickled the twine in Phantoms rookie blueliner Ronnie Attard (11th), and Hershey rookie forward Ethen Frank (26th), but the Lehigh Valley Phantoms dropped a 2-1 decision to the Hershey Bears on St. Patrick's Day at PPL Center. Sam Anas (8th) broke a 1-1 deadlock with his third-period power-play goal. The Phantoms had their chances but went 0-for-5 on the power play.
Attard and Frank were teammates one year ago on a Western Michigan team that earned a #1 seed to the NCAA tournament for the first time in program history. The talented Broncos skaters were reunited at the AHL All-Star Classic when they represented their teams on the Atlantic Division squad. In the St. Patrick's contest at PPL Center, they provided all of the offense for both sides in the first 50 minutes of the game.
A tight-checking, defensive gridlock saw Hershey (36-16-7) strike first late in the opening frame to grab a 1-0 advantage. Joe Snively sent a shot on frame from the high-slot, and Ethen Frank deposited the rebound after an initial kick save by Ersson.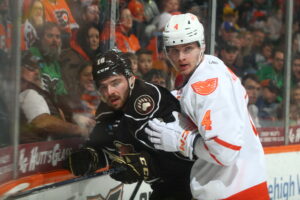 Seeking retribution after falling to Hershey on Wednesday night, Lehigh Valley (31-24-6) responded with a late-period goal of its own. While skating 4-on-4, Ronnie Attard took full advantage of the open ice with his smooth skating. While mobile with the puck along the left wing, an overlap by Artem Anisimov near the left circle opened real estate in the slot for Attard's chance on net. Attard cranked a laser-beam past the glove of Hunter Shepard to tie the game at 16:09 into the second.
The 12th round of the rivalry saw its share of feistiness as well although things didn't get particularly nasty. Phantoms defenseman Adam Ginning caught the attention of the PPL Center crowd when he elevated his physicality via a number of hard checks and collisions including a few on former Phantom Matt Strome.
In the third period, Shepard stood tall for the Bears and denied various net-front scrambles, as Hershey found a third-period power-play marker that stood as the eventual game-winner. Sam Anas returned to Hershey's lineup after a 29-game absence due to injury and cracked the scoresheet. In the final seconds of a man-advantage, Anas blasted home the game-winner from the right circle off the far post past Ersson at 10:47.
The Lehigh Valley Phantoms conclude their homestand on Sunday, March 19 at 4:05 p.m. against the Wilkes-Barre/Scranton Penguins featuring Phantoms Prospect Pack Trading Card Sets for the first 5,000 fans.
SCORING SUMMARY
1st 18:56 – HER E. Frank (26) (J. Snively, C. McMichael) 0-1
2nd 16:09 – LV R. Attard (11) (A. Ginning, O. Lycksell) 1-1
3rd 10:47 – HER S. Anas (8) (J. Napravnik, B. Nardella) (PP) 1-2
Shots:
LV 22 – HER 19
PP:
LV 0/5, HER 1/2
Goalies:
LV – S. Ersson (L) (19-13-1) (17/19)
HER – H. Shepard (W) (14-6-5) (21/22)
Records:
Lehigh Valley (31-24-6)
Hershey (36-16-7)
Phantoms Tickets are available HERE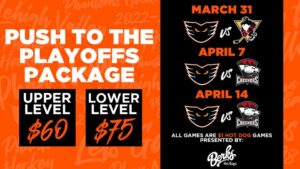 UPCOMING SCHEDULE
Sunday, March 19 (4:05) vs. WILKES-BARRE/SCRANTON PENGUINS
Saturday, March 25 (6:05) at Wilkes-Barre/Scranton Penguins
Sunday, March 26 (5:00) at Hershey Bears
Friday, March 31 (7:05) vs. WILKES-BARRE/SCRANTON PENGUINS
Saturday, April 1 (7:05) vs. HERSHEY BEARS
UPCOMING AT PPL CENTER
Sunday, March 19 (4:05) vs. Wilkes-Barre/Scranton Penguins – Prospect Pack Trading Card Sets for First 5,000 Fans
Friday, March 24 – NCAA Tournament Hockey Allentown Regional Doubleheader Hosted by Penn State
Sunday, March 26 – NCAA Tournament  Hockey Allentown Regional Final playing for Berth in the Frozen Four
Friday, March 31 (7:05) vs. Wilkes-Barre/Scranton Penguins – Berks $1 Hot Dogs
Saturday, April 1 (7:05) vs. Hershey Bears – Saturday Night Hockey Live