Former Phantom Returns to PPL Center for the First Time Since Being Traded
By: Russ Hryvnak
On January 19, 2019, Taylor Leier's skates touched the ice for warm ups inside of PPL Center, just like they had so many times before.
Only this time, there was something different.
He wasn't wearing a black and orange jersey.
Leier, who has played a combined 281 games for the Philadelphia Flyers organization over the past five seasons, was sent to the Buffalo Sabres in exchange for forward Justin Bailey on January 17.  While trades are often chalked up to being, "part of the business", it was something that Leier personally was not familiar with.
"Honestly, the last two days have been a complete whirlwind," Leier said after his first game for the Rochester Americans.  "I'm still wrapping my head around everything."
Sooner or later, a player who ends up with a different team will eventually have to play against his former teammates at some point.  Generally, however, there is a bigger gap between those games than just two days.  While the location and backdrop may have been familiar for Leier, seeing his former teammates, and best friends, on the other end of the ice was something he needed to overcome.
"I tried to almost turn my brain off emotionally and just play and remember that it's just hockey," Leier said.  "I tried to play my game tonight and I'm just learning the systems here in Rochester and what Buffalo does.  The guys here have taken me under their wing and the coaching staff has been really good to me so far."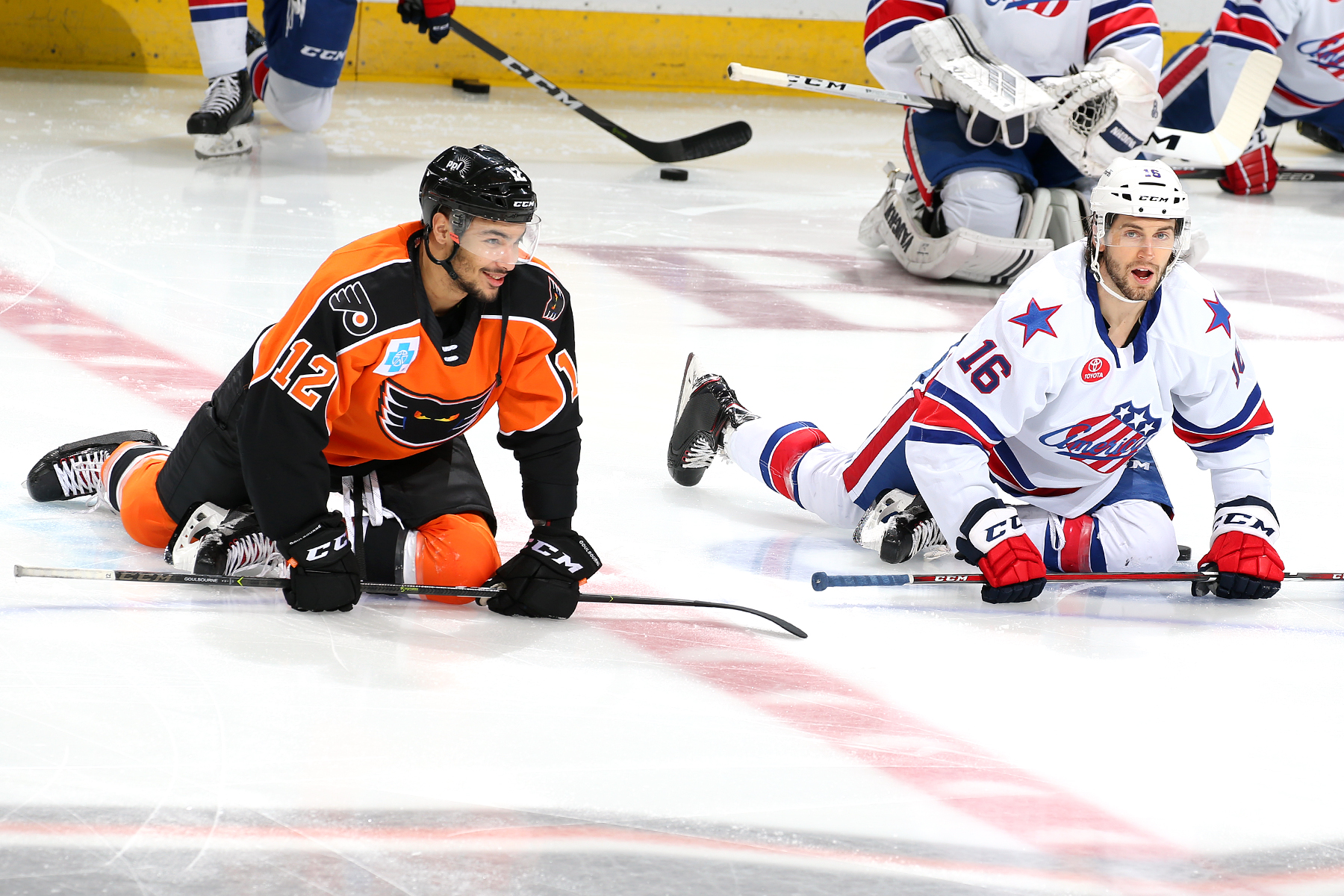 Taylor Leier stretches before his first game against his former team along side his former teammate and good friend Tyrell Goulbourne.
And even though he came onto the ice from the visitor's tunnel and was sitting on the opposing team's bench, the Saskatoon, Saskatchewan, native found that he was welcomed back with open arms.
"It was pretty special tonight," Leier said while smiling.  "I didn't really know what kind of reaction I was going to get and when I saw what was going on in warm ups, I heard my name so many times tonight from the crowd, and then the video that played. It touched me and it really makes me appreciate the times I had here."
With 226 games played for the Phantoms, Leier ranks second in Lehigh Valley history for games played.  He also ranks fourth in points (136), fourth in goals (56) and third in assists (80).  After his first game against the team he has spent half of the last decade with, Leier reflected on his time in the Lehigh Valley.
"Overall I'm going to miss the Phantoms," he said.  "They've made a serious impact on my life and I can't thank them enough for making this place feel like my home.  It's kind of sad to think this may be my last time here for a while.  I'm grateful for what they've done for me."
Once the puck dropped, Leier was officially a member of the Rochester Americans.  With that comes new teammates and friends, new coaches and challenges, and obviously, new opportunities.
"I think everyone knows that I want to be in the NHL," Leier noted.  "I'm going to work my butt off to get back there and do whatever I can.  I'm trying not to think too far ahead here and I'm not trying to make any expectations.  I'm just really going to try and take it day by day, play my game and not try to think of all the outcomes possible that could happen out of this.  Especially with a new organization, this is my first time going through this.  I'm just going to do what I can do and the rest will take care of itself."