Hartford rallies in third period for 6-4 win
February 19, 2023
Lehigh Valley, PA – Garrett Wilson (6th, 7th, 8th) led a three-goal second period before later finishing the hat-trick and Elliot Desnoyers (18th) recorded a four-point night, but the Hartford Wolf Pack downed the Lehigh Valley Phantoms by a 6-4 count on Sunday night.
Another phenomenal hometown crowd of 7,732 celebrated the birthday of loveable team mascot, MeLVin, among a dozen of his fellow mascot friends. The party continued into postgame with a fan skate joined by Phantoms players.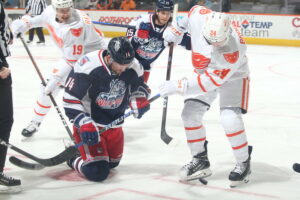 In the aftermath of Lehigh Valley's comeback win on Saturday, the Phantoms once again erased an early deficit before erupting offensively in the second period. Hartford's six goals started with Gustav Rydahl, who dueled Garrett Wilson with a hat-trick of his own. Rydahl tallied the opening period's lone goal at 12:42 from Ty Emberson to provide Hartford a 1-0 advantage.
Wilson answered for the Orange and Black only 99 seconds into the second stanza. Wolf Pack goaltender Louis Domingue misplayed the puck away from the net, and Wilson buried a short-side chance to knot the score at 1-1.
Lehigh Valley later hit pay-dirt on a power-play chance to salvage a 2-1 advantage. Only seven seconds into a man-advantage, Elliot Desnoyers finished his 18th goal of the season after receiving a perfect pass from Ronnie Attard beneath the goal line at 5:20.
A big night for Wilson and Desnoyers continued, as the alternate captain struck once again at 12:34, and the rookie sensation Desnoyers captured his third point of the period. Wilson stormed the net along the left-wing before pulling the string on a forehand-backhand play. Avoiding a pokecheck attempt from Domingue, Wilson finished into an open cage to open a 3-1 advantage.
The tide shifted in the third period with a five-goal outbreak by the Wolf Pack, including four unanswered in the final five minutes to spoil the Lehigh Valley party. Will Cuylle brought Hartford closer at 7:16, before Wilson completed his hat-trick at 9:24.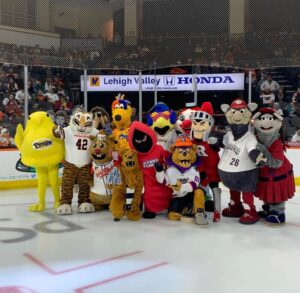 Once again going hard to the crease, Wilson jammed home a short-side chance from a sharp angle. Wilson's hat-trick performance marked the second in his American Hockey League career and first since as a member of the Wilkes-Barre/Scranton Penguins on December 1, 2017 against the Milwaukee Admirals. Desnoyers also earned the primary helper for his career-best four-point night and three-assist game. Desnoyers is the third Phantom to record a four-point game this season joining Olle Lycksell and Artem Anisimov.
But back came the Wolf Pack with vengeance late in the third period. Rydahl trimmed his team's deficit to 4-3 at 12:50 before also tying the score at the 15:32 mark to complete his hat-trick performance.
Prior to Sunday's affair, the last time Lehigh Valley went tit-for-tat with dueling hat-tricks with their opponent was on February 5, 2016 versus the Bridgeport Sound Tigers. Both Danick Martel and Bracken Kearns tallied thrice in a 6-3 Bridgeport victory. Wilson recorded the first hat-trick for Lehigh Valley since Brennan Saulnier scored a trifecta against Wilkes-Barre/Scranton on May 9, 2021 for the seventh Phantoms' all-time hat-trick at PPL Center.
Libor Hakek scored the eventual game-winning goal at 18:00, and Turner Elson buried an empty net chance at 19:25 to complete the 6-4 final.
The Lehigh Valley Phantoms will return to action and begin a four-game road swing on Wednesday, February 22 against the Wilkes-Barre/Scranton Penguins. Puck drop is slated for 7:05 p.m.
SCORING SUMMARY
1st 12:42 – HFD G. Rydahl (5) (T. Emberson) 0-1
2nd 1:39 – LV G. Wilson (6) (A. Anisimov, E. Desnoyers) 1-1
2nd 5:20 – LV E. Desnoyers (18) (R. Attard, I. Ratcliffe) (PP) 2-1
2nd 12:34 – LV G. Wilson (7) (B. Brink, E. Desnoyers) 3-1
3rd 7:16 – HFD W. Cuylle (16) (R. Carpenter, T. Fritz) (PP) 3-2
3rd 9:24 – LV G. Wilson (8) (E. Desnoyers, B. Brink) 4-2
3rd 12:50 – HFD G. Rydahl (6) (T. Fritz, B. Trivigno) 4-3
3rd 15:32 – HFD G. Rydahl (7) (T. Fritz, B. Trivigno) 4-4
3rd 18:00 – HFD L. Hajek (1) (T. Elson, T. Gettinger) 4-5
3rd 19:25 – HFD T. Elson (12) (Unassisted) (EN) 4-6
Shots:
LV 26 – HFD 32
PP:
LV 1/2, HFD 1/4
Goalies:
LV – P. Nagle (ND) (1-7-1) (26/31)
HFD – L. Domingue (W) (11-10-6) (22/26)
Records:
Lehigh Valley (25-20-5)
Hartford (21-20-9)
Phantoms Tickets are available HERE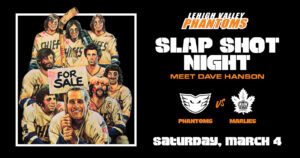 UPCOMING SCHEDULE
Wednesday, February 22 (7:05) at Wilkes-Barre/Scranton Penguins
Saturday, February 25 (7:00) at Hershey Bears
Sunday, February 26 (5:00) at Bridgeport Islanders
UPCOMING PROMOTIONS
Saturday, March 4 (7:05) vs. Toronto Marlies – Slap Shot Night with Dave Hanson!
Sunday, March 5 (7:05) vs. Providence Bruins – Team Poster Giveaway and Postgame Autographs
Saturday, March 11 (7:05) vs. Belleville Senators – Hockey Fiesta Weekend
Sunday, March 12 (4:05) vs. Utica Comets – meLVin Youth Jersey Day (first 2,000 kids age 4 and younger) and Hockey Fiesta Weekend