Lehigh Valley Phantoms (12-3-3) vs. Hershey Bears (13-5-2)
Saturday, April 10, 2021 at 7:05 p.m. – PPL Center, Allentown, PA
Tonight's Game – The first-place Lehigh Valley Phantoms look to continue their five-game point streak as they open a two-game weekend homestand taking on the Hershey Bears. The Phantoms are 4-0-1 in their last five and 7-1-1 in their last nine. Tonight is the 19th game of the season for the Phantoms and the team's ninth at home.
Lehigh Valley is 4-0-1 against the Devils this season. It is Game 8 of 14 between the Phantoms and Bears. Lehigh Valley is 5-2-0 against Hershey.
Last Time Out – The Phantoms secured a standings point in a fifth consecutive game but had their four-game win streak stopped in a 2-1 shootout loss at the Binghamton Devils on Monday. Linus Hogberg scored his first career professional goal in North America to tie the game at 1-1 in the third period thus earning the Phantoms the point. Tyson Foerster and Ryan Fitzgerald both converted in the shootout but the Devils went 3-for-3 to squeak out the win.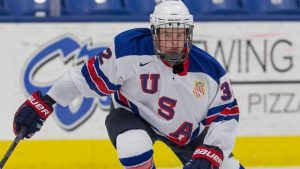 York is Here! – Big Ten Defenseman of the Year Cam York signed an NHL Entry-Level Contract with the Philadelphia Flyers and was officially added to the Phantoms roster on April 1. The southern California native from Anaheim Hills was captain of the USA team that won the Gold Medal at the 2021 World Juniors in Edmonton. York just completed his sophomore season at the University of Michigan and was a first-round selection of the Philadelphia Flyers at the 2019 NHL Entry Draft.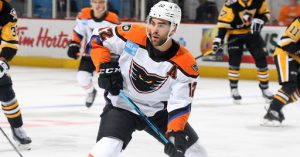 Transactions – Loaned to Phantoms this week from Flyers Taxi Squad: Forwards Andy Andreoff, Tanner Laczynski and Linus Sandin.
Recalled to Flyers Taxi Squad from the Phantoms: Defenseman Derrick Pouliot and forward Carsen Twarynski
Comeback Kids! – The Phantoms have gone 5-3-1 in games in which they were trailing at the second intermission. That is easily the most comeback wins in the league and they are the only team with a winning record when trailing after 40 minutes. Additionally, the Phantoms are 3-0-1 when tied after two periods giving them a combined record of 9-3-2 when trailing or tied at the second intermission.
Half of the team's games have gone to overtime; 9 out of 18. Lehigh Valley is 5-2 in overtime decisions and 1-1 in shootouts. The Phantoms have played consecutive shootouts in its last two games.
Get Your Tickets, Here!! – The Phantoms and PPL Center are pleased to announce we are "Back to Live." The Phantoms are now permitted to allow 2,500 fans per game. Limited tickets for Phantoms home games are available at phantomshockey.com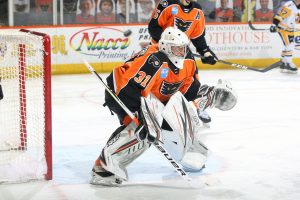 McIntyre Thrives in The Valley – 28-year-old goalie Zane McIntyre is not only a new Daddy, he is also having a tremendously successful debut campaign with the Phantoms. McIntyre is 8-1-2 with a 2.19 goals-against average that rates 6th in the AHL and 4th among active AHL goaltenders. His .926 save percentage is 5th best in the AHL. The former Mike Richter Award winner at the University of North Dakota has played in 195 career NHL games over six seasons. He spent his first four years with the Providence Bruins in a stretch that also included an AHL All-Star Classic appearance at PPL Center in 2017.
Cal Closes In – Cal O'Reilly is knocking on the door to become only the 10th player in AHL history to record 500 assists. The AHL active's scoring leader currently has 494 helpers including ten this season. O'Reilly's 623 career points rates 37th all-time in AHL history. He currently stands 12th in assists and is one away from catching former Hershey Bears great Chris Bourque (495) for 11th.
The Series – The Phantoms are 5-2-0 against the Bears this season. Last time they met on March 31 saw a four-point performance from Tyson Foerster (2G, 2A) in a 4-1 win over Hershey. Defenseman Martin Fehervary has scored 1-4-5 vs. Lehigh Valley and Phillippe Maillet used a five-assist game against the Phantoms on March 23 in a 6-2 win to eventually earn CCM/AHL Player of the Week honors. The Bears are 2-for-22 on the power play against the Phantoms but have 3 shorthanded goals in the series. Lehigh Valley is 6/32 (18.8%) against Hershey.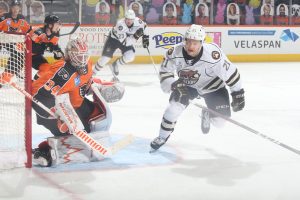 Scouting the Bears – The Bears have won 6 of their last 7 including a 3-2 win at Binghamton on Wednesday night in which they blasted 50 shots on goal but Jeremy Brodeur, son of Martin Brodeur, made 47 saves in his AHL debut to keep the Devils close. The Bears are allowing just 2.5 goals per game which rates 4th in the AHL and surrenders just 25.5 shots per game which ranks 3rd. Zach Fucale is the top goaltender in the AHL with a 1.75 GAA to along with his 6-2-0 record and .932 save percentage but both of his losses have come to the Phantoms against whom he is 1-2-0, 2.70, .879.
First-rounder Connor McMichael paces the Bears with 8 goals and 13 points. 37-year-old captain Matt Moulson has scored 7-6-13. Ryan Fitzgerald has scored 4 of his 9 goals against Hershey and Tyson Foerster has 3 of his 6 goals this season against the Bears.
Special Teams –
Phantoms PP 16.0%, 20th
Phantoms PK 86.7%, 1st
Bears PP 14.6%, 24th
Bears PK 83.3%, 8th
Upcoming –
Sunday, April 11 5:05 HOME Game – Phantoms vs. Binghamton (PPL Center)
Wednesday, April 14 7:00 – Phantoms at Hershey
Friday, April 16 7:05 – Phantoms at Wilkes-Barre
Sunday, April 18 3:05 HOME Game – Phantoms vs. Hershey (PPL Center)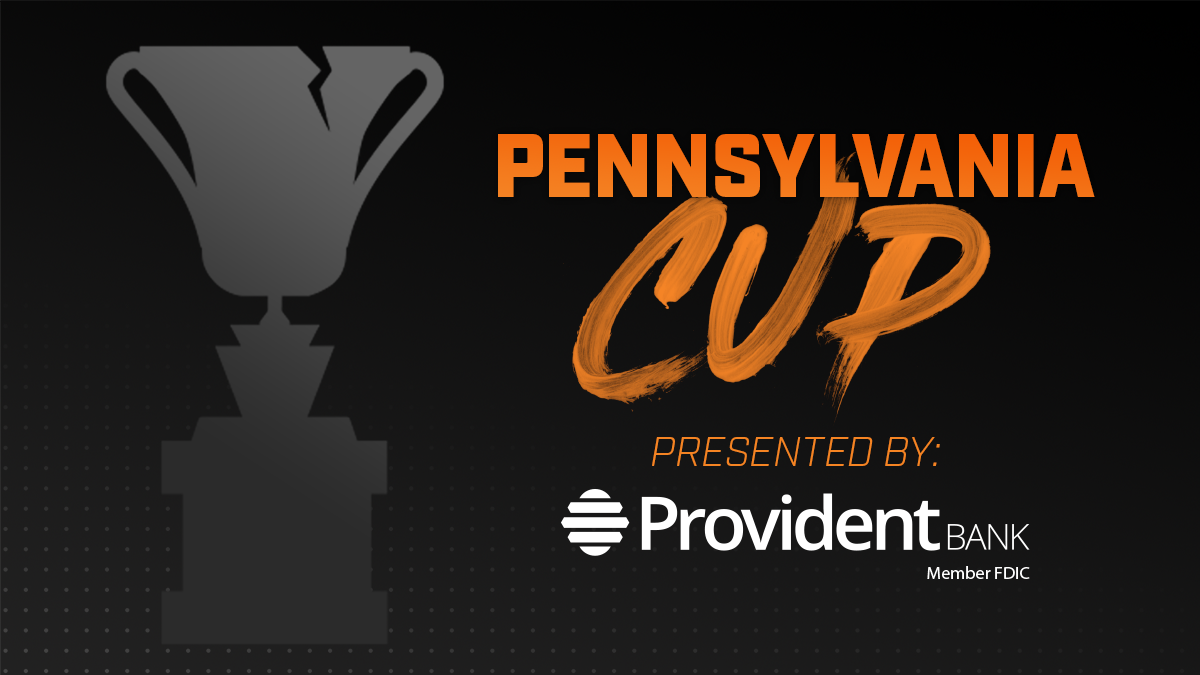 Provident Bank Pennsylvania Cup
Phantoms 8-3-1 = 17
Bears 6-4-2 = 14
Penguins 3-4-3 = 9
April 10: Phantoms vs. Bears
April 11: Bears vs. Penguins
April 14: Phantoms at Bears
April 16: Phantoms at Penguins
April 18: Phantoms vs. Bears