Lehigh Valley Phantoms (17-7-4) at Binghamton Devils (6-18-7)
Wednesday, May 12, 2021 at 7:00 p.m. – Prudential Center, Newark, NJ
Today's Game – The Lehigh Valley Phantoms play their last away game of the season visiting the Binghamton Devils in Newark, NJ at Prudential Center. This game will be played in the NHL home of the New Jersey Devils instead of the practice rink attached next door where the Binghamton Devils had played their home games this season. This is the 29th game of the season for the Phantoms who have two home games remaining after tonight. The Phantoms are 7-1-2 against the Devils this season but the Devils prevailed in regulation against the Phantoms for the first time this year in their most recent encounter in a 4-2 decision at PPL Center on May 1.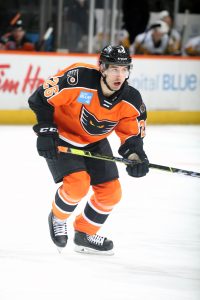 Last Time Out – Brennan Saulnier scored three goals in the first 9:55 of the game and the Phantoms breezed from there to a comfortable 6-2 win over the Wilkes-Barre/Scranton Penguins on Mothers' Day at PPL Center. Chris Mueller scored twice in his 800th AHL game and Tanner MacMaster had a goal and an assist while Zayde Wisdom contributed three primary assists and recorded a +4 rating. It was the largest margin of victory for the Phantoms this season. Saulnier had only one goal in 11 games played this season before his first-period explosion on Sunday afternoon. He capped the day with a fight against Jordy Bellerive with 49.7 seconds left and flexed and waved his arms to the crowd on his way off.
Historic Hatty! – Brennan Saulnier's hat trick just 9:55 into the game is the fastest in the 25-year history of the Phantoms' franchise. It was the first "Natural" hat trick in Lehigh Valley history and was just the sixth time a Phantoms player had scored three goals in a single period. The last Phantom to score three goals in a period was Pete Zingoni in 2006 for the Philadelphia Phantoms against the Binghamton Senators. Saulnier's hat trick was the team's first at PPL Center in over three seasons datin back to Danick Martel's trifecta on October 7, 2017 on Opening Night against the Hershey Bears in a 7-2 win.
Phantoms to Score Three Goals in a Period –
Shawn McCosh (3rd) at Syracuse Crunch Oct 9, 1998
Jason Zent (3rd) vs. Albany River Rats Nov 6, 1998
Freddy Meyer (3rd) at Hershey Bears Feb 21, 2004
Jon Sim (2nd) vs. Hershey Bears Feb 25, 2005
Pete Zingoni (2nd) at Binghamton Senators Nov 11, 2006
Brennan Saulnier (1st) vs. WBS Penguins May 9, 2021
Phantoms Hat Tricks at PPL Center –
Nick Cousins vs. Binghamton Senators Jan 17, 2015
Colin McDonald vs. Binghamton Senators Jan 27, 2016
Taylor Leier vs. Binghamton Senators Feb 10, 2016
Danick Martel vs. Binghamton Senators Jan 25, 2017
Danick Martel vs. Hershey Bears Oct 7, 2017
Brennan Saulnier vs. WBS Penguins May 9, 2021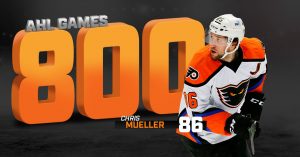 800 Club! – 35-year-old veteran Chris Mueller celebrated his 800th career game with his first multi-goal performance of the season. The father-of-four is on his tenth AHL team and has won two Calder Cups in his career (Texas 2014 and Toronto 2018). He becomes just the 40th in AHL history to reach 800 career games and is the AHL's active goal-scoring leader now with 246 conversions.
Welcome Back! – The Lehigh Valley Phantoms have received three players from the Philadelphia Flyers ahead of the team's last three games of the season. Forward Wade Allison and defenseman Cam York return after successful NHL debut stints and goalie Felix Sandstrom arrives from the Taxi Squad looking to continue his hot streak.
Allison has played in eight games with the Phantoms scoring 4-5-9. He played 14 games with the Flyers scoring 4-3-7 including a two-goal game on May 7 against Washington.
York has played in six games with the Phantoms scoring 2-3-5 including the game-winning goal in his most recent Phantoms' contest on May 5. He played in three games with the Flyers averaging almost 20 minutes of ice time.
Sensational Sandström – Felix Sandstrom has put together four very strong starts after inconsistent opportunities due to schedule interruptions earlier in the season. Dating back to the last two weeks, Sandström has a .947 save percentage in his last four starts with save totals of 37, 32, 40, 34. He is 2-1-1 in that stretch with a 2.00 goals-against average.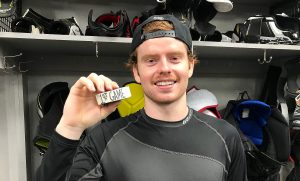 Phantoms to Make NHL Debuts in 2021 Season:
Maksim Sushko Feb 18, 2021 (PHI vs. NYR)
Tanner Laczynski Apr 3, 2021 (PHI at NYI)
Wade Allison Apr 15, 2021 (PHI at PIT)
Egor Zamula Apr 27, 2021 (PHI at NJ)
Cam York May 7, 2021 (PHI at WSH)
NHL Arena – Lehigh Valley has never played a game in a regular NHL arena since the team arrived to Allentown seven seasons ago. The last time the Phantoms' franchise played a game in an NHL arena was February 22, 2014 at Wells Fargo Center in Philadelphia when the Adirondack Phantoms fell to the Bridgeport Sound Tigers 3-2 while going 1-for-10 on the power play in the rough-and-tumble contest. The last time the Phantoms have been the visiting team in an NHL arena was February 25, 2011 when the Adirondack Phantoms played at Bell Centre in Montreal against the Hamilton Bulldogs in a 4-1 loss.
Looking Ahead – The American Hockey League has announced its intention for a full schedule in the 2021-22 campaign for its 86th season which will begin on October 15 and run through April 24.
Still In It – Lehigh Valley has to run the table AND hope for some help in order to overtake the Hershey Bears for the North Division title and the Teddy Oke Trophy. Hershey's Magic Number to clinch the division is at one standings points. Any loss for the Phantoms (regulation or overtime) or any single standings point by the Bears in their remaining two games will give Hershey the division crown based on points percentage.
Team Leaders – Tyson Foerster has rushed to the top of the team leader-board with his 10th goal of the season on Wednesday against Hershey. Foerster and Ryan Fitzgerald are tied at 10 goals apiece for most on the Phantoms in the tight race.
Cal O'Reilly has a bit more breathing room for most points and most assists on the Phantoms. His 21 points puts him four ahead of Foerster. And his 17 assists is five more than Logan Day who is the only other Phantom in double-figures in helpers.
Winding Down – The Lehigh Valley Phantoms are in the stretch-run of the 2021 season with just three games remaining including three at PPL Center. Tickets are available for all upcoming Phantoms home games at phantomshockey.com
The Series – The Phantoms are 7-1-2 against the Devils this season.
Wed Feb 10 @ BNG L 1-2 (OT) Brett Seney for Devils scores in OT
Sat Feb 20 @ LV W 3-0 Zane McIntyre 25-save shutout. 2 goals for Zayde Wisdom
Wed Feb 24 @ BNG W 5-4 (OT) Max Willman 2 goals including OT winner
Wed Mar 10 @ BNG 1-1 Game suspended after one period. Cal O'Reilly goal
Fri Mar 26 @ BNG W 3-2 Tanner Laczynski Hat Trick. Game-winning goal shorthanded breakaway in 3rd
Sat Mar 27 @ LV W 6-3 Ryan Fitzgerald 2 goals, Wade Allison and Tanner Laczynski each 1-2-3. Alex Lyon 22 saves
Mon Apr 5 @ BNG L 1-2 (SO) Linus Hogberg first pro goal. Zane McIntyre 27 saves on 28 shots
Fri Apr 23 @ BNG W 4-2 Tyson Foerster 2 goals, Andy Andreoff 2 goals. Phantoms season-high 40 shots
Sat Apr 24 @ LV W 3-2 Felix Sandstrom 37 saves. Foerster 9th goal. Ratcliffe and Cuddemi both 1st goals
Mon Apr 26 @ BNG W 6-5 5 goals in 1st. Laberge goal 10 seconds in. Cal O'Reilly 3 assists to reach 500. Cam York 1st pro goal
Sat May 1 @ LV L 2-4 Mason Jobst, BNG, 2 goals, 2 assists. LV Goals: Racliffe, Willman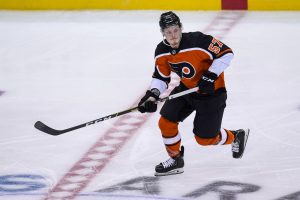 15 Philadelphia Flyers players on season-end roster who have played for the Lehigh Valley Phantoms –
Wade Allison
Nicolas Aube-Kuel
Brian Elliott
Joel Farabee
Shayne Gostisbehere
Robert Hagg
Carter Hart
Tanner Laczynski
Scott Laughton
Oskar Lindblom
Alex Lyon
Samuel Morin
Philippe Myers
Travis Sanheim
Cam York
Most NHL Experience of current Lehigh Valley Phantoms players –
Derrick Pouliot – 202 Games (PIT / VAN)
Cal O'Reilly – 145 Games (NSH / BUF)
Garrett Wilson – 84 Games (FLA / PIT)
Chris Mueller – 53 Games (NSH / DAL / NYR)
Chris Bigras – 46 Games (COL)
Connor Bunnaman – 39 Games (PHI)
Tyler Wotherspoon – 30 Games (CGY)
Zane McIntyre – 8 Games (BOS)
David Kase – 7 Games (PHI)
Egor Zamula – 2 Games (PHI)
Maksim Sushko – 2 Games (PHI)
Upcoming –
Wednesday, May 12, 7:00 – Phantoms at Binghamton Devils (Prudential Center, Newark)
Saturday, May 15, 7:05 – Penguins at Phantoms (PPL Center)
Sunday, May 16, 3:05 – Devils at Phantoms (PPL Center)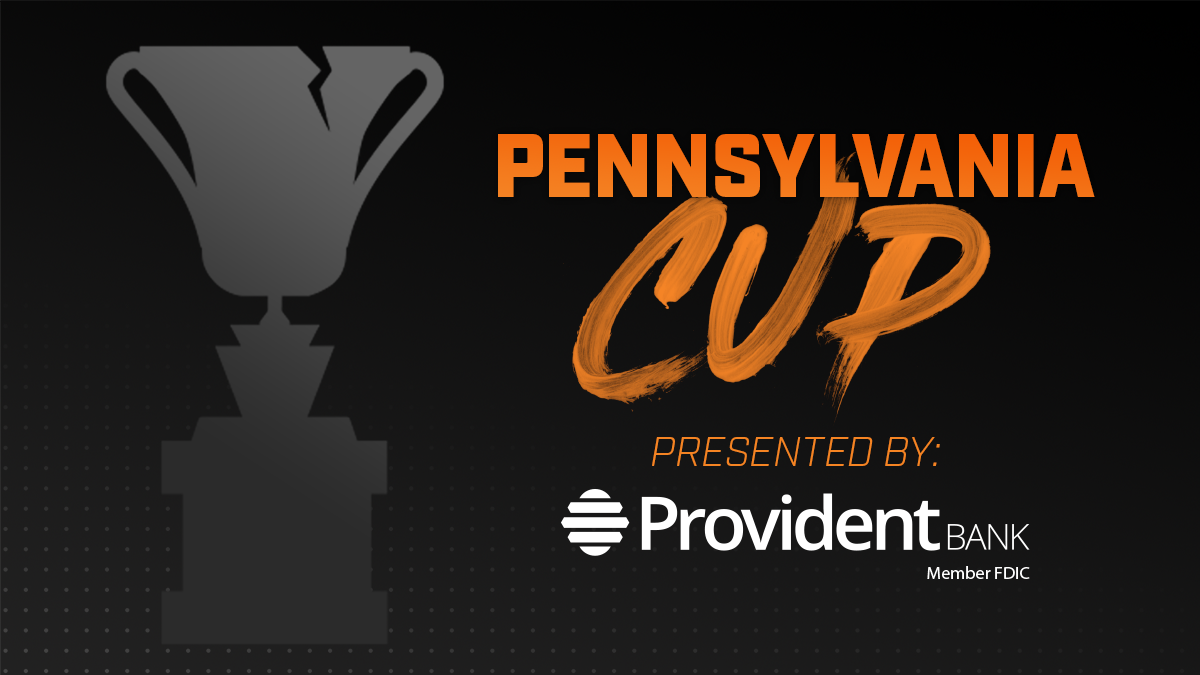 Provident Bank Pennsylvania Cup 
Bears 12-6-2 = .650
Phantoms 10-6-2 = .611
Penguins 5-7-4 = .437
Penn Cup Results and Upcoming:
May 9: Phantoms 6 – Penguins 2
May 15: Penguins at Phantoms
May 16: Penguins at Bears