Lehigh Valley Phantoms (16-6-4) at Hershey Bears (21-7-2)
Saturday, May 8, 2021 at 4:00 p.m. – Giant Center, Hershey, PA
Today's Game – The Lehigh Valley Phantoms conclude a stretch of three consecutive games against the Hershey Bears on Saturday afternoon at Giant Center. The Phantoms and Bears have split the first two games of the series with both teams successfully defending their home ice. The Phantoms are 6-4-0 against Hershey entering the finale of the season-rivalry series. The Phantoms have five games left in the regular season including three at home.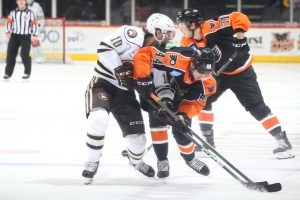 Last Time Out – Cam York scored a breakaway goal on the power play with 12:00 left to break a 3-3 tie on Wednesday night in leading the Phantoms to a 5-3 win over the Hershey Bears at PPL Center. Tyson Foerster had a goal and two assists including a long stretch-pass to spring York free all alone to the Hershey net. York finished with one goal and one assist. Linus Hogberg, Chris Mueller and Cal O'Reilly also scored and Felix Sandstrom had 34 saves as the Phantoms ended their two-game losing streak.
The Bears are coming off a 2-1 win at the Binghamton Devils in Newark on Friday night. Connor McMichael scored his team-leading 12th of the season and newcomer Hunter Shepard allowed just one goal on 31 shots. This game for Hershey means that it is NOT three straight games against the Phantoms for them even though tonight IS three straight against the Bears for Lehigh Valley.
Sensational Sandström – Felix Sandstrom has put together four very strong starts after inconsistent opportunities due to schedule interruptions earlier in the season. Dating back to the last two weeks, Sandström has a .947 save percentage in his last four starts with save totals of 37, 32, 40, 34. He is 2-1-1 in that stretch with a 2.00 goals-against average.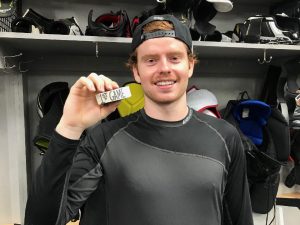 Another NHL Debut! – Cam York became the fifth Lehigh Valley Phantom this year and the 31st all-time to receive a recall from Lehigh Valley for an NHL debut with the Flyers. This season, York joined other Phantoms' NHL Debuts including Maksim Sushko, Tanner Laczynski, Wade Allison and Egor Zamula. The Flyers' first-round selection in 2019 from Anaheim Hills, Cal. won Big Ten Defenseman of the Year honors at the University of Michigan last spring. York has scored 2-3-5 in 6 games with the Phantoms since his pro debut on April 21.
Team Leaders – Tyson Foerster has rushed to the top of the team leader-board with his 10th goal of the season on Wednesday against Hershey. Foerster and Ryan Fitzgerald are tied at 10 goals apiece for most on the Phantoms in the tight race.
Cal O'Reilly has a bit more breathing room for most points and most assists on the Phantoms. His 21 points puts him four ahead of Foerster. And his 17 assists is five more than Logan Day who is the only other Phantom in double-figures in helpers.
Mueller Moves Up – 35-year-old veteran Chris Mueller had a slick assist from the corner to set up Isaac Ratcliffe's goal on Saturday night as he continues to move up among the AHL's all-time leaders. Mueller is now 60th all-time in AHL history with 574 points. That is also second among active AHL players trailing only teammate Cal O'Reilly (629 points). The two-time Calder Cup Champion (Texas and Toronto) with 798 career games in the AHL is on his way to becoming just the 40th in league history to play 800 games.
Get Started Early – The Phantoms are 11-0-2 when they score the first goal of the game. Lehigh Valley and the Chicago Wolves are the only teams in the league that remain undefeated in regulation when striking first.
Comeback Kids – The Phantoms remain the only team that does not have a losing record in games in which they have trailed after two periods. Lehigh Valley is 5-5-1 when facing a deficit at the second intermission which also is the most late comeback wins in the league.
Overtime Fun – The Phantoms still lead the league in overtime games and overtime wins. The Phantoms are tied with the Binghamton Devils with 10 regulation ties that have extended to 3-on-3. The Phantoms are 5-3 in overtimes which still remains tops for most wins even though Lehigh Valley has not won in OT since March 21. Only two other teams are close with four overtime wins: San Diego and Wilkes-Barre/Scranton. The Phantoms are also 1-1 in shootouts. Ryan Fitzgerald has two overtime goals this season while David Kase, Max Willman and Tanner Laczynski also have OT scores.
Winding Down – The Lehigh Valley Phantoms are in the stretch-run of the 2021 season with just five games remaining including three at PPL Center. Tickets are available for all upcoming Phantoms home games at phantomshockey.com
The Series – The Phantoms are 6-4-0 against Hershey this season.
Sat Feb 6 @ HER W 2-1 (OT) Wyatte Wylie tying goal 47 seconds left 1-1. Ryan Fitzgerald OT goal
Sun Feb 14 @ HER W 5-4 Zayde Wisdom 2-1-3. David Kase OT Goal
Wed Mar 3 @ LV W 4-3 O'Reilly tying goal 7:30 left. Pouliot winning goal 5:59 left. 2 SHG for HER.
Sat Mar 6 @ HER L 1-4 Mueller lone goal breaks shutout with 1:00 left
Sun Mar 14 @ HER W 4-1 Allison and Foerster both First Pro Goal. McIntyre 32 saves
Wed Mar 24 @ LV L 2-6 LV Goals: Fitzgerald and Wisdom. HER Philippe Maillet 5 assists
Wed Mar 31 @ HER W 4-1 Foerster 2 goals
Wed Apr 21 @ LV L 1-6 First Game Back from Protocol Layoff
Sun May 2 @ HER L 0-2 Sandstrom 40 saves on 41 shots faced. Hunter Shepard for HER, 28-save shutout in AHL debut
Wed May 5 @ LV W 5-3 Cam York GW Goal with 12:00 left. York 1-1-2. Tyson Foerster 1-2-3. Sandstrom 34 saves
Upcoming –
Saturday, May 8, 4:00 – Phantoms at Hershey
Sunday, May 9, 3:05 – Penguins at Phantoms (PPL Center)
Wednesday, May 12, 7:00 – Phantoms at Binghamton Devils (Newark)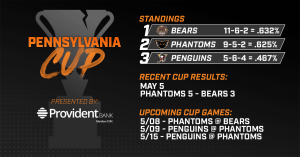 Provident Bank Pennsylvania Cup 
Bears 11-6-2 = .632
Phantoms 9-5-2 = .625
Penguins 5-6-4 = .467
Penn Cup Results and Upcoming:
May 5: Phantoms 5 – Bears 3
May 8: Phantoms at Bears
May 9: Penguins at Phantoms
May 15: Penguins at Phantoms