Hartford Takes Opener of Home-and-Home Weekend
December 13, 2019
Hartford, Conn. – The Lehigh Valley Phantoms generated a number of quality and point-blank scoring chances but ran into Russian goalie talent Igor Shesterkin in a 4-0 loss at the Wolf Pack on Friday night.
German Rubtsov, Andy Andreoff and Tyler Wotherspoon all had glorious scoring chances denied one way or another by the top goaltender in the league. Nicolas Aube-Kubel blasted a laser off the crossbar which was one of a couple shots the snake-bit Phantoms rang off the iron on this unlucky night for the team on Friday the 13th.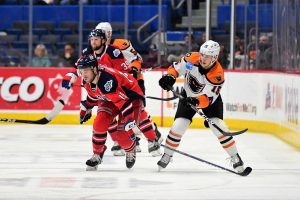 Four Phantoms all returned from multiple-game layoffs and were in the lineup again for the first time since their various injuries. Andy Andreoff, Maksim Sushko, German Rubtsov and Chris Bigras had all been out of action for three weeks or longer.
In the second period, when Lehigh Valley (10-11-5) was trailing 2-0, the Phantoms easily could have been ahead 3-2 or 4-2. But it wasn't to be on this night for Lehigh Valley (10-11-5) as Nick Jones scored a pair of goals while Nick Ebert and Lewis Zerter-Gossage also tallied markers.
Hartford (16-4-7) maintained its hold on the top spot in the Atlantic Division with its fifth straight victory. Shesterkin's best stop of the night may have come early in the second period when Andy Andreoff rotated behind the net to the right-wing side of the cage for a wrap-around effort. But Shesterkin's tremendous lateral movement saved the day when he somehow made it over for a left pad save.
German Rubtsov was denied late in the first period by the glove of Shesterkin on his point-blank chance that was nicely set up by a pass from the corner by Pascal Laberge.
Nick Ebert (4th) opened the scoring for the Pack with 3:55 remaining in the first period on his goal squeezed through the right hip of Lyon for a short-side strike. Hartford was out-shooting the Phantoms 7-2 at that point but Lehigh Valley surged at the end of the period and put together its best chances to that point including the point-blank opportunity by Rubtsov.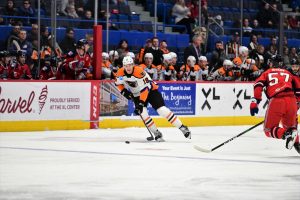 Lehigh Valley kept up the pressure in the second period but somehow Shesterkin hung on. An intercept in the Phantoms zone turned into a spin-move and top-shelf flip over the left shoulder of Lyon for Zerter-Gossage (2nd) on an unassisted goal at 6:46 into the second for a 2-0 advantage.
Andreoff's big rebound blast from the right circle was denied by the left pad of Shesterkin which would later rob Andreoff again on a strong wrap-around try. Shesterkin had yet another ten-bell caliber denial on Tyler Wotherspoon's backdoor drive from the left dot that Shesterkin somehow got to with the blocker.
Nick Jones scored on a rebound in the third for a 3-0 lead. And then finished the night with a power-play deflection goal with just 35 seconds left on a tip of a center-point shot by rookie defenseman Joey Keane to provide for the 4-0 final.
The Phantoms and Wolf Pack will rematch on Saturday night in Allentown at PPL Center at 7:05 p.m. in the team's annual Teddy Bear Toss Night. The Phantoms then conclude the weekend stretch with a Sunday rivalry showdown in Hershey.
Lehigh Valley Phantoms 0 at Hartford Wolf Pack 4 – Final
Friday, December 13, 2019 – XL Center
Lehigh Valley 0 0 0 – 0
Hartford 1 1 2 – 4
1st Period-1, Hartford, Ebert 4 (Di Giuseppe, Lettieri), 16:05. Penalties-Criscuolo Lv (tripping), 4:25; Ebert Hfd (interference), 8:48.
2nd Period-2, Hartford, Zerter-Gossage 2 6:46. Penalties-No Penalties
3rd Period-3, Hartford, Jones 3 (Raddysh, LoVerde), 7:45. 4, Hartford, Jones 4 (Keane, Rykov), 19:25 (PP). Penalties-Bunnaman Lv (holding), 10:02; Keane Hfd (hooking), 13:26; Carey Lv (high-sticking), 19:20.
Shots on Goal-Lehigh Valley 5-11-10-26. Hartford 7-10-13-30.
Power Play Opportunities-Lehigh Valley 0 / 2; Hartford 1 / 3.
Goalies-Lehigh Valley, Lyon 6-7-2 (30 shots-26 saves). Hartford, Shesterkin 11-3-3 (26 shots-26 saves).
A-3,242
Referees-Carter Sandlak (6), Chris Waterstradt (88).
Linesmen-Frank Murphy (29), Luke Galvin (2).
Next Time Out: The Phantoms will return to PPL Center on Saturday, December 14th in the second part of a home-and-home with Hartford as they host the annual Teddy Bear Toss.
And for the latest Phantoms news, visit www.phantomshockey.com or follow the team on Facebook (www.facebook.com/lehighvalleyphantoms), Twitter (@lvphantoms), Instagram (@lehighvalleyphantoms) and Snapchat (lvphantoms).